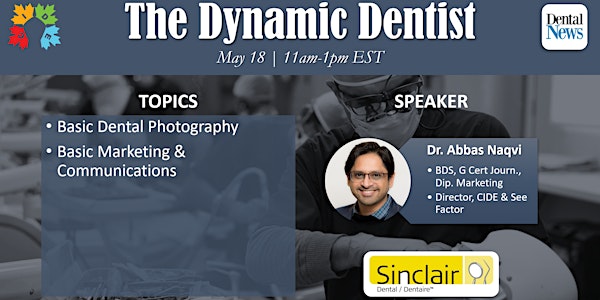 The Dynamic Dentist
Description
TOPICS OVERVIEW
Basic Marketing & Communications: Being trained in a technical profession, Business, Marketing, Media & Communication dynamics don't come naturally to dentists. While it should be an integral component of Dental Education, it is unfortunate that a formal introduction to these dimensions of dentistry often come "too late and too less" for most.
This basic orientation session intends to provide a stepping-stone towards more in-depth knowledge acquisition in future.
Basic Dental Photography: As Communication becomes more visual and as photography becomes universally practiced through cell phones, clinical photography remains an area requiring knowledge and awareness of some critical fundamentals and concepts. This includes understanding some basics of photographic principles, equipment and camera operations. Also to be considered are the various guidelines, criteria and standards that need to be met depending on the intended use.
SPEAKER BIO
Dr. Abbas Naqvi is a Diverse Dental Professional - after graduating as a dentist in 2002, he remained a part-time clinician for nearly a decade with added pursuits in Media & Marketing. Not only did he perform key roles in organizations like Dental News (Editorial) & 3M (Scientific Marketing) but also acquired formal education in Media & Marketing subjects in Canada after migrating in 2012 (Graduate Cert. in Journalism from Sheridan College & Diploma in Marketing from McMaster's University) .
His passion for meaningful communication led him to establish a Media & Marketing Company "See Factor" as well as an International Dentist Training Project "CIDE – Canadian Integration by Dental Education". He has been an instructor for Dental Photography since 2009. His better half, Dr. Sultana is a licensed dental practitioner in Canada.
Meeting Link will be sent to registrants by email.