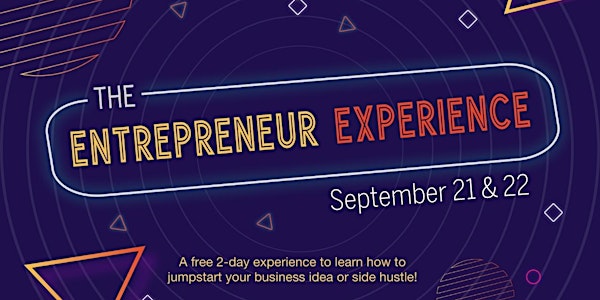 The Entrepreneur Experience
Calling all aspiring founders, innovators and goal-getters!
When and where
Location
Thames Hall 40 Lambton Drive London, ON N6G 2V4 Canada
About this event
Join us for a free 2-day experience and learn how to jumpstart your business idea or side hustle. The Entrepreneur Experience will help you:
✅ Fuel your creativity and make your entrepreneurial dreams a reality.
✅ Connect with a community of like-minded students.
✅ Develop your entrepreneurial knowledge and skillset.
✅ Discover tools and exercises that can help you build a strong and profitable business foundation.
PLUS gain exclusive access to our 4 Week Challenge where you will be given the opportunity to participate in weekly workshops and mentorship sessions and compete in a mini-pitch competition!
Participants who attend BOTH sessions will be entered to win prizes!
----------------------------------
The Entrepreneur Experience consists of two sessions:
Session One: September 21, 4:00-6:00 PM
In this interactive 2-hour session, we will cover the fundamentals that will help you construct the foundation of your idea!
Come ready to develop your own idea as you will learn about design thinking principles and go through the initial ideation and brainstorming steps. We'll start with identifying a problem and then using a framework to properly define the problem you're hoping to solve. We'll then brainstorm some potential solutions and determine the quality of the idea. And each step of the way, you'll engage with your peers to hear feedback and learn about what others are doing.
By the end of this session, you'll learn how to identify a problem and possible solutions and will have gone through the first few steps of your entrepreneurial journey!
Session Two: September 22, 4:00-6:00 PM
Your Backstage Pass to The Entrepreneur Experience: Fireside Chat
Join us for an engaging session with one of the leading executives in the tech industry: Melissa Sariffodeen (Co-Founder & CEO at Canada Learning Code)! We'll hear from Melissa as she shares her entrepreneurial story and advice for budding entrepreneurs. Bring your questions for the Q&A session at the end!
Following the fireside chat, join us for networking and snacks, plus our Entrepreneurship Clubs Fair, where you'll have the opportunity to meet with all the Entrepreneurship clubs on campus and learn how to get involved!
----------------------------------
Registration Details
Cost: Free (attendees will also be entered to win prizes!)
Location: Thames Hall Atrium
----------------------------------
Join us to jump start your business idea, learn how to identify a problem, develop a solution, and use that solution to build a business!