Location
McMaster Innovation Park
175 Longwood Road South
Hamilton, ON L8P 0A1
Canada
Description
The Entrepreneurial Identity – Women's Edition
This first workshop explores the opportunities and challenges of entrepreneurship for women.
Through group discussion, examples, and hands- on exercises, participants will cover the following:
• What it takes to be an entrepreneur
• The differences for women including the strengths, challenges and trade-offs
• An assessment of entrepreneurial skills and competencies
• Building an action plan and next steps
About the speakers/ authors:
Barbara Orser is Vice Dean (Career Development) of the University of Ottawa's Telfer School of Management. She is Founding Chair of the Canadian Taskforce for Women's Business Growth and has been named one of the Women Executive Network's 100 Most Power Women in Canada.
Catherine Elliott is Assistant Professor at the University of Ottawa's Telfer School of Management, where she teaches Organizational Behavior and Human Resources Management.
Feminine Capital: Unlocking the Power of Women Entrepreneurs
By Barbara Orser and Catherine Elliott
2015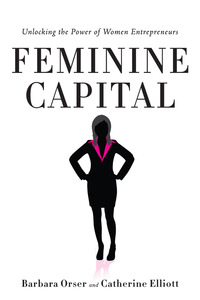 About the book: Drawing on four decades of award-winning research, Feminine Capital reveals how women are harnessing different approaches to doing business. Barbara Orser and Catherine Elliott detail the pillars of feminine capital and offer new insight into the ways that gender can influence entrepreneurial decision-making. They find that leveraging feminine capital can help women to create distinctive brands, build new markets, and drive profits—all while leveling the playing field in business. In doing so, women are changing our social and economic landscape, one venture at a time.
Dispelling myths and misperceptions that can undermine women-owned ventures, this book takes a fresh look at how female entrepreneurs can leverage their skills, knowledge, and values. Case studies of women entrepreneurs bring key concepts and lessons to life, while learning aids, diagnostic tools, and checklists help readers to construct innovative business models, refine start-up plans, and hone growth strategies.
Accelerator for Women in Entrepreneurship
https://www.awe.innovationfactory.ca
Application: https://www.awe.innovationfactory.ca/apply-now
This series is designed with women entrepreneurs in mind and tailored to your specific needs and challenges. Gender-related issues in the sector will be examined and discussed in depth. The focus is on acknowledging where there are differences as well as opportunities for women entrepreneurs.
You will leave each session empowered with the information, ideas, and resources to reach your business potential.
This is the perfect learning and networking opportunity for iF clients with women- led and/ or founded companies. These workshops are also open to women considering entrepreneurship and women with early stage businesses who want to accelerate growth.
Advanced Manufacturing is defined as the use of innovative technology, processes and methodology to improve products and services and will be a key theme of this series.
Topics explored range from the Entrepreneurial Identity for women, leadership presence and confidence, negotiations, selling & social capital, financing, business, marketing and more!