THE ETHICS OF BIG DATA

Wednesday, 13 May 2015 from 7:15 AM to 8:30 AM (PDT)
Event Details
THE ETHICS OF BIG DATA: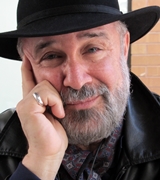 with Mark Wexler, President of the Perimeter Group of Consultants and Professor of Business Ethics and Management at Simon Fraser University

In this presentation on The Ethics of Big Data, Dr. Mark Wexler will push the discussion beyond the concerns of privacy and surveillance. He will then outline the scope and rapid growth of this field and provide a model of the key stakeholders in the emergent field of big data generation, collection and use.
Mark will then lead us to a question and answer session which will deal with the relative strengths of the promises and perils of Big Data. This discussion will be based on portions of Mark's forthcoming paper on Big Data in the journal entitled "Information, Communication & Society".
If you have either pre or post-breakfast queries pertinent to the session content please contact Mark Wexler at wexler@sfu.ca

Dr. Mark N. Wexler is the President of the Perimeter Group of Consultants; a University Professor of Business Ethics and Management at Simon Fraser University; and a member of the Management and Organization Studies and Policy Analysis at the Beedie School of Business at SFU.
Mark's work has been published in over 110 refereed journals and eight books. He was the recipient of four teaching awards, numerous grants and research funds and was selected as Price Waterhouse Cooper's 2004 Leader in Management Education. Mark has consulted for various organizations in the private and public sectors, some of which include: Air Alaska, Bank of Montreal, Canadian Immigration Services, Doctors without Borders, Lockheed Martin, Microsoft, Proctor and Gamble, Revenue Canada and the RCMP.
When & Where

Alliance for Arts and Culture
938 Howe St
Vancouver, BC V6Z 1N9
Canada

Wednesday, 13 May 2015 from 7:15 AM to 8:30 AM (PDT)
Add to my calendar
Organizer
Workplace Centre convenes conversations that deepen Spirit and Ethics in the workplace, and promotes their practical application in business and everyday life. We hold two meetings each month: Ethics for Breakfast, on the second Wednesday, and the Spirit at Work Luncheon on the third Thursday of the month. All meetings are open to the public. They are about 75 minutes long, presentation-and-discussion format, with speakers/topics that will help you keep ethics and spirituality alive in your work.
Email us or call 604-685-6560 for more information. You can also review our previous speakers & events, and any related speeches and presentations that have been posted by visitin www.WorkplaceCentre.org