Join us for an interactive conversation with experts on the topic of ethics and medical cannabis for children and youth in health care.
About this event
The dialogue will take place both through live engagement with the public and pre-submitted questions. We want to hear your views!
Moderated by:
Hal Siden, MD, MHSc
Medical Director, Division Head and Investigator,
BC Children's Hospital
Canuck Place Children's Hospice
Clinical Professor, University of British Columbia
Judy Illes, CM, PhD
Director, Neuroethics Canada
Professor of Neurology, University of British Columbia
If you have a question for the moderators, you may submit it to info.neuroethics@ubc.ca prior to the event.
This event will be held via Zoom. A link to the talk will be distributed via email to the attendees prior to the event.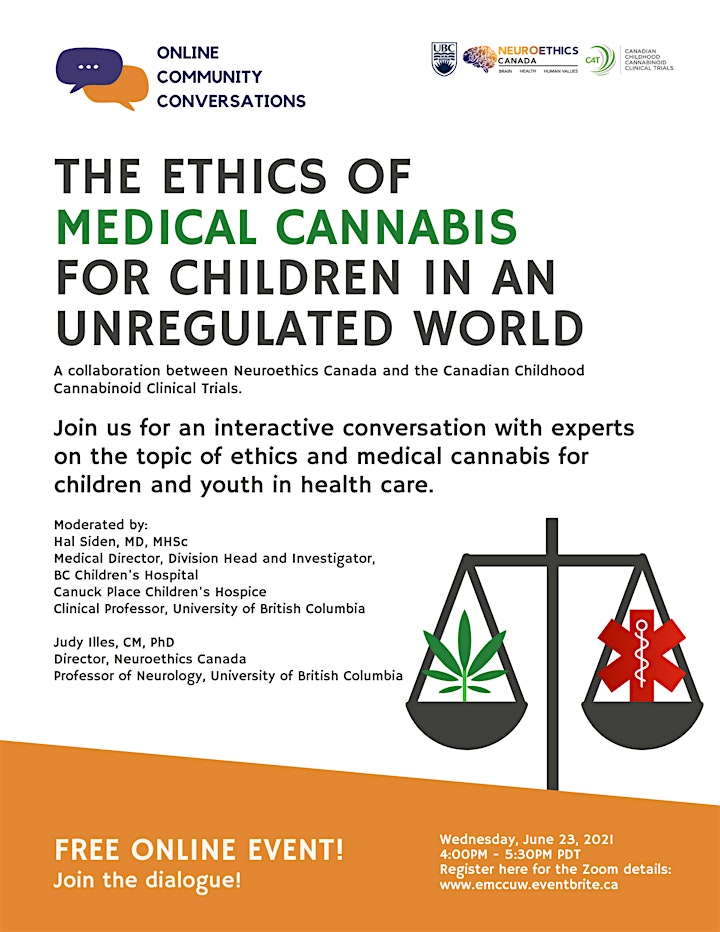 Organizer of The Ethics of Medical Cannabis for Children in an Unregulated World
The Neuroethics Canada is an interdisciplinary research group dedicated to tackling the ethical, legal, policy and social implications of frontier technological developments in the neurosciences. Our focus is on protecting and ensuring public good by aligning innovations in the brain sciences with human values.
Our research results, educational resources, and public outreach promote informed decision-making and empowered choices for individual and community well-being in an era of fast-paced, and ever increasingly consumer-directed personalized medicine.