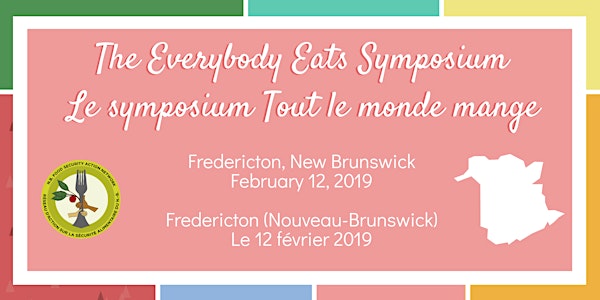 The Everybody Eats Symposium / Le symposium Tout le monde mange
Description
Calling all changemakers!
You're invited to attend the Everybody Eats Symposium. This day-long event is for you to advance your work as it relates to food security in New Brunswick. Going further with the four main themes identified in the Everybody Eats What We Heard report*, together we will carve out the potential for collective action.

*The four main themes are: optimizing our agricultural potential; education, awareness, and food skills; physical access/availability of healthy food; and equitable economic access to healthy food.

Ready to dig in?
This symposium will have the facilitation of discussion in both French and English, to ensure that the bilingualism of New Brunswick is heard and equally a part of addressing food security in our province.
The Riverside Resort & Conference Centre is wheelchair accessible.
Parking is available at the venue.
There is no charge to attend this event. Lunch will be provided.
-----------------
Appel aux agents de changement!
Nous vous invitons à participer au symposium Tout le monde mange. Cette rencontre d'un jour a pour but de vous permettre de faire progresser votre travail dans le domaine de la sécurité alimentaire au Nouveau-Brunswick. En approfondissant les quatre grandes thématiques présentées dans le rapport Tout le monde mange : Ce que nous avons entendu*, nous façonnerons ensemble les possibilités d'action collective.
*Les quatre grandes thématiques sont l'optimisation de notre potentiel agricole; l'éducation, la sensibilisation et les compétences alimentaires; l'accessibilité/disponibilité physique d'aliments sains; et l'accès économique équitable aux aliments sains.
Prêt à mettre la main à la pâte?
Lors du symposium, l'animation des discussions se fera en français et en anglais afin d'assurer que la nature bilingue du Nouveau-Brunswick est entendue et fait partie intégrante des solutions retenues pour favoriser la sécurité alimentaire dans notre province.
Le centre de conférence Riverside est accessible en fauteuil roulant.
Il y a beaucoup de stationnement sur les lieux.
La participation est gratuite et le dîner sera fourni.
Organiser of The Everybody Eats Symposium / Le symposium Tout le monde mange
The New Brunswick Food Security Action Network (NBFSAN) exists to create a New Brunswick that is connected, informed and engaged in food security for all.
The mission of the NBFSAN is to provide leadership in the advancement of food security in New Brunswick through networking, knowledge and information sharing, public relations and building partnerships.
---
Le réseau d'action sur le sécurité alimentaire du Nouveau-Brunswick (RASANB) imagine un Nouveau-Brunswick interrelié, bien informé et engagé envers la sécurité alimentaire pour toutes et tous.
La mission du RASANB est de jouer un rôle de leader dans l'avancement de la sécurité alimentaire au Nouveau-Brunswick par le réseautage, le savoir et l'échange d'information; et les relations publiques et l'établissement de partenariats.