Liu Xiaobo is seen as moving straight from brilliant intellectual to heroic defiance of a repressive government. The truth is more complex.
About this event
The Evolution of Liu Xiaobo: From Tiananmen Hunger Striker to Grassroots Rights Defender
The Simon Fraser University Department of History invites you to attend the final lecture in our 2020-2021 Annual Public Lecture Series, Witnesses to History. Due to COVID-19, this year's lectures will take place entirely online, via the Zoom platform. A link to the Zoom webinar will be distributed by email to all registered attendees at 2PM on May 27th.
Only registered attendees with a valid email address will receive the Zoom webinar link.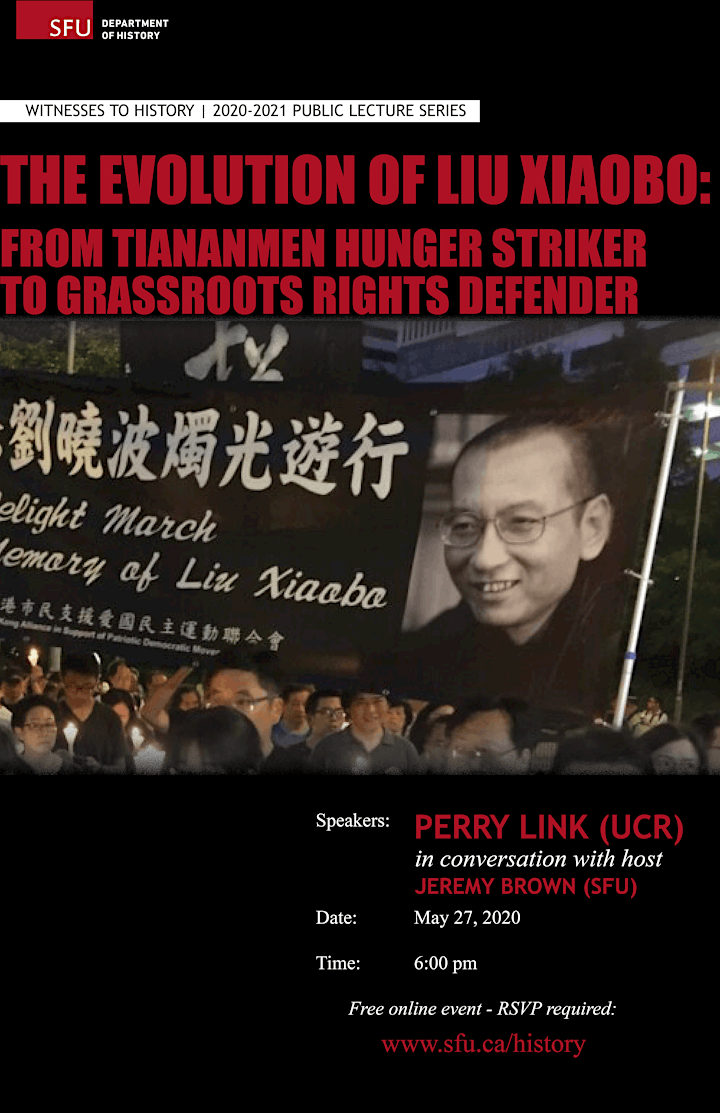 Liu Xiaobo, who won the Nobel Peace Prize in 2010 and died in 2017 while serving an eleven-year prison sentence for "inciting subversion of state power," may be China's most important political thinker of the last half century.
The public has viewed Liu as moving from brilliant intellectual beginnings straight into the famous 1989 student Democracy Movement, when he was part of a hunger strike at Tiananmen Square, and from there into heroic defiance of a government that harassed him inveterately and sent him to prison four times. The truth is more complex. Liu's greatest immediate contribution to China was his leadership, in both theory and practice, of the Citizens Movement of 2002–2008, when idealistic journalists, lawyers, NGO leaders and others worked from the bottom up to bring change.
In conversation with host Jeremy Brown (SFU History), Perry Link (University of California, Riverside) discusses his forthcoming biography of Liu Xiaobo. Link and coauthor Wu Dazhi argue that Liu Xiaobo's place in history ought to be on a par with those of Nelson Mandela, Vaclav Havel, Andrei Sakharov and others who endured prison in their attempts to bring political liberation to their nations.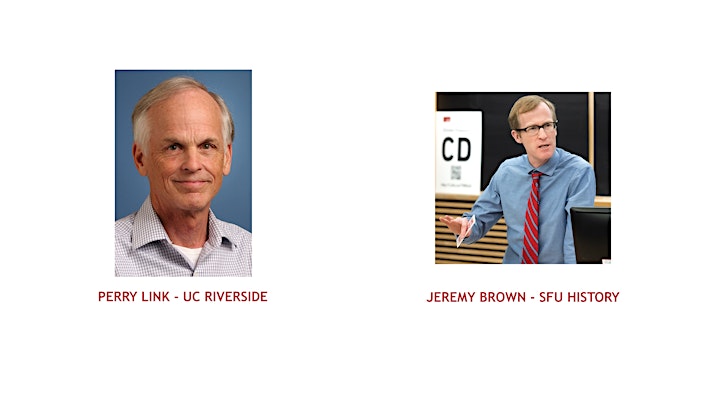 Speaker Bios
Perry Link is Professor emeritus of East Asian Studies at Princeton University and Chancellorial Chair for Teaching Across Disciplines at the University of California, Riverside. He is author of many books and articles on modern Chinese language, literature, popular culture, and dissident politics, including: The Tiananmen Papers (Public Affairs, 2001, co-edited with Andrew Nathan); Anatomy of Chinese: Rhythm, Metaphor, Politics (Harvard, 2013); Liu Xiaobo's Empty Chair: Chronicling the Reform Movement Beijing Fears Most (New York Review of Books, 2011); and The Uses of Literature: Life in the Socialist Chinese Literary System (Princeton, 2000). He is winner of David Brooks' 2016 Sidney Award for "the best long-form essay of the year."
Jeremy Brown is Associate Professor of History at Simon Fraser University. His books include June Fourth: The Tiananmen Protests and Beijing Massacre of 1989 (Cambridge, 2021); Maoism at the Grassroots: Everyday Life in China's Era of High Socialism (Harvard, 2015, co-edited with Matthew D. Johnson); City Versus Countryside in Mao's China: Negotiating the Divide (Cambridge, 2012), and Dilemmas of Victory: The Early Years of the People's Republic of China (Harvard, 2007, co-edited with Paul G. Pickowicz).