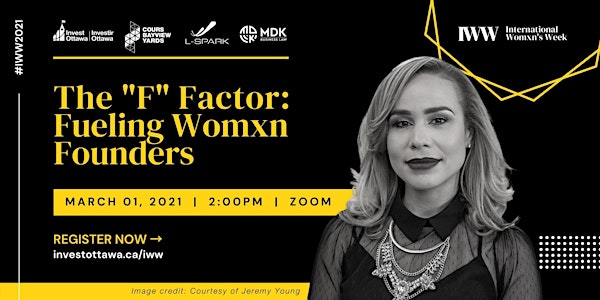 The "F" Factor: Fueling Womxn Founders
Womxn entrepreneurs and business leaders having frank discussions about resiliency & scaling. Join us for inspiration & actionable insight.
About this event
The official International Womxn's Week launch event hosted by Invest Ottawa & Bayview Yards, in partnership with L-SPARK and MDK Business Law.
Fierce. Fearless. Focused.
The pandemic has had a detrimental impact on womxn. Womxn entrepreneurs and business leaders, particularly those from marginalized communities, face significant challenges. We are uniting to reclaim lost ground and drive the future. Join us on Monday, March 1, 2021 at 2pm EST as we launch International Womxn's Week with the F-Factor – Fueling Womxn Founders.
Get ready for frank discussions on 'F' words that impact womxn entrepreneurs and business leaders fighting through the pandemic, demonstrating fierce resilience and scaling firms in a time of COVID-19. From fundraising to fearlessness, to pivoting fast, finding fellowship and fighting burnout, our leaders are ready to share honest insight, experiences and lessons learned. This authentic insight includes stories of epic fails and rebounds, re-defining the future, and charting a winding path to success in unprecedented times.
There's no playbook for launching and growing a company during a global pandemic. Our roster of all-star local, national and global entrepreneurs might just be writing the first chapter. And it is available to you exclusively at the "F"-Factor.
If you are aspiring, pivoting or scaling, there is only one place to be on March 1 – with leading womxn founders and executives on our virtual IWW stage.
Our agenda includes:
Welcome from Co-MCs:
*Shavonne Hasfal-McIntosh, Global Diversity & Belonging Lead, Shopify, Director, and Chair of the Female Founder and Womxn-Owned Business Sub-Committee, Invest Ottawa and Bayview Yards
*Sonya Shorey, Vice President, Strategy, Marketing and Communications, Invest Ottawa and Bayview Yards
Opening presentation on the progress and outcomes achieved to-date against Invest Ottawa's Womxn-Owned Business Strategy by Susan Richards, Co-Chair, and Michael Tremblay, President and CEO, Invest Ottawa & Bayview Yards
Panel discussion with womxn technology founders and business executives from Ottawa hosted by Michelle Younes, Director of Venture Development, Invest Ottawa.
Our amazing panellists include: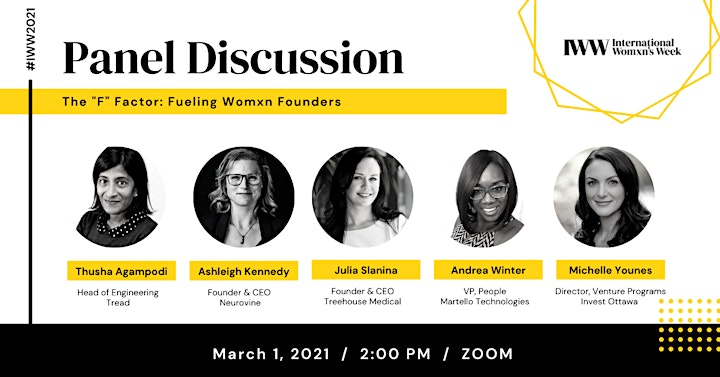 Andrea Winter – Vice President of People, Martello
Ashleigh Kennedy – Founder and CEO, Neurovine
Julia Slanina – Founder and CEO, Treehouse Medical
Thusha Agampodi – Head of Engineering, Tread
Keynote speaker: Mandela Schumacher-Hodge Dixon, CEO, Founder Gym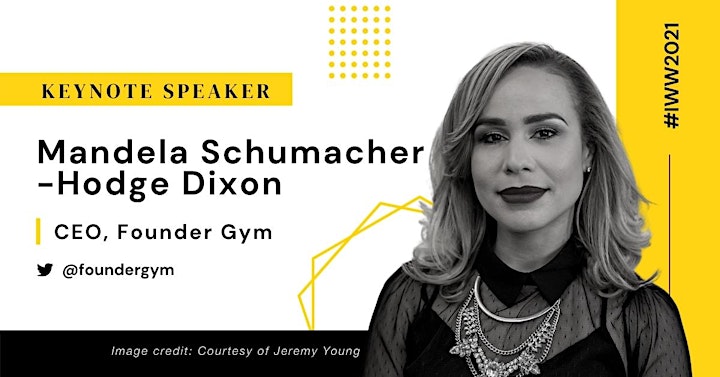 Mandela SH Dixon is a founder, investor, and startup ecosystem leader, who has trained hundreds of entrepreneurs around the world on how to build successful businesses. As the Founder and CEO of Founder Gym, the premiere online training program for underrepresented founders, Mandela and her team have helped 485 founders raise more than $80 million in startup capital in less than three years.
Prior to Founder Gym, Mandela was the founding Portfolio Services Director at venture firm Kapor Capital, the Global Director of Startup Weekend Education, and one of the first Black women to raise venture capital from Silicon Valley investors in 2012.
Mandela is an inaugural member of First Round Capital's Angel Track program, composed of select angel investors from Silicon Valley's most prominent tech companies. Mandela is a sought-after speaker and has shared her frameworks for success on over 100 stages (e.g. SXSW, Startup Grind, TEDx), and over 100 publications (e.g. Forbes, Wired Magazine, Business Insider). Mandela has received various recognitions, including being named to Entrepreneur Magazine's 100 Powerful Women list, Forbes 30 Under 30 list, as well as LinkedIn's Top 10 Voices in Venture Capital and Startups. You can follow Mandela on Instagram, Twitter, LinkedIn, and Medium.
Special thanks from Stef Reid, Director of Marketing, L-Spark
With a panel and keynote speaker like this, you know The 'F' Factor: Fueling Womxn Founders is one event that can't be missed.
If you're looking for entrepreneurial inspiration and actionable insight, register today!
#IWW2021 #WeMeanBusiness