Multiple Dates
The Farndale Avenue Housing Estate Townwomen's Drama Society Murder Mystery
EVENT: "The Farndale Avenue Housing Estate... Murder Mystery" is a hilarious slapstick comedy in the style of The Play that Goes Wrong.
About this event
DESCRIPTION:
The ladies of the Farndale... amateur drama society, in a housing estate somewhere in England in the 1980's, like to put on plays with great enthusiasm but little expertise. This time they wrote their own murder mystery, "Murder at Checkmate Manor". Things aren't going entirely as planned, but "The Show Must Go On" and so they march on undeterred, despite a couple of mishaps. Or maybe more than a couple.
This Mercury Players Society production is directed by Rien Vesseur who has directed The Curious Incident of the Dog in the Nighttime, Anatomy of Grey and Mending Fences, among others. The cast of 6 includes experienced local talent.
DATES/TIMES:
Thursday, Friday, Saturday Dec 2, 3, 4 and 9, 10, 11 at 7:30pm
Sunday Dec 5 (SOLD OUT) and Dec12 at 2:30pm
TICKET INFO:
Click on the ticket button and/or select the date of the performance you would like to attend. Careful! You may have to "Select a Different Date" first.
Tickets also available at Ten Old Books in the Duncan Garage and First Chiropractic Clinic in Duncan.
The limited contingent of 2 tickets for 30.00 for the Thursday, 2 December show is sold out.
Sunday Dec 5 Sold out.
LOCATION:
Mercury Theatre
331 Brae Rd, Duncan, BC V9L 3T9
COVID INFO:
Proof of vaccination must be presented at the door. We comply with all health regulations as applicable at the time of performance.
VOLUNTEER REQUEST:
We are always looking for people to become members and help us with the various tasks around putting on a play, such as Front of House (checking tickets, usher, concession stand), Safety around the building, Lighting operator, Sound operator, Set building and more. Contact mail@mercuryplayers.org
The Cast in no particular order:
Mary Louise Phillips
Lisa Read
Leslie Sanchez
Bronwen Thorburn
Keith Simmonds
(Most actors play several characters)
Director: Rien Vesseur
Producer: Judy Buchanan
Stage Manager: Cathy Schmidt
and many others.
"The Farndale Avenue Housing Estate Townswomen's Guild Dramatic Society Murder Mystery" by David McGillivray and Walter Zerlin Jr.
is presented by arrangement with
Concord Theatricals on behalf of Samuel French, Inc. www.concordtheatricals.com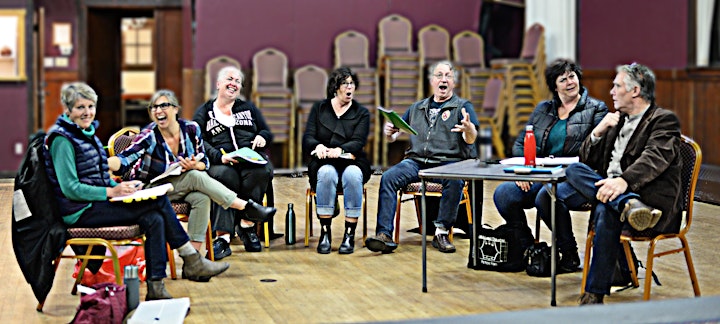 Organizer of The Farndale Avenue Housing Estate Townwomen's Drama Society Murder Mystery
The Mercury Players are a not-for-profit organization of inclusive, welcoming and eclectic theatre enthusiasts in Duncan since 1999. We daringly tackle the big and the smaller plays, usually with great success. Feel free to contact and ask about our shows, auditions, improv events, play readings and other ways of participating.