Sales Have Ended
Registrations are closed
Thank you very much for registering for the Online Workshop. Please make sure you have registered for both events on Sep12 and 26, 2020. These events will be on 2 Saturdays and will begin at 10:00 AM Eastern Standard Time (EST) up to 12:00 PM EST. Mark these dates in your calendar and if you belong to a different location other than in Ontario, Canada, please make sure you adjust your appropriate timezone. We will send you more details in the next following days to help you in preparing for these 2 events. If you have questions or additional inquiries about the event, please feel free to post your question at https://www.facebook.com/groups/mathetesmultiplicationmovement. We are excited to have you in these virtual events and we look forward to meeting you soon! Thank you very much and may the Lord be glorified in this endeavor. Sincerely, Mathētḗs Multiplication Movement (MMM)
Sales Have Ended
Registrations are closed
Thank you very much for registering for the Online Workshop. Please make sure you have registered for both events on Sep12 and 26, 2020. These events will be on 2 Saturdays and will begin at 10:00 AM Eastern Standard Time (EST) up to 12:00 PM EST. Mark these dates in your calendar and if you belong to a different location other than in Ontario, Canada, please make sure you adjust your appropriate timezone. We will send you more details in the next following days to help you in preparing for these 2 events. If you have questions or additional inquiries about the event, please feel free to post your question at https://www.facebook.com/groups/mathetesmultiplicationmovement. We are excited to have you in these virtual events and we look forward to meeting you soon! Thank you very much and may the Lord be glorified in this endeavor. Sincerely, Mathētḗs Multiplication Movement (MMM)
Understanding the Father's heart will take us to realize God's urgent mission to our lost World & teach us to embrace His heart for Missions
About this Event
Even with the world on pause, we invite you to learn to reach the unreached during this global pandemic!
This event is a 2-part online workshop to be conducted over Zoom and will be conducted on 2 Saturdays. We have a prestigious group of Speakers from Canada who will be presenting Vision Casting and God's Mission (Missio Dei).
OPEN TO INTERNATIONAL PARTICIPANTS
Workshop 1 - Vision Casting
We realize that we are now standing at a "Kairos" moment [Acts 17:26-27, (Ancient Greek: καιρός - meaning the right, critical opportune moment] - the tipping point in real history right now. Gateway cities such as the Greater Toronto Area, and other metropolitan cities in the world are filled with residents coming from unreached people (ethnic) groups and people from literally the ends of the earth. God has sovereignly brought them to these places --- surely, more than just for "a better life". Will the church rise up and grasp this God-ordained season and opportunity for gospel harvesting and join God in His mission to bring about the fulfillment of reaching the multitude for God from every nation, from all tribes and peoples and languages (Rev 5:9-10 and 7:9-10)? Will we join with Him and understand the Father's Heart for lost people in unreached people groups and capture His vision for multiplying disciple-makers and gospel movements 'to the ends of the earth?
Join us for a time of biblical Vision Casting and commitment to see that the fields truly are white and ready for harvesting (John 4:35) and the role we Christians have in this endeavor.
Workshop 2 - Missio Dei
'God's church falters from exhaustion because Christians erroneously think that God has given them a mission to perform in the world...It is not the church of God that has the mission in the world, but the God of mission who has a church in the world. The church's involvement in mission is its privileged participation in the actions of the Triune God'. (Excerpt from Beyond Duty: a passion for Christ, a heart of mission by Tim A. Dearborn). Do you agree with this statement?
Come and find out for yourselves from God's own Word!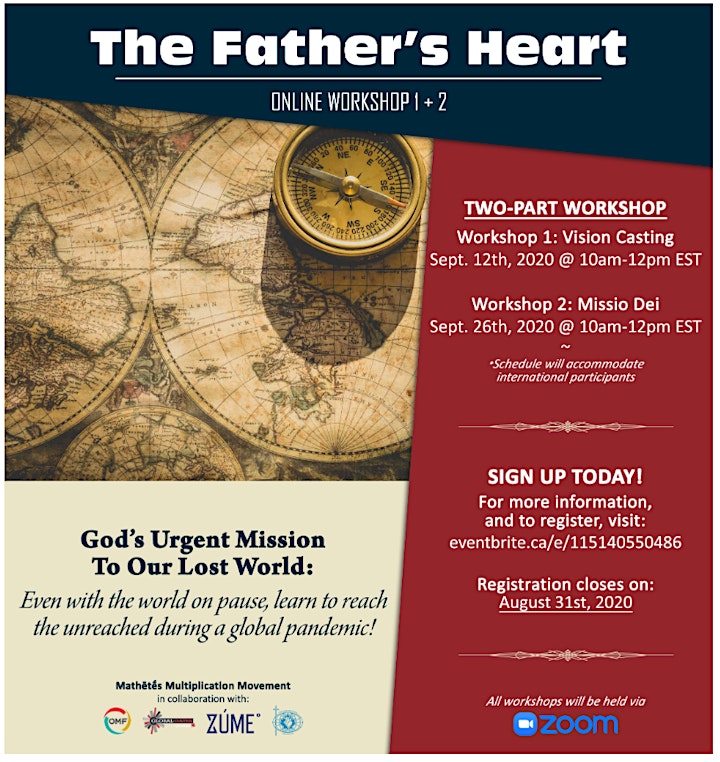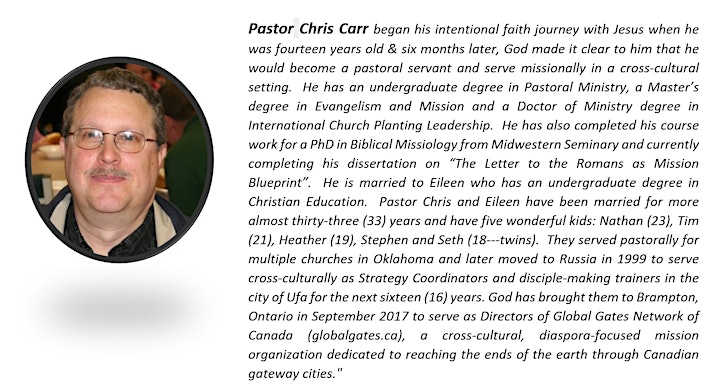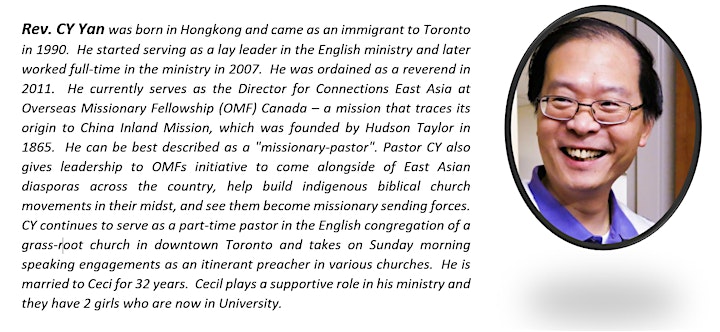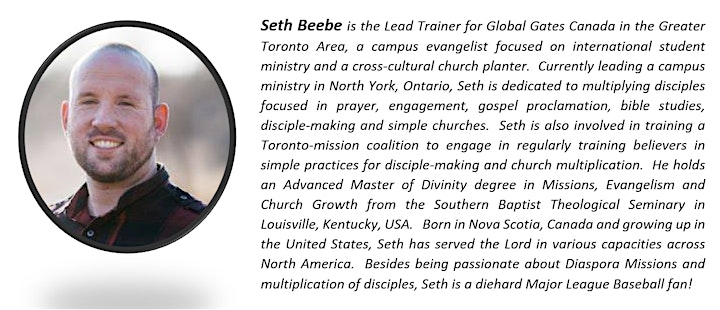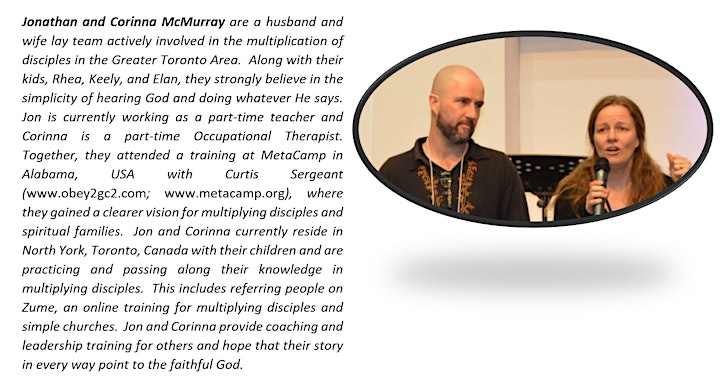 Suggested Readings/Materials prior to Sep 12, 2020 (available in Kindle or hardcopy version, see Canadian website links):