Description
Welcome to the FemmeOperative.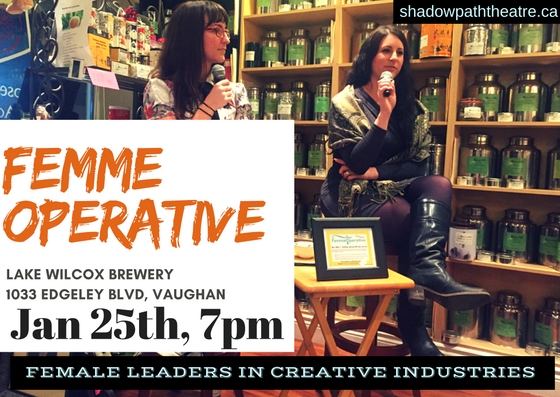 A proactive forum featuring female creative leaders in an interview format.
Connect, Support and get Inspired through artistic collaboration, information sharing and like-minded learning in the following ways:
1. Building Communtiy through cross-collaboratives & partnerships
2. Showcasing successful female creatives as an industry speaker series
3. Nurturing oneself to achieve goals through wellness tips and tools
Featured guests will be interviewed by Shadowpath's Artistic Director, Alex Karolyi.
Jacquie Lazar is a graduate of York University's Theatre Production Program and has a Bachelor of Fine Arts with Honours majoring in Theatre Production. She has spent the last 14 years in theatre working alongside some of the best and brightest in the theatre industry. Some highlights of her career have been the five seasons she spent as the Head Electrician for Yong People's Theatre in Toronto, Production Managing Nuit Blanche North in Huntsville, Production Manager and Technical Director for On the Rocks, and Production Manager for Book of Judith. Jacquie was the Technical Director for St. Michael's College School in Toronto from Aug 2014 to May 2015 and since then she has been at St Andrew's College in Aurora taking on the role of Theatre Coordinator and Technical Director. Jacquie is also on the board of directors for Shadowpath Theatre.
Jessica V. Kun, a native of Toronto, Canada, is Conductor and Artistic Director of the Richmond Hill Philharmonic Orchestra. She completed a Doctor of Musical Arts degree in Conducting at Arizona State University, where she conducted the Wind Symphony, Wind Ensemble, Chamber Winds, and the Lyric Opera Theatre. She holds Bachelor of Music and Bachelor of Education degrees from the University of Calgary (Canada), Master's Certificate in Conducting from the University of Calgary Wind Conducting Program, and a Master of Music degree in Musicology from the University of Manchester (England), where she conducted the Symphony Orchestra, chamber ensembles, and the New Music Ensemble, as well as civic, professional, and youth orchestras and new music ensembles across the country. She has conducted string and full orchestras, symphonic and jazz bands, chamber music, contemporary music ensembles, and opera. She has taught and conducted musicians at all levels, from novice to professional, and has written articles for Canadian Music Education journals and curriculum documents for the Ontario Ministry of Education. Dr. Kun currently serves as Conductor and Associate Professor of Music at Wilfrid Laurier University, where she teaches conducting and orchestration. Her research includes the development of conducting and conducting pedagogy, using digital media, and further studies into emotional contagion and effective gestural communication. Dr. Kun is active as a conductor, adjudicator, and clinician in North America, Great Britain, Europe, and South America.
$5 in advance, $8 at the door
Open to All!