The Fifth Reel Presents: DIE HARD feat. YTTBWYD

Friday, 16 December 2016 at 10:00 PM (MST)
Event Details
Come spend the holidays with us Fifth Reel style, on Dec 16th we'll be playing everyone's favourite Christmas classic DIE HARD! If you haven't seen Die Hard (seriously what's wrong with you?) here's a plot synopsis:
"In the city of Los Angeles, a Christmas party is held on the 30th floor of the Nakatomi Plaza Hotel. While the party is going on, downstairs, a band of German terrorists arrive and take the entire building hostage including its employees and attempts a huge robbery. But the only one who eludes capture is New York City Cop John McClane who launches a one man war in an attempt to stop the terrorists and save all hostages including his wife Holly." - IMDB
Musical guest for the evening, playing some tunes to get you in the mood, YOU TAKE THE BUS WHEN YOU'RE DEAD. Screamo Post-Rock that John would probably put on to unwind after a long day.
Hosting for the evening will be the always hilarious, never a dull moment, THE KINKONAUTS! Prepare to be dazzled by their hilarious antics and mind bending challenges. Past highlights include human-proton-pack ghost hunting, Arnold Schwarzenegger impersonation contests, and life sized rock em sock em robots. One can only guess what they have up their sleeve this time.
To help with the holiday cheer and make merry we'll be serving rum and egg nog along with our usual selection of beer in the lobby, you'll be able to bring it into the theatre with you while you watch the movie!
18+/NO MINORS
$9 Early Bird tickets if you order before December 2nd!
$10 for members of The Fifth Reel/Calgary Underground Film Festival/UofC Film Society
$15 for non-members (Free Fifth Reel memberships will be available inside the theatre for those who want to become members for next time)
FIFTH REEL HOUSE RULES:
Audience participation and dressing up is always encouraged. Yelling, cheering, jeering, quote a long. are all also highly encouraged. Past screenings have been as loud and as rowdy as the last house party you've been to. The Fifth Reel is an interactive movie going experience, the audience makes the fun. If you expect to sit on your hands in silence for two hours then this might not be for you...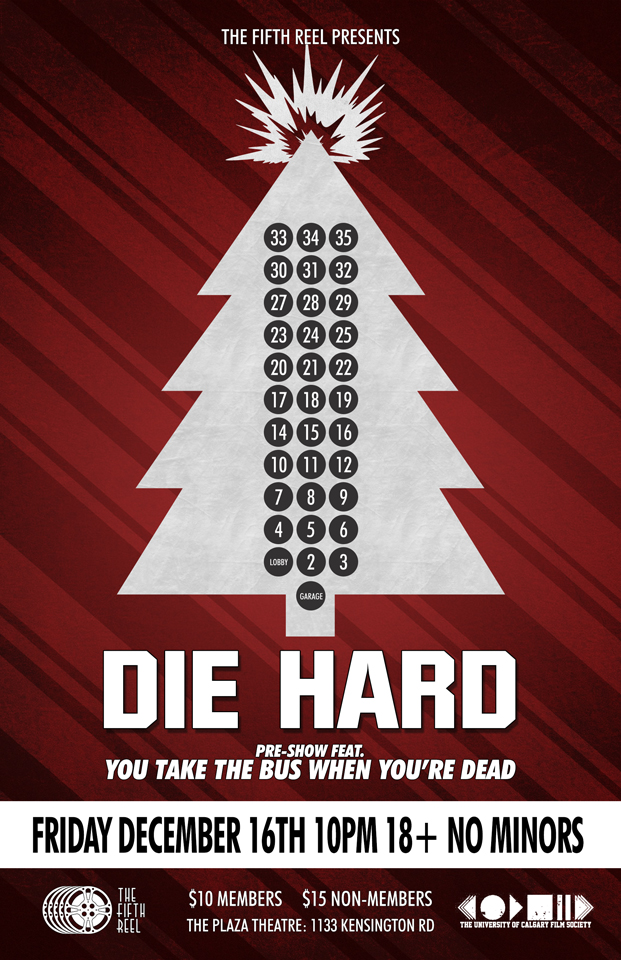 When & Where

The Plaza Theatre
1133 Kensington Rd NW
Calgary, Alberta T2N 3P4
Canada

Friday, 16 December 2016 at 10:00 PM (MST)
Add to my calendar
Organizer
The Fifth Reel is a screening club organized by a pair of film fanatics who longed to provide the movie lovers of Calgary with a unique and memorable theater going experience. Since 2012, they have hosted monthly shows of classic and cult movies; pairing films with live local music, a licenced auditorium, and always encouraging costumes and audience participation, The Fifth Reel is a night at the movies you just can't replicate at home.
As a member of The Fifth Reel you get discounts at places like Another Dimension Comics, The Oak Tree Tavern, Broken City, and improv shows by The Kinkonauts!