The Fifth Reel Presents: GROUNDHOG DAY feat. Windigo

Friday, 30 January 2015 at 10:00 PM (MST)
Event Details
Okay, campers, rise and shine, and don't forget your booties 'cause it's cooooold out there today!
Jan 30th TFR and UofC Film Society present Harold Ramis and Bill Murray at their finest:
GROUNDHOG DAY! Get out of that hole and come party with us!
Misanthropic TV weatherman/broadcaster, Phil Connors, is annoyed and despondent when he's assigned the job of covering the annual Groundhog festivities in the small "Hick" town of Punxsutawney - making this his fourth in a row. The only noticeable upside is his attractive and good-natured producer. But the real nightmare begins when Phil ends up reliving the same day (Groundhog Day) over, and over again. Unable to leave the town due to a severe blizzard, and with no end in sight, Phil struggles to find a way to escape (and ultimately make the best of) his seemingly hopeless situation.

As per Fifth Reel tradition we'll have a fine selection of beer for sale in the lobby and you'll be able to bring it into theatre and enjoy while you watch the movie!
Before the movie local indie dreamweavers WINDIGO will be playing some songs to help you get in the mood and warm your cold bones.
"Windigo's fuzzy and sunshine-y blend of indie pop creates an interesting and sophisticated contrast to their eerie folkloric name. Jen Severtson (bass and vox) and Anthony Kameka (vox and guitar) are keen to bring their new, youthful sound to Calgary with the rest of their band members — a sound which mimics not only their eagerness to play live but, also, their creative originality in a genre that has been so dominated by acts like Ra Ra Riot, Said The Whale and We Are The City." - Therese Schultz, Beatroute Magazine
Last but certainly not least, The evening's festivities will be hosted by Calgary's own lmprov fanatics The Kinkonauts! prepare to be dazzled by their hilarious antics and mind bending challenges. Past highlights include a hard boiled egg race through the theatre, Arnold Schwarzenegger impersonation contests, and life sized rock em sock em robots. One can only guess what they have up their sleeve this time.
FIFTH REEL HOUSE RULES:
Audience participation and dressing up is always encouraged. Yelling, cheering, jeering, quote a long. are all also highly encouraged. Past screenings have been as loud and as rowdy as the last house party you've been to. The Fifth Reel is an interactive movie going experience, the audience makes the fun. If you expect to sit on your hands in silence for two hours then this might not be for you...
18+/NO MINORS
$9 Early Bird tickets if you buy before January 17th!
$10 for members of The Fifth Reel, Calgary Underground Film Festival, and UofC Film Society.
$15 for non members (Free Fifth Reel memberships will be available inside the theatre for those who want to become members!)
Doors at 9:00
Windigo will be playing at 10:00 and the movie will start at 10:30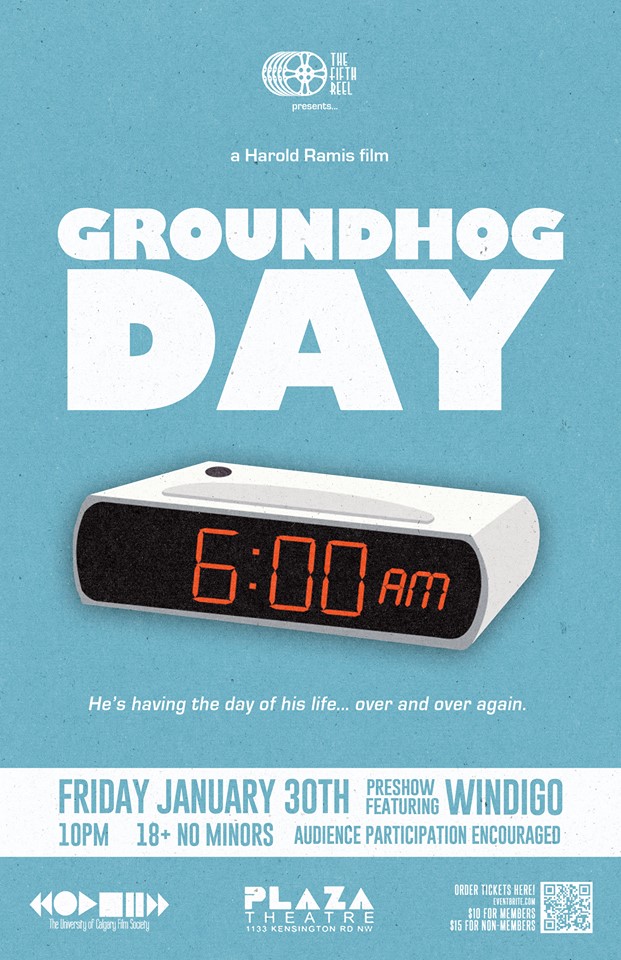 When & Where

The Plaza Theatre
1133 Kensington Rd NW
Calgary, Alberta T2N 3P4
Canada

Friday, 30 January 2015 at 10:00 PM (MST)
Add to my calendar
Organizer
The Fifth Reel is a screening club organized by a pair of film fanatics who longed to provide the movie lovers of Calgary with a unique and memorable theater going experience. Since 2012, they have hosted monthly shows of classic and cult movies; pairing films with live local music, a licenced auditorium, and always encouraging costumes and audience participation, The Fifth Reel is a night at the movies you just can't replicate at home.
As a member of The Fifth Reel you get discounts at places like Another Dimension Comics, The Oak Tree Tavern, Broken City, and improv shows by The Kinkonauts!