The Fifth Reel Presents: LABYRINTH feat. MELTED MIRROR

Friday, 11 December 2015 at 10:00 PM (MST)
Event Details
***UPDATE: Online tickets are now sold out! But, we always reserve a few tickets for sale a the door on the night of the show. These will go on sale at 9pm, so be sure to arrive early to ensure you get yours! ***
Just in time for the holidays, The Fifth Reel is happy to present Jim Henson's 80's cult classic LABYRINTH, starring David Bowie (as if you didnt already know that)!
"Young Sarah is left home alone by her parents and she has to babysit her little brother Toby. But the baby keeps crying and Sarah, while telling him a story to make him sleep, inadvertently conjures from a fantasy world the Goblin King who steals the child and brings him to his castle in the middle of a labyrinth. Sarah has to rescue him before midnight, or the baby will became a goblin." – IMDB
The evening's musical guest will be MELTED MIRROR
"As a young band, Melted Mirror have released four tracks online, with a six-track EP to be released in the fall. Delay-drenched guitars compliment atmospheric vintage synths, with Zajko's vocals placing Ian Curtis in the mid-80s. The album artwork reflects the tone of the music with dark imagery overlaid with bright overtones." - Kaleem Khan, Beatroute Magazine
Hosting for the evening will be the always hilarious, never a dull moment, THE KINKONAUTS!
Prepare to be dazzled by their hilarious antics and mind bending challenges. Past highlights include human-proton-pack ghost hunting, Arnold Schwarzenegger impersonation contests, and life sized rock em sock em robots. One can only guess what they have up their sleeve this time.
As with all Fifth Reel events we will also have beer for sale in the lobby which you'll be able to enjoy in the theatre while you watch the movie!!!! Stay tuned for details on what the special theme drink for the evening will be!
18+/NO MINORS
$9 Early Bird tickets if you order before Nov 27!
$10 for members of The Fifth Reel/Calgary Underground Film Festival/UofC Film Society
$15 for non-members (Free Fifth Reel memberships will be available inside the theatre for those who want to become members for next time)
FIFTH REEL HOUSE RULES:
Audience participation and dressing up is always encouraged. Yelling, cheering, jeering, quote a long. are all also highly encouraged. Past screenings have been as loud and as rowdy as the last house party you've been to. The Fifth Reel is an interactive movie going experience, the audience makes the fun. If you expect to sit on your hands in silence for two hours then this might not be for you...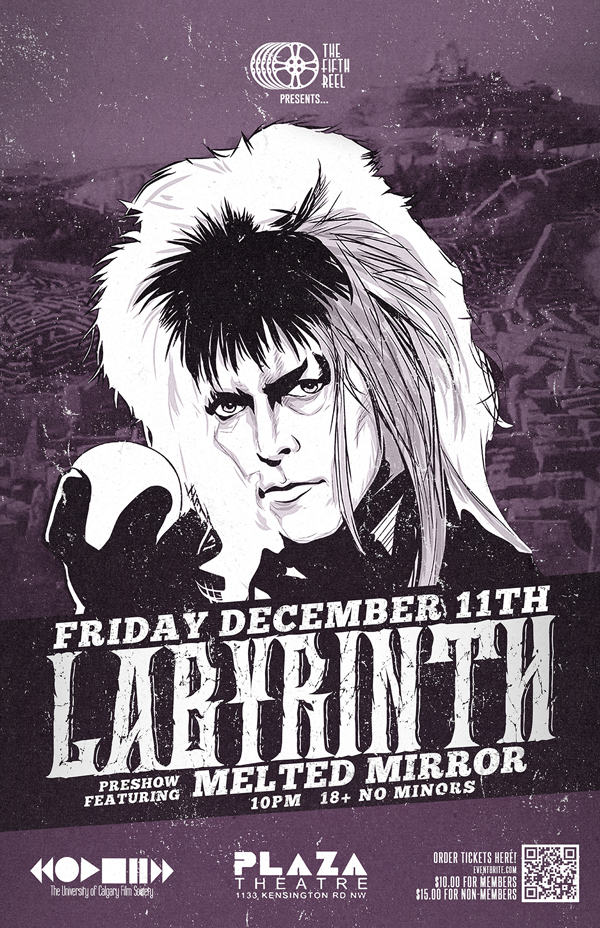 When & Where

The Plaza Theatre
1133 Kensington Rd NW
Calgary, Alberta T2N 3P4
Canada

Friday, 11 December 2015 at 10:00 PM (MST)
Add to my calendar
Organizer
The Fifth Reel is a screening club organized by a pair of film fanatics who longed to provide the movie lovers of Calgary with a unique and memorable theater going experience. Since 2012, they have hosted monthly shows of classic and cult movies; pairing films with live local music, a licenced auditorium, and always encouraging costumes and audience participation, The Fifth Reel is a night at the movies you just can't replicate at home.
As a member of The Fifth Reel you get discounts at places like Another Dimension Comics, The Oak Tree Tavern, Broken City, and improv shows by The Kinkonauts!