The Fifth Reel Presents: RAIDERS OF THE LOST ARK feat. Ghost Factory

Friday, 20 March 2015 at 10:00 PM (MDT)
Event Details
This March grab your whip, grab your fedora, and go on an adventure to The Plaza for a screening of Steven Spielberg's 1981 classic! Often heralded as the greatest adventure movie of all time; RAIDERS OF THE LOST ARK.
"Renowned archeologist and expert in the occult, Dr. Indiana Jones, is hired by the U.S. Government to find the Ark of the Covenant, which is believed to still hold the ten commandments. Unfortunately, agents of Hitler are also after the Ark. Indy, and his ex-flame Marion, escape from various close scrapes in a quest that takes them from Nepal to Cairo." - IMDB
Still not feeling adventurous? On loan from The Smithsonian we got Calgary's favourite folk-punkers GHOST FACTORY to play some songs for you before the movie. "Folk punk with lots of big words yelled at you from an angry, big-nosed muppet with a guitar. Songs about identity, self-fulfillment, creativity, social outrage, reform and Satan. Unique, short and passionate tunes in the vein of Andrew Jackson Jihad, Say Anything & Propaghandi sprinkled with some Defiance Ohio" - Alberta Music
Still not feeling it? Ok, how about we top this all off with improv comics THE KINKONAUTS hosting for the evening? Prepare to be dazzled by their hilarious antics and mind bending challenges. Past highlights include a hard boiled egg race through the theatre, Arnold Schwarzenegger impersonation contests, and life sized rock em sock em robots. One can only guess what they have up their sleeve this time.
Surely by now you must be dusting off your passport and packing your satchel, if not then this is my last rebuttal. This is a licensed event and we'll have beer for sale in the lobby which you can bring with you into the theatre while you watch the movie!
(We get that this is a family film but the event is still 18+ only, sorry to all the younglings.)
Glad to know we're now on the same page.
FIFTH REEL HOUSE RULES:
Audience participation and dressing up is always encouraged. Yelling, cheering, jeering, quote a long. are all also highly encouraged. Past screenings have been as loud and as rowdy as the last house party you've been to. The Fifth Reel is an interactive movie going experience, the audience makes the fun. If you expect to sit on your hands in silence for two hours then this might not be for you...
18+/NO MINORS
$9 Early Bird tickets if you buy before March 8th!
$10 for members of The Fifth Reel, Calgary Underground Film Festival, and UofC Film Society.
$15 for non members (Free Fifth Reel memberships will be available inside the theatre for those who want to become members!)
Doors at 9:00
Ghost Factory will be playing at 10:00 and the movie will start at 10:30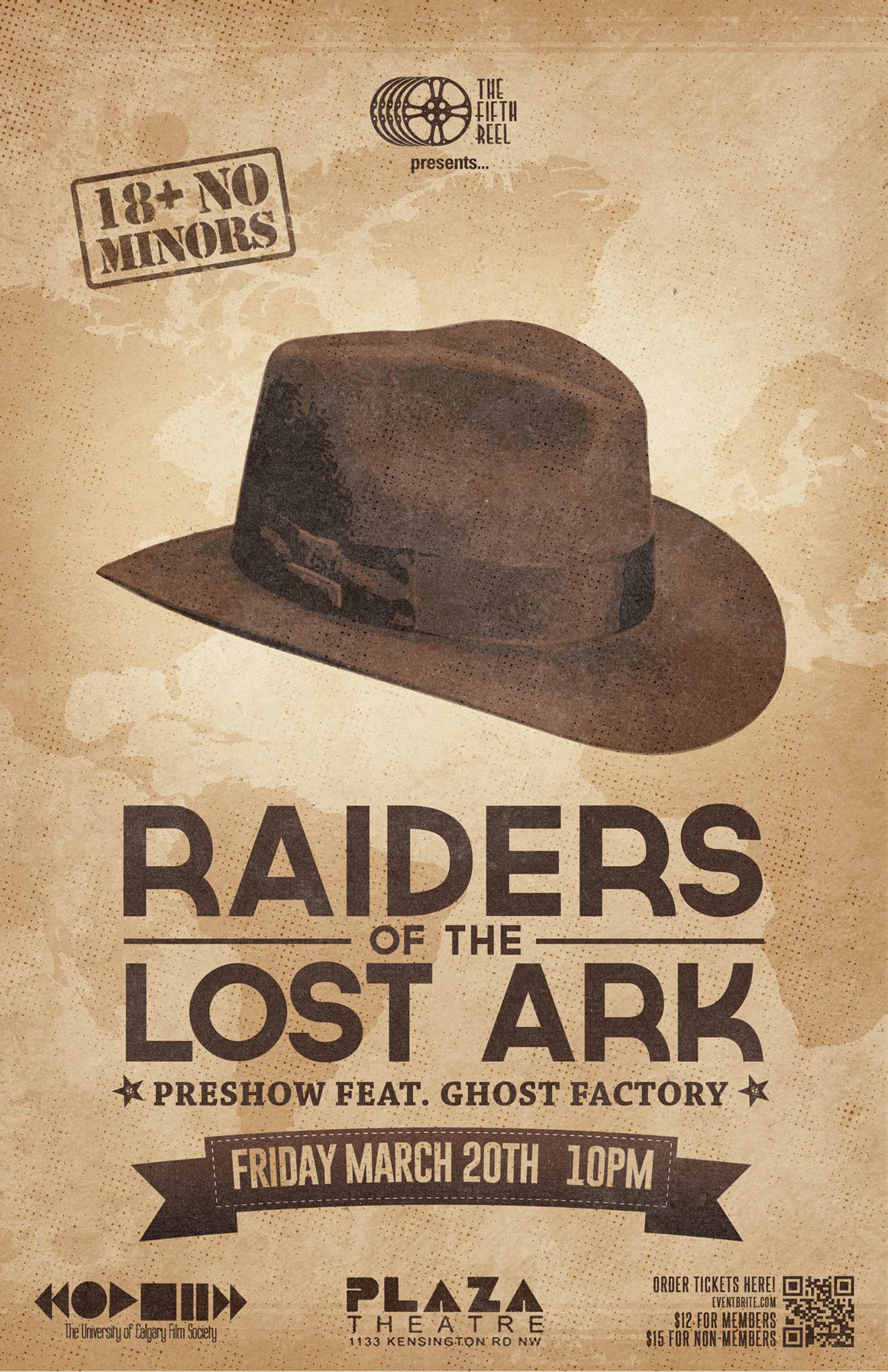 Have questions about The Fifth Reel Presents: RAIDERS OF THE LOST ARK feat. Ghost Factory?
Contact The Fifth Reel
When & Where

The Plaza Theatre
1133 Kensington Rd NW
Calgary, Alberta T2N 3P4
Canada

Friday, 20 March 2015 at 10:00 PM (MDT)
Add to my calendar
Organizer
The Fifth Reel is a screening club organized by a pair of film fanatics who longed to provide the movie lovers of Calgary with a unique and memorable theater going experience. Since 2012, they have hosted monthly shows of classic and cult movies; pairing films with live local music, a licenced auditorium, and always encouraging costumes and audience participation, The Fifth Reel is a night at the movies you just can't replicate at home.
As a member of The Fifth Reel you get discounts at places like Another Dimension Comics, The Oak Tree Tavern, Broken City, and improv shows by The Kinkonauts!
The Fifth Reel Presents: RAIDERS OF THE LOST ARK feat. Ghost Factory