The Fifth Reel Presents: THE ROOM feat. F*ckboy

Friday, 15 May 2015 at 10:00 PM (MDT)
Event Details
The Fifth Reel is kicking off its Summer season the best way it knows how: with the best worst movie of all time: the new cult classic of a generation; the citizen kane of awful movies; Tommy Wiseau's disasterpiece THE ROOM! The last couple of screenings have sold out and we've been getting a huge demand to play this again so we decided to appease the masses!
"The Room is a San Francisco-set love triangle involving a banker named Johnny, his friend Mark, and Johnny's fiancée Lisa, who is sleeping with both men. The film does seem to be beset with problems. Various subplots are inadequately resolved or simply disappear altogether, including the throwaway revelation that Lisa's mother is suffering from cancer. - Entertainment Weekly
"While there are plenty of bad movies, there are no movies that are bad in all the ways The Room is bad. It suspends all normal rules of drama. Conflicts are introduced and then disappear instantly. Characters experience rapid mood swings, and everyone speaks in a weird brand of English filled with bizarre idioms. ."
If you've never been to a screening of The Room, familiarize yourself with some of the common callouts and participation cues here: http://www.avclub.com/article/a-viewers-guide-to-the-room-25721
FYI: We'll have spoons for you to throw at the theatre though it's totally cool if you bring your own (plastic obviously) the more the merrier. Throwing a football with your pal is also cool but please don't throw any in the general direction of the screen. broken screen = angry owner = no more Fifth Reel.
Since we're playing the worst movie ever it's only fitting we get the worst band ever, so we got FUCKBOY to come and play some songs for you before the movie
 From the band's bio: "I DON'T GET IT BUT I GET THAT IT'S BETTER THAN ME." -Anonymous show review
 "THEY WERE WRONG. FUCKBOY IS TERRIBLE." Sounds promising.
https://www.facebook.com/thisbandisawful/timeline
Hosting for the evening will be the always hilarious, never a dull moment, THE KINKONAUTS!
Prepare to be dazzled by their hilarious antics and mind bending challenges. Past highlights include a hard boiled egg race through the theatre, Arnold Schwarzenegger impersonation contests, and life sized rock em sock em robots. One can only guess what they have up their sleeve this time.

To top everything off this event will be LICENSED! We'll have our usual selection of beer for sale in the lobby as well as ANCHOR STEAM beer straight from San Fran (I bet Johnny himself was sipping on a few of these...) and because people are crazy enough to actually try it each year, we will be serving SKOTCHKA for those brave enough to try it
$9 Early Bird tickets if you buy before May 1st!
18+/NO MINORS
$10 for members of The Fifth Reel/Calgary Underground Film Festival/UofC Film Society
$15 for non-members (Free Fifth Reel memberships will be available inside the theatre for those who want to become members!)
Doors at 9:00, FUCKBOY plays at 10:00, movie starts around 10:30
FIFTH REEL HOUSE RULES:
Audience participation and dressing up is always encouraged. Yelling, cheering, jeering, quote a long. are all also highly encouraged. Past screenings have been as loud and as rowdy as the last house party you've been to. The Fifth Reel is an interactive movie going experience, the audience makes the fun. If you expect to sit on your hands in silence for two hours then this might not be for you...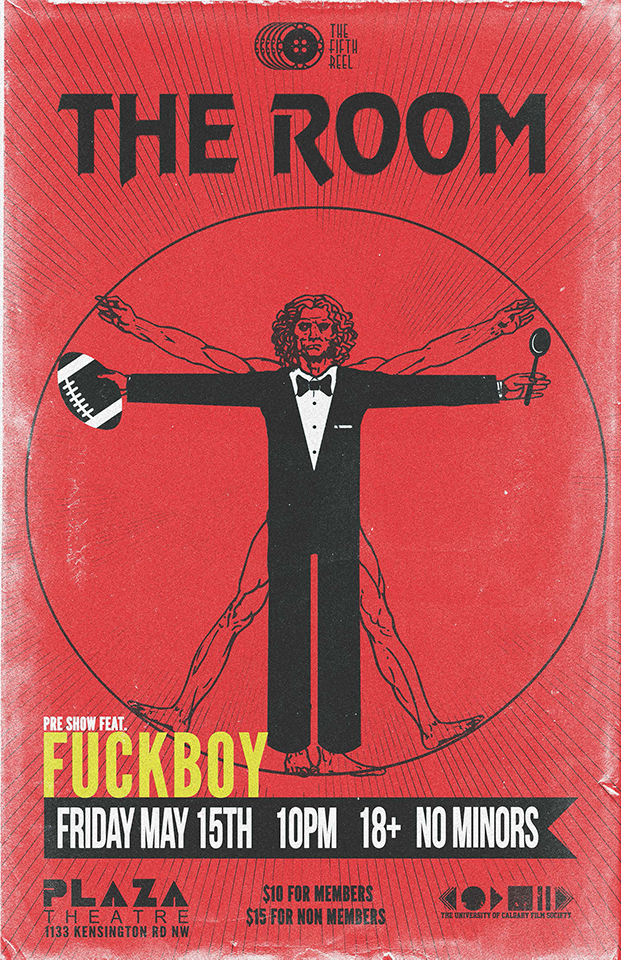 When & Where

The Plaza Theatre
1133 Kensington Rd NW
Calgary, Alberta T2N 3P4
Canada

Friday, 15 May 2015 at 10:00 PM (MDT)
Add to my calendar
Organizer
The Fifth Reel is a screening club organized by a pair of film fanatics who longed to provide the movie lovers of Calgary with a unique and memorable theater going experience. Since 2012, they have hosted monthly shows of classic and cult movies; pairing films with live local music, a licenced auditorium, and always encouraging costumes and audience participation, The Fifth Reel is a night at the movies you just can't replicate at home.
As a member of The Fifth Reel you get discounts at places like Another Dimension Comics, The Oak Tree Tavern, Broken City, and improv shows by The Kinkonauts!