Description
Without hyperbole a masterpiece of comedy, music, and farce but so true to life that it borders on identity theft, This is Spinal Tap has become the epitome of cult classic. This mockumentary film follows one of England's loundest bands and film director Marty DeBergi on what proves to be a fateful tour.
Come rock out on November 28th, Fifth Reel style with great local music, rad drinks, fun people, and rowdy audience participation.
The night's preshow tunes will come courtesy of NAPALMPOM
"Napalmpom plays celebratory rock n' roll so good that even the members of the band play air guitar along to it."
As always this will be a special licensed event with beer for sale in the lobby which you can bring with you into the theatre! To wrap it all together, our pals in The Kinkonauts will be hosting for night. These cats are hilarious and will be giving away some rad prizes for ya'll as well. Costumes and audience participation encouraged!

18+/NO MINORS
$10 for members/$15 for non members
$9 Early bird tickets for both members and non-members if you get them before November 16th!
Free memberships will be available in the theatre.
Napalmpom will be playing at 10:00 and the movie will start at 10:30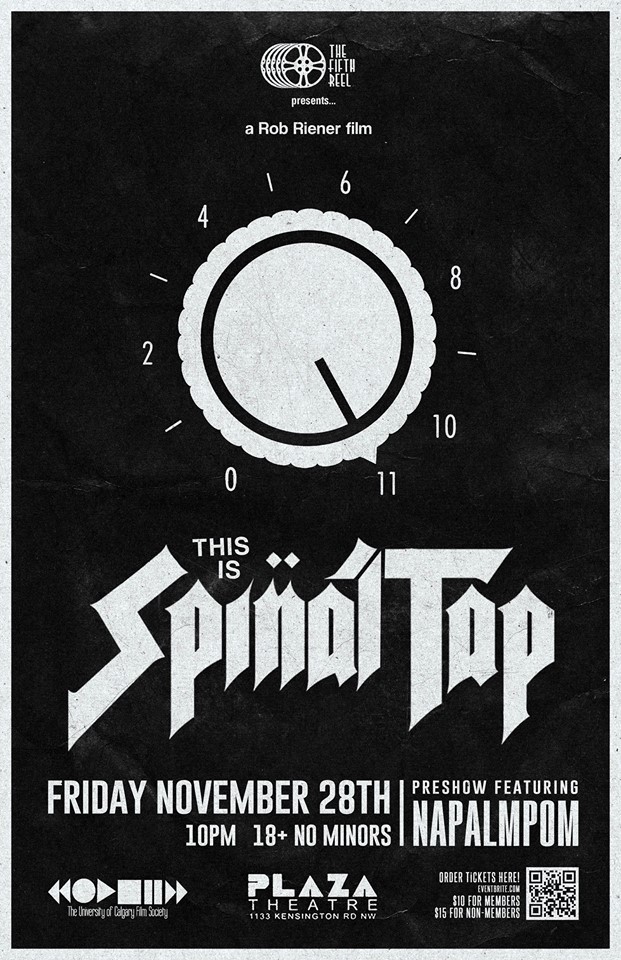 Organizer of The Fifth Reel Presents: THIS IS SPINAL TAP feat. Napalmpom
The Fifth Reel is a screening club organized by a pair of film fanatics who longed to provide the movie lovers of Calgary with a unique and memorable theater going experience. Since 2012, they have hosted monthly shows of classic and cult movies; pairing films with live local music, a licenced auditorium, and always encouraging costumes and audience participation, The Fifth Reel is a night at the movies you just can't replicate at home.
As a member of The Fifth Reel you get discounts at places like Another Dimension Comics, The Oak Tree Tavern, Broken City, and improv shows by The Kinkonauts!