Description
Gain valuable skills needed to succeed from world renowned speakers, make connections with key business leaders in your community, and be given the tools to take control of your life and career!
Reinvent Atlantic is a two-day, interactive conference designed to tap into your personal development as it aligns with your career and business goals.
View full agenda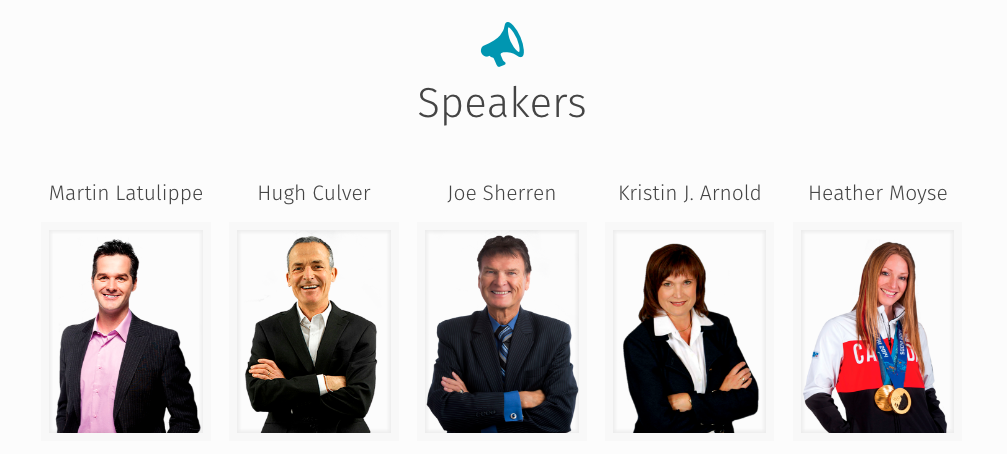 Martin Latulippe
"Many speakers can talk but, in my career as an executive, I've rarely seen a speaker with listening skills like Martin Latulippe. His ability to understand the issues while delivering a targeted message adapted to our needs was remarkable. He went beyond our expectations at a key time in our organization."

Hugh Culver
As one of 50 Canadian Certified Speaking Professionals, Hugh co-founded of the world's most exclusive tour company and only private flights to the South Pole, and was award Canadian best-selling author for his book 'Give Me a Break—The Art of Making Time Work For You'.
Joe Sherren
An Internationally acclaimed speaker and corporate trainer, Joe has been delighting audiences with his thought-provoking, interactive and inspirational presentations for over 20 years.

Kristin J. Arnold
As a high stakes meeting facilitator, trainer and keynote speaker, Kristin has worked with thousands of senior executives, project managers and team leaders, challenging their traditional notions about teamwork.

Heather Moyse
Engaging… Dynamic… Empowering! Heather is an accomplished speaker who inspires people all around the world with the depth of her experiences, and enlightens audiences with her lessons and philosophies on success and life.

Learn more about your speakers!

---
Presentations: Day 1
Joe Sherren: "Tomorrow is Going to be Amazing"
Learn how mental conditioning determines the majority of day-to-day behaviors and how to develop an attitude to reinvent your personal thinking. Also, understand how applying this new thinking to working with the new multigenerational workforce will maximize performance and engagement.
Hugh Culver: "How to Start a Transformation"
The remarkable story of how the world's most exclusive airline was created and discover three uncommon ingredients to launching your own successful movement, business, or new venture.
Kristin Arnold: "Making Smart Decisions in a VUCA World"
In a world of incredible change and chaos, where decisions are made in the blink of an eye, have you ever made a half-baked decision? For whatever reason, you just didn't think it through. The result? Less than stellar outcomes. You and your people don't have hours to agonize over every decision, (nor would you want to…) and in this interactive session, you will learn practical techniques to help you make smarter decisions.
Martin LaTulippe: "Building a Top Performer's Mindset"
Today's successful leaders are required to do more with less. This makes it challenging to maintain work life balance while achieving amazing results. In this inspiring and engaging session, Martin will show you how to build, nurture, and maintain a top performer's mindset. You will also learn the key leadership strategies needed to help your employees develop a world-class attitude.


---
Presentations: Day 2
Martin LaTulippe: "Heartpowered Leadership"
We hear in business that it's all about the bottom-line. But, in reality, many of the most successful businesses are now lead by heart-powered leaders. In this inspiring and thought-provoking session, you will discover the exceptional power of being a heart-powered leader.
Joe Sherren: "Phases of Organizational Transformation"
All organizations go through a set of distinct and predictable phases as they mature. Consequencly, they will experience specific problems at each stage. We will review the phases, the crises that must be overcome, and how to create a constructive growth strategy.
Hugh Culver: "Maximizing Business in an online world"
All business grows by building capacity for more production and creating more clients. Learn how to tackle your daily challenges with a better time management routine and efficient internal systems.
Heather Moyse: "Maximize Your True Potential"
Learn how to overcome the mental barriers that are keeping you from achieving your real capability. Heather will show you how to develop the mind set and behaviors to overcome any obstacle that is keeping you from achieving the dreams you truly deserve.
View website for further detail