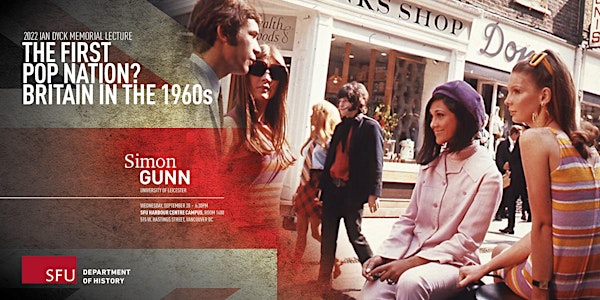 The First Pop Nation? Britain in the 1960s
Why did 1960s Britain become the first country outside the U.S. to experience the explosion of pop culture – of music, fashion and style?
When and where
Location
SFU Harbour Centre 515 W Hastings St HC 1400 Vancouver, BC V6B 5K3 Canada
About this event
Please join us for the return of the Ian Dyck Memorial Lecture after a four year interval.
This year's guest lecturer is Simon Gunn from the University of Leicester, who will present "The First Pop Nation? Britain in the 1960s", an exploration of the early days of the pop revolution.
September 28 | SFU VANCOUVER (HC 1400) | 6:30PM | Reception to Follow
Registration required for catering purposes. This event is in-person only.
The First Pop Nation? Britain in the 1960s
In this lecture Simon Gunn explores what made Britain so fertile a locus for the pop revolution from the late 1950s. It is a journey that encompasses the 'affluent society' and the post-war baby boomers, the British Empire and the global export of music. As a story it has an extraordinary cast of characters – pill-popping Mods, gangster managers and mascara-eyed divas like Dusty Springfield. But the lecture also asks fundamental questions about what makes a culture 'creative' and why Britain, in particular, was able to generate successive youth movements, from pop to punk and beyond.
Simon Gunn is Emeritus Professor at the Centre for Urban History, University of Leicester. He has published extensively on the middle class in Victorian Britain; on theory and method in urban and social history; and on city planning and automobility. He is currently researching the explosive growth of pop culture in 1960s Britain while also preparing, with Otto Saumarez Smith and Peter Mandler, a multi-authored volume on the modern British city since 1945, modelled on the pioneering two-volume study of the Victorian city edited by H.J. Dyos and Michael Wolff.