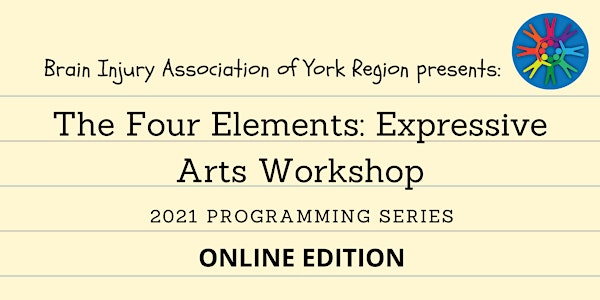 Multiple Dates
The Four Elements: Expressive Arts Workshop - 2021 BIAYR Programming Series
Experiential and creative workshop exploring how to connect with the natural world through creativity
About this event
Connect with the natural world through creativity! In each of these 90 minute workshops we will focus on one of the four elements: earth, water, air or fire. Through gentle movement, drawing, creative writing, and group sharing, participants will explore their relationship with each element and discover how it can be a resource in daily life. In this workshop series you will:
Explore the qualities of the four elements (earth, water, air, fire)
Explore your creativity as a resource
Explore the elements as resources
Bring awareness to your body, your feelings, and your imagination
Connect to yourself, the group, and the natural world
June 3rd, Earth
August 5th, Water
October 7th, Air
December 2nd, Fire
To get the most out of this virtual class, please prepare the following in advance:
A comfortable space on the floor for moving or a supportive chair
Drawing paper
Drawing supplies you enjoy, preferably with colour
Journal or writing paper
Writing Utensil
Workshop Schedule: 1pm – 2:30pm ET (90 minutes total):
1:00-1:10pm Participants arrive, settle-in with their supplies (10 mins)
1:10-1:15pm Welcome, facilitator introduction, schedule outline (5 mins)
1:15-1:30 Participant introductions (15 mins)
1:30-1:35 Break (5 mins)
1:35-1:40 Mini-talk on the element + Group discussion(10 mins)
1:40-1:45 Group agreements/Self-Care (5 mins)
1:45-1:55 Movement exploration of the element (10 mins)
1:55-2:05 Drawing + Writing (10mins)
2:05-2:10 Break (5 mins)
2:10-2:25 Group sharing (15 mins)
2:25-2:30 Closing (5 mins)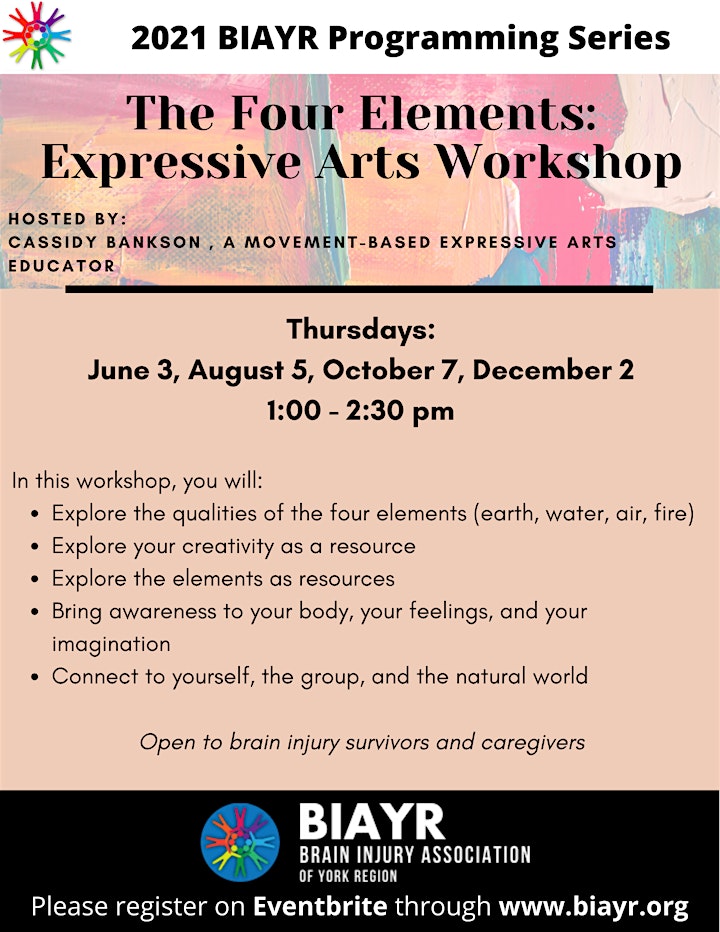 More About Cassidy Bankson:
Cassidy Bankson is a movement-based expressive arts educator. She studied and performed contemporary dance as a company member of Canadian Contemporary Dance Theatre. After completing an Honours BA from the University of Kings College in Halifax, she spent six years as the Oral Historian at the Canadian Museum of Immigration at Pier 21. During her tenure there she interviewed and recorded the stories of over 150 individuals and contributed to the creation of two temporary exhibitions. In 2013 she left her museum career to focus on the arts which lead her to studying movement-based expressive arts at the Tamalpa Institute in California. Additional studies have included Meditation, Feldenkrais, Contact Improvisation, and Improvisational Dance Performance. She received an accidental blow to the head in 2016 and has since lived with persistent concussion symptoms. This has crystallized her commitment to bringing the tools of embodiment, mindfulness, and creativity to others with acquired brain injuries for healing and transformation. She is currently facilitating a collaborative visual arts project with other artists with brain injuries called With. The project will be part of the exhibit Crip Ritual curated by Critical Design Lab at Tangled Art + Disability and the Doris McCarthy Gallery in January, 2022.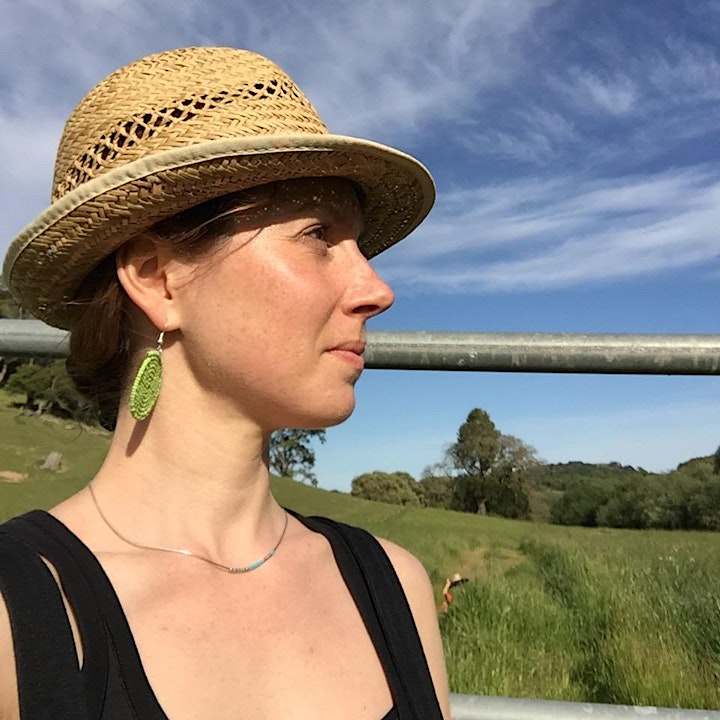 Organizer of The Four Elements: Expressive Arts Workshop - 2021 BIAYR Programming Series