The Friend Zone relaunches the unification of jokes and laughter with your host, Matt Duffy! Toronto comics compete to see who will win!
About this event
Get ready to laugh until you cry, and then laugh some more. Sunday-Funday just got better with these fabulous Canadian comedians! See who will win the title of BFF (best comic of the night) voted by you the audience!
Join us Sunday October 3rd, 9pm at Bar Cathedral (54 The Esplanade). We have an exceptional lineup of comics that will make you laugh your socks off (or at least steal them):
Keesha Brownie
Jessie Olsen (aka Bae Savage)
Lewis Moulds
Luke Lynndale
Moe Ismail
Paul Goneau
Gary Lamkin
TJ Edwards
Jordan Trafford
With our special guest headliner:
Quinn C. Martin
Only $5 online or at the door!
Bring your friends....bring your mom....bring your mom's friends! Heck, bring strangers who can become friends.
Friends, friends, friends at THE FRIEND ZONE! Looking forward to seeing you there friend.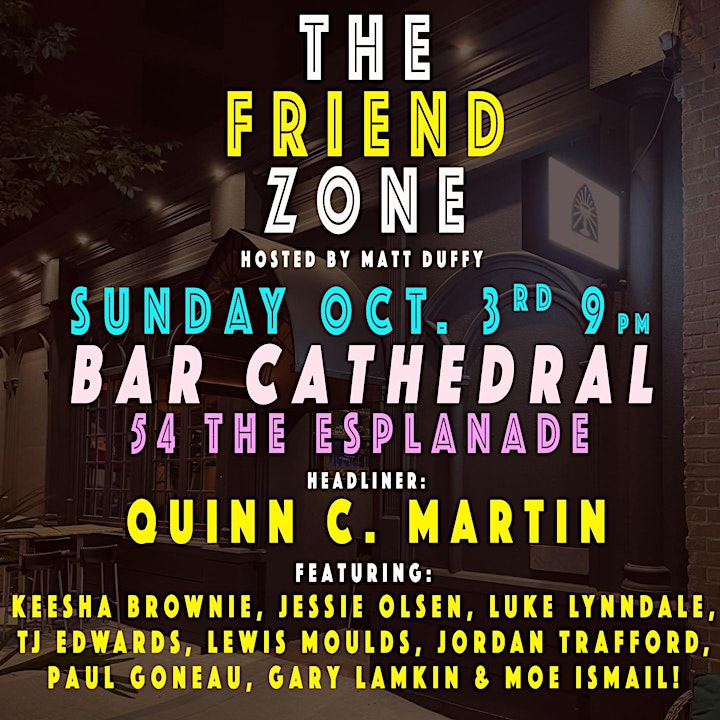 Organizer of The Friend Zone