The Funding Connection: Opportunities and Keys to Success for Businesses Se...
Description
Are you a business owner or employee with a desire to improve your business's efficiency or sustainability? Implementing improvements in equipment or processes to make them more efficient, more sustainable or simply more cost effective, can be expensive. But funding is available! There are a variety of programs that exist to help businesses like yours.
Do you want to know more about these funding sources? Or maybe you've heard about potential funding, but the application process doesn't seem clear or you don't have the resources to do the research and find the opportunities that are right for you? Don't worry - Sustainable Hamilton Burlington (SHB) and the Industry Partnerships Initiative (IPI) at the Mohawk Centre for Climate Change Management want to help!
Join SHB and IPI, as well as Tom Kaszas, P.Eng, Director, Partnerships Branch, Ministry of the Environment and Climate Change in the Cafe Annex of the beautiful Royal Botanical Gardens on the morning of April 26th to make the The Funding Connection:

Understand the field of funding support - where does the money come from? What's the logic that decides who gets what support?
Find out what funding streams are available
Find out what makes for a successful funding ask
Look at case studies of successful applications and find out why those applications were successful, so you can make sure yours are too!
We speak to a lot of businesses with an interest in sustainability and one thing we hear consistently is: "We know there's funding available to help us, but we're not sure where to begin?" On April 26th, we're going to help answer that question!
Proposed Agenda:
8:30 am: Registration, Complimentary Continental Breakfast and Networking
9:00 am: Introductions to speaker and audience
9:15 am – 9:45 am: Background on GreenON, Carbon Pricing and Cap and Trade
9:45 am – 10:15 am: Incentives (opportunities)
10:15 am – 10:30 am: Break
10:30 – 11:15 am: Case Studies/ Developing Best Practices
11:15 am – 11:30 am: Questions and Wrap-Up

This project is funded in part by proceeds from the Government of Ontario's carbon market, as part of Ontario's Climate Change Action Plan. The action plan and carbon market work together to support innovative initiatives that provide residents and businesses with more choices to reduce greenhouse gas pollution and save money.
This event will use clean power courtesy of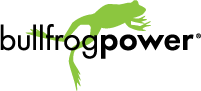 Thank you to our Sponsors: