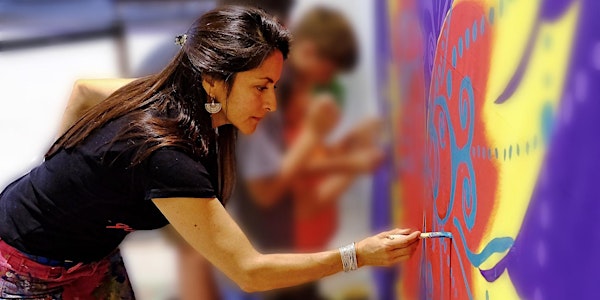 The future awaits | L'avenir nous attend
A special display at OAG of the MASC community-arts project | Une présentation spéciale du projet d'art communautaire de MASC, à la GAO.
About this event
This summer, the Ottawa Art Gallery (OAG) is delighted to host a special display of the community-arts project "The future awaits" created by MASC artist Claudia Salguero in collaboration with MASC intern Edgar Hernandez and grade four students (ages 9 to 10) at Viscount Alexander Public School, as part of MASC's Awesome Arts program. Join us online at 11 am on Thursday June 10, 2021 for an exclusive virtual vernissage and preview of the mural and the students' works on exhibit at the OAG. The artists and students will be in attendance. Registration for this event can be made through Eventbrite.
MASC is an Ottawa-based community arts organization that brings the arts and culture alive for over 120,000 children, youth, teachers, and seniors each year. MASC's Awesome Arts program allows participants of all ages to explore issues important to their community through the arts.
For the Awesome Arts "Mini Series" this spring, Claudia and Edgar led a guided series of virtual workshops, with art supplies included. Each student worked on individual paintings that Claudia then combined to create a large mural representing "hope, endurance, beauty and freedom," and leading us "towards the future with determination, consciousness and grace," as she says in her artist statement.
The mural, and individual pieces by each student, will be on display until September at the OAG—an incredible opportunity for the students to view their work on display at a professional gallery in their neighbourhood. This fall, the mural will be installed in an exterior, public location in Strathcona Heights.
The Awesome Arts 'Mini Series' was supported by Neighbourhood Arts Ottawa, a program presented by Arts Network Ottawa and Funded by the Ontario Trillium Foundation and the Ottawa Community Foundation. MASC is also grateful for funding from the Cajole Inn Foundation.
About the artists:
Claudia Salguero is a Colombian-Canadian multidisciplinary artist who believes in art as a tool for a better society. Working in collaboration with different social institutions, she has created more than 40 community murals in Ottawa since 2014. Her murals are created with the participation of people from all backgrounds and corners of the city.
Edgar Hernandez is a media artist based in Ottawa. An Aguacateco-speaking Mayan from Guatemala, he works in sculpture, film, media projection, and digital technologies in order to ask difficult questions related to habitat renewal, conservation and restoration. He is an active community volunteer and a member of the Eagle and Condor collective.
______________________________________________________________________________________________
Cet été, la Galerie d'art d'Ottawa (GAO) est ravie d'accueillir une exposition spéciale du projet d'art communautaire « L'avenir nous attend » créé par l'artiste de MASC Claudia Salguero en collaboration avec le stagiaire de MASC Edgar Hernandez et les élèves de quatrième année (de 9 à 10 ans) de la Viscount Alexander Public School, dans le cadre du programme Awesome Arts en folie de MASC. Rejoignez-nous en ligne à 11 heures le jeudi 10 juin 2021 pour un vernissage virtuel exclusif et une avant-première de la murale et des œuvres d'élèves qui sont exposées à la GAO. Les artistes et les élèves y seront. L'inscription à cet événement peut se faire par Eventbrite.
MASC est un organisme communautaire basé à Ottawa qui active les arts et la culture pour plus de 120 000 enfants, jeunes, adultes et personnes aînées chaque année. Le programme Awesome Arts en folie de MASC permet à des gens de tous âges d'explorer des questions importantes pour leur communauté par le biais des arts.
Lors de la « mini série » Awesome Arts en folie de ce printemps, Claudia et Edgar ont animé des ateliers virtuels guidés, avec fournitures artistiques comprises. Chaque élève a travaillé sur des toiles individuelles que Claudia a ensuite combinées pour créer une grande fresque représentant « l'espoir, l'endurance, la beauté et la liberté », et nous conduisant « vers l'avenir avec détermination, conscience et grâce », comme elle l'indique dans sa déclaration d'artiste.
La murale ainsi que les œuvres individuelles de chaque élève seront exposées jusqu'en septembre à la GAO ; il s'agit d'une occasion incroyable pour les élèves de voir leur travail exposé dans une galerie professionnelle de leur quartier. La murale sera installée à l'extérieur cet automne, dans un lieu public de Strathcona Heights.
La « mini série » Awesome Arts en folie a reçu l'appui de L'Art des quartiers d'Ottawa, un programme présenté par le Réseau des arts d'Ottawa et financé par la Fondation Trillium de l'Ontario et la Fondation communautaire d'Ottawa. MASC est également reconnaissante envers la Fondation Cajole Inn pour son soutien financier.
À propos des artistes :
Claudia Salguero est une artiste multidisciplinaire colombo-canadienne qui croit que l'art peut mener à une meilleure société. Travaillant en collaboration avec différents organismes sociaux, elle a créé depuis 2014 plus de 40 murales communautaires à Ottawa. Ses murales sont créées avec la participation de gens de tous les milieux et des quatre coins de la ville.
Edgar Hernandez est un artiste médiatique basé à Ottawa. Maya du Guatemala parlant l'aguacateco, Hernandez travaille la sculpture, le film, la projection médiatique et les technologies numériques afin de poser des questions difficiles sur le renouvellement, la conservation et la restauration de l'habitat. Il est un bénévole actif dans la communauté et un membre du collectif Eagle and Condor.