Kick-off the new year at the RIC Centre's special event, The Future is Now: Innovation in 2021.
About this event
The Future is Now: Innovation in 2021
Learn how the Peel Region startup and tech community can align itself to a world that is increasingly connected and in which technology determines the scope of opportunity going forward into 2021.
Our keynote speaker Jim Carrol is a leading global futurist and business trends and transformation expert. Over the last 25 years, Jim has shared his insight from the stage with over 2 million people and will share his insights from his virtual broadcast studio.  Through a live panel discussion, local founders will discuss their startup journey and learnings. The virtual event is open to the community and will also allow for networking among attendees.   Brampton Mayor Patrick Brown will officially welcome the RIC Centre to Brampton's Innovation District — a developing ecosystem that also offers resources to support innovation and technology companies in creating new solutions. Located in the middle of Canada's Innovation Corridor and conveniently connected by train, Brampton is putting the pieces in place to take a lead role in the Toronto-Waterloo Corridor full of highly skilled tech talent. 
Agenda
8:30- 8:55 am: Introductory remarks from Pam Banks (Executive Director of RIC Centre), Patrick Brown (Mayor of Brampton) & other special guests
8:55- 9:15 am: Jim Carroll on how business has changed with new opportunities in IOT, software/hardware, smart communities and why corporations should be involved in this shift
9:15-10:00 am: RIC Centre panelists in a Founders round table discussion of innovation opportunities and challenges in their various industry sectors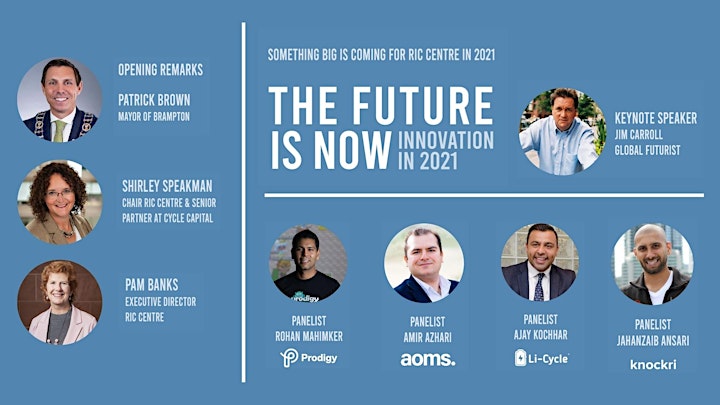 Special Guests:
Patrick Brown- Mayor of Brampton
Shirley Speakman- Chair RIC Centre & Senior Partner at Cycle Capital
Pam Banks- Executive Director of RIC Centre
Speakers
Jim Carroll- Futurist & Keynote Speaker
Jim is the world's leading global futurist, keynote speaker, business trends and transformation expert, now delivering his unique insight from his world class virtual broadcast studio. Over the last 25 years, Jim has shared his insight from the stage with over 2 million people. Jim is represented by the same agencies that book global icons such as Barack and Michelle Obama, George W. Bush and Richard Branson, Gary Player and Jack Nicklaus, Michael Douglas and Jay Leno.
Jim's clients include NASA, Disney, the World Bank, Mercedes Benz, the PGA, Blackrock, the Wall Street Journal, Pfizer, Microsoft, Cisco and over 1,500 more. He shares his insight with CEOs, senior executives, government leaders, and leadership teams worldwide.
Amir Azhari- Co-founder and Chief Commercial Officer of AOMS
After working in different industries as a technology consultant, Amir co-founded AOMS in 2014 to pursue his passion in helping industrial projects become more efficient and cost-effective by incorporating advanced technologies. Amir believes that industrial IoT can significantly add value to different industries and in particular, construction job sites, by enhancing safety, quality and enabling informed decisions about the projects.
Alongside a broad range of expertise in industrial IoT, fiber optic sensing technologies, additive manufacturing, advanced materials and nano technology, refractories, and steel manufacturing processes, Amir has also co-authored more than 20 papers in peer-reviewed scientific journals and international conferences, book chapters, and patents. In 2018, he was selected as one f the three finalists for Martin Walmsley Award for Entrepreneurship by Ontario Centers of Excellence.
Jahanzaib "J" Ansari- Co-founder and CEO of Knockri
Jahanzaib Ansari is on a mission to defeat unconscious bias and future proof the workforce. He's a keynote speaker, a life-long learner, and the Co-founder & CEO of Knockri, An A.I. based skills assessment tool, a leader in cutting edge HR Technology. Jahanzaib served as a key member to the World Economic Forum's global council on equality and inclusion, recognized as Innovator of the year by D&I group Ascend, and named among 22 of the most promising young HR professionals by HRD Magazine.Knockri's customers include fortune 500's such as IBM, Education First, departments of the Government, and many more. The fast-growing venture has been featured in numerous national and international media outlets including: Forbes, Bloomberg, Tech Crunch, Huffington Post and many other notable outlets.
Rohan Mahimker- Co-founder and Co-CEO of Prodigy Education
Prodigy Education's mission is to help every student in the world love learning. The company believes that effective education is a basic human right, and their flagship product is a highly engaging math game for grades 1-8 that kids actually WANT to play. This has enabled Prodigy to grow to over 25% of all grade 1-8 students in Canada and the US as monthly active users, with incredibly positive feedback from students, parents, and teachers. Rohan oversees Prodigy's people teams, including marketing, sales, finance and people ops, while collaborating with his co-CEO on company vision and strategy.
Ajay Kochlar- Co-founder, President and CEO of Li-Cycle
Li-Cycle Corporation is an industry leading lithium-ion battery resource recovery company. As President and CEO, Ajay is responsible for all strategic and business aspects of the company. Before founding Li-Cycle Corp., Ajay Kochhar has deep technology and project development experience, gained through progressive roles with Hatch's Industrial Clean Tech and Advisory practices. While working in the Industrial Clean Tech practice, Ajay gained in-depth engineering and project management experience through clean technology development in the lithium, cobalt, nickel, copper, gold, lead, zinc, molybdenum, and rare earth metals industries. His technical expertise spans the entire project lifecycle, from conceptual and pre-feasibility studies to construction and commissioning.Following his work in the industrial clean tech engineering field, Ajay worked as a Management Consultant with Hatch's Advisory practice. In this role, he led teams to deliver financial and technical reviews of multi-billion-dollar investment opportunities, including technologies and assets across the lithium-ion battery value chain. Ajay comes from entrepreneurial roots with family business experience gained from a young age.
Organizer of The Future is Now: Innovation in 2021
About Altitude Accelerator (Powered by RIC Centre): Helping Tech Entrepreneurs Get to Market Faster
Altitude Accelerator provides business startup services and access to incubator space to entrepreneurs, startups and mature tech companies that want to kick-start growth for their enterprise within Ontario. Members have received over $490 Million in funding, generated $341 Million in revenue, and over 2,000 jobs were created last year.
We help with:
Mentorship and Advisory
Specialized Programming to Grow Early and Mid-Stage Ventures
Access to Customized Market Intelligence Reports
Connections to Professional Service Providers
Investor Pitch Practice
Access to Exclusive Entrepreneurship Workshops and Expert Speaker Events
Private CEO Peer2Peers
For more information, please contact communications@riccentre.com