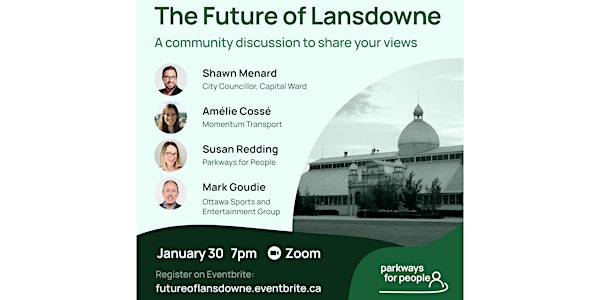 The Future of Lansdowne Park: a Community Discussion to share your views
What do YOU think Lansdowne could become as a space for people? Share your thoughts at this community-organised forum.
About this event
What is a community discussion?
A chance for everyone to have their thoughts and ideas heard, in a forum that is respectful of all viewpoints.
Why a community discussion about Lansdowne?
We all care about Lansdowne. Everyone in the community deserves a chance to be part of shaping the future of this important public space, before major decisions are locked in.
Why is Parkways for People holding this consultation and not the City?
We all hope the City will hold robust community consultations on Lansdowne. That was supposed to happen last year, but didn't. Until we know about the City's consultation plans, Parkways for People is happy to provide a forum for the community to come together and share their thoughts what might come next at Lansdowne.
Who is Parkways for People?
Parkways for People is a group of people who support prioritizing the NCC parkways as spaces for people including for the enjoyment of greenspace, recreation and active use. Queen Elizabeth Driveway is adjacent to Lansdowne Park and we see the success of QED as a space for people being dependent on getting Lansdowne right.