The Future of Wetlands in the Lower Mainland: A workshop to strengthen capacity and collaboration

Monday, February 2, 2015 from 9:30 AM to 3:30 PM (PST)
Event Details
Thank you for everyone who registered, we are no long accepting registration at this point. 
To:                 Local/regional government, First Nations, non-government organizations, academia, and                                   other professionals
Date:             Monday February 2nd, 2015 (World Wetlands Day)
Time:            9:30 am to 3:30 pm
Location:    Burnaby Lake Rowing Pavilion. 6871 Roberts Street, Burnaby, BC
                       (A shuttle from Sperling-Burnaby Lake Skytrain Station will be made available for those using transit. Details will be sent out to registrants prior to the event).
Outline:      This workshop will explore frameworks that support community partnerships among multiple stakeholders to conserve and restore wetlands in the Lower Mainland. Partnerships among municipal and regional governments, non-profit stewardship groups, and research groups are important to build relationships and enhance project opportunities in communities.
Agenda:   
9:15 – 9:30

Sign in – Coffee/Muffins

 

9:30 – 9:45

Neil Fletcher

Wetland coordinator, BC Wildlife Federation & Chair of the Wetlands Stewardship Partnership

 

Introduction and overview of the workshop

9:45 – 10:00

Dan Buffett

Head of conservation programs, Ducks Unlimited Canada

 

A contextual overview of state of wetlands in Lower Mainland.

10:00 – 10:45

Lee-Anne Walker

Executive director,Elk River Alliance

 

Five enabling conditions for government and non-government relations towards advancing watershed conservation initiatives.

10:45 – 11:00

Break

 

11:00 – 11:30

Dana McDonald

Manager Green Space Programs, Evergreen BC

 

Lessons learned from public engagement and best practices in watershed stewardship.

11:30 – 12:00

Pamela Zevit

Coordinator, South Coast Conservation Program

 

The role of the South Coast Conservation Program and recent collaboration with local governments to enhance capacity to protect and/or conserve species and ecosystems at risk.

12:00 – 12:30

Lunch

 

12:30 – 12:45

Ivy Whitehorne, Coordinator of National Conservation Fund, Canadian Wildlife Service

 

The National Wetland Conservation Fund and opportunities to access $50million over 5 years (Lower Mainland is a priority region.)

12:45 – 1:30

Stephen Godwin, City of Surrey.

Mark Sloat, City of Burnaby

 

Panel discussion: What are the most effective actions that non-government and the public can do to support initiatives of local government? What are the different avenues available?  

1:30 – 1:45

Break

 

1:45 – 3:15

Discussion

How can we strengthen our collaborations to move towards more effective conservation and protection of wetlands? What are the next steps?

 

3:15 – 3:30

Final thoughts and workshop evaluation

 
Email: 

wetlands@bcwf.bc.ca
Tel
: 

 604.970.9707
Toll free
:
 1.888.881.BCWF (2293) ext. 232
This workshop would not be possible without the generous financial support of the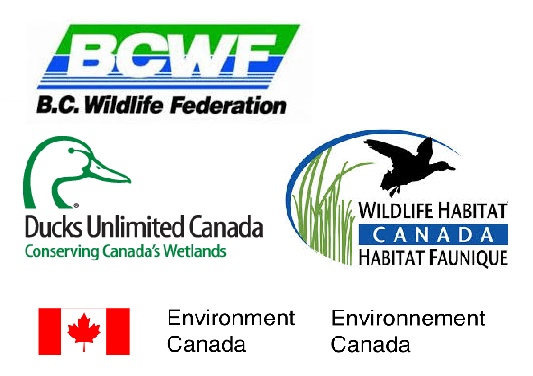 When & Where

Burnaby Lake Rowing Pavilion
6871 Roberts Street
Burnaby, BC
Canada

Monday, February 2, 2015 from 9:30 AM to 3:30 PM (PST)
Add to my calendar
Organizer
The BC Wildlife Federation's Wetlands Education Program (WEP) helps build the capacity of British Columbian citizens to determine their backyard wetland assets, and increase their community's environmental health using this knowledge.
WEP activities result in habitat restoration, enhancement & conservation through the collaboration of communities, BCWF clubs/members, NGOs, naturalist groups & First Nations.