Join us for a conversation between craft-based artists & designers, moderated by Isabelle Fish of Rue Pigalle.
About this event
Through glass, Chris Day comments on issues of race with narratives that range from complex inquiries to unflinching social vignettes. Day makes objects that are more than racially defined, reflecting multiple dimensions of identity and experience.
Karin Jones is a multidisciplinary artist with a background in jewellery. Her work examines the ways in which historical narratives shape our identities.
The commentary on current events by artists is often uncomfortable because of their ability to cut to the chase and observe in a way that few of us know how to do. Our conversation will certainly be enriching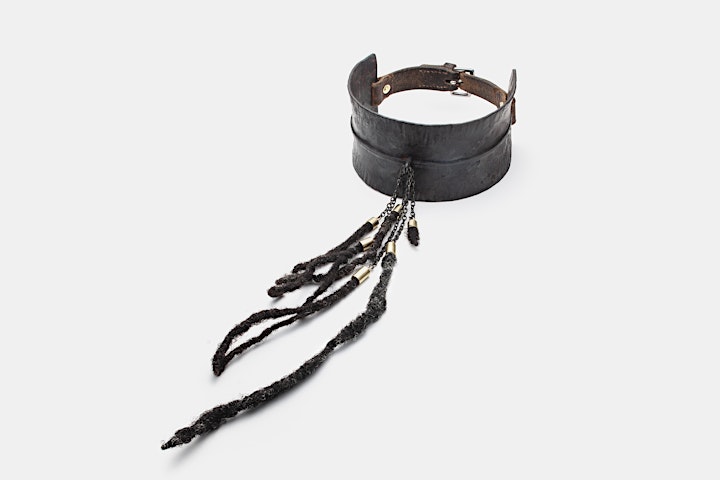 Dread, 2018 (detail) - Karin Jones
Steel (hand-forged), human hair, brass, leather (re-purposed horse tack), brass mount on wood panel
Image credit : Anthony McLean
Organizer of The Gallery Talks: Vessel Gallery | Chris Day & Karin Jones
Crafted Vancouver is an annual 25-day festival that presents and advances outstanding local, Canadian and International craftsmanship and creativity through a curated program of events taking place in venues throughout Metro Vancouver & the Fraser Valley. Existing as a platform for our Event Partners and Crafted Vancouver's own hosted events, we seek to design a festival that continually cultivates interest and appreciation of outstanding craftsmanship & design. We build a bridge between skilled craftspeople & designers, the dedicated collector and a discerning craft appreciator market.
Throughout the 25-day festival, a set of curated events and encounters take place primarily in intimate settings, including a unique and exclusive online program. These smaller-scaled events give our festival audience a chance to meet our Event Partners, the creators and supporters of outstanding craft-based works, and experience remarkable skills and objects up close

Visit our website at CraftedVancouver.com for up to date festival event information.