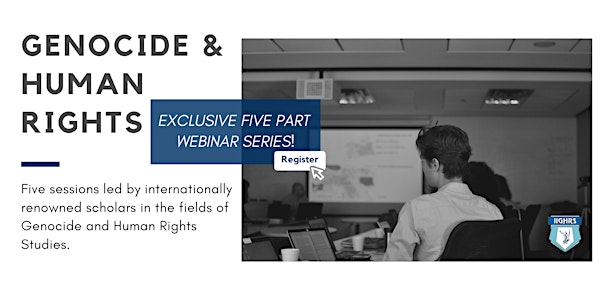 The Genocide and Human Rights Webinar Series
Each of the five sessions hosted via Zoom will be led by a human rights and/or genocide studies expert.
About this event
In keeping with its mission, the International Institute for Genocide and Human Rights Studies, is pleased to offer an online educational platform to engage students, scholars and the general public in research and publication in the field of Genocide and Human Rights. This five-part webinar series, with sessions led by leading Genocide and Human Rights Studies scholars, covers conceptual themes such as climate change and conflict, as well as specific case studies, such as the genocide of Indigenous Peoples of North America.
Tuesday, July 28th @ 4:00 PM (Alex Alvarez) Environment/ClimateChange and Conflict
Tuesday, August 4th @ 4:00 PM (Hollie Brehm) Genocide in Rwanda
Tuesday, August 11th @ 4:00 PM (Lorena Fontaine) Indigenous Peoples of North America
Tuesday, August 18th @ 4:00 PM (Debra Rodman) Guatemala
Tuesday, August 25th @ 4:00 PM (Elisa von Joeden-Forgey) Gender, Genocide,&White Supremacy in the United States
With the first webinar of the series a great success, the Institute has been fortunate enough to receive an anonymous donation to cover the registration fee for the remaining sessions, allowing us to offer these unique presentations free of charge. Those who have already paid to attend one or more sessions will be reimbursed shortly.