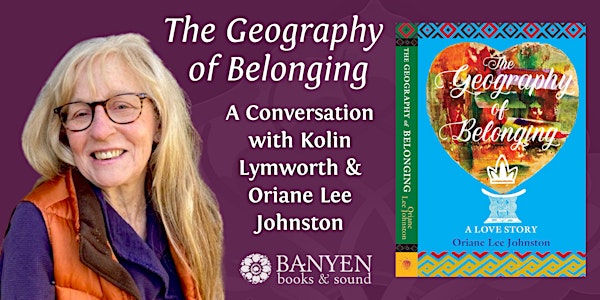 The Geography of Belonging: A Conversation with Oriane Lee Johnston
Oriane Lee Johnston converses with Banyen Books founder Kolin Lymworth on her new memoir, The Geography of Belonging: A Love Story.
About this event
Oriane Lee Johnston's new memoir, The Geography of Belonging. A Love Story, takes the reader from her island home on the west coast of Canada into southern Africa as it is today, exploring ethical relations with land, culture, the sacred and the human heart.
Banyen Books founder and good friend, Kolin Lymworth, talks with Oriane Lee about spiritual and ceremonial life in her journey, identity, the memoir writing process, horses as wise guides, and more.
A trusted ally throughout The Geography of Belonging is a Buddhist meditation practice that rouses courage, compassion and openness to the unknown in the author's grandmotherly time of life. Horses, too, are wise spirit guides drawing her to Africa, giving her a purpose and a way of engaging deeply with people and wild places. Along the way, an unexpected liaison with an African horseman builds a tender bridge across classic cultural divides.
The Geography of Belonging is about longing and loss, commitment and impermanence, about the ethics of generosity and raises questions of identity for a 6th generation Canadian as she maps an intimate journey through the terrain of the heart, the body and the earth.
Bring your curiosity and your questions for Q & A at the end.