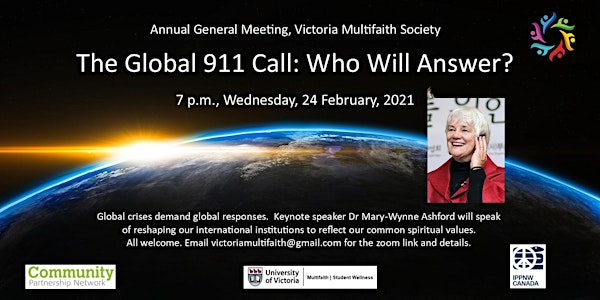 The Global 911 Call: Who Will Answer?
Dr Mary-Wynne Ashford will speak on the promising efforts to reshape international institutions to meet needs & reflect our common values
About this event
Global problems demand global solutions. Dr Mary-Wynne Ashford, MD, PhD. will speak on the promising efforts underway to reshape international institutions to reflect our common spiritual values.
Dr Ashford is Past President of International Physicians for Prevention of Nuclear War which won the 1985 Nobel Peace Prize. She has been a leader in the international peace and disarmament movement for over thirty years, and has a special interest in the need for global collaboration at this critical point in our history.
This inspiring presentation will be given online at 7pm, Wednesday, 24 February, followed by Q&A. Participants are welcome to stay if they wish for the last short section devoted to the 2020 AGM of the Victoria Multifaith Society, with introduction of the board.
This event is free and open to the public. It is co-sponsored by UVic Multifaith / Student Wellness, International Physicians for the Prevention of Nuclear War (Canada) and the Community Partnership Network (CPN), a program of the Inter-Cultural Association of Greater Victoria.
For security reasons, the Zoom link will be emailed to registered guests 24 hours before the event.
The video below was produced by VMS and narrated by Mary-Wynne Ashford.