The Global Clean Energy Boom: How Canada Can Catch Up and Cash In
When and where
Location
Confederation Ballroom, Westin Hotel, Ottawa 11 Colonel By Dr Ottawa, ON K1N 9H4 Canada
Description

The Global Clean Energy Boom
How Canada Can Catch Up and Cash In
Livestream at canada2020.ca/live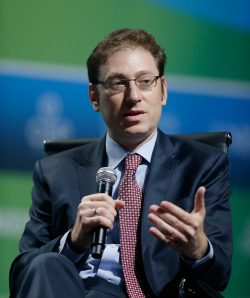 Canada's clean energy industry is small, but thriving. However, the sector is barely
scratching the surface of a global market that is already worth a trillion dollars—a figure widely expected to triple by the end of this decade. What are the most promising opportunities—in Asia and elsewhere—for Canada in the global shift to clean energy? How might entrepreneurs, investors, and businesses create new opportunities? And how can policymakers support their efforts?
These questions will be explored by Ethan Zindler, the Washington, DC-based head of policy analysis at Bloomberg New Energy Finance, at a public event co-hosted by Clean Energy Canada and Canada 2020 on Thursday, March 6, from 4:30 to 6:00 pm in the Confederation Ballroom of the Westin Hotel, Ottawa.
About Ethan Zindler
As head of policy analysis forBloomberg New Energy Finance, Ethan Zindler is an internationally renowned authority on clean energy markets. Zindler is responsible for tracking and reporting on the policies and innovations that are in turn driving the global adoption of renewables, biofuels, sustainable transportation, and energy efficiency. Bloomberg New Energy Finance is a leading provider of investment-grade research and information on clean and low-carbon energy, with offices around the world.
About Clean Energy Canada
Clean Energy Canada is a solutions-focused initiative working to accelerate Canada's transition to an energy-efficient, ecologically responsible, and prosperous low-carbon economy.
About Canada 2020
Canada 2020 is a leading, independent, progressive think-tank. Canada 2020′s objective is to inform and influence debate, to identify progressive policy solutions and to help redefine federal government for a modern Canada.