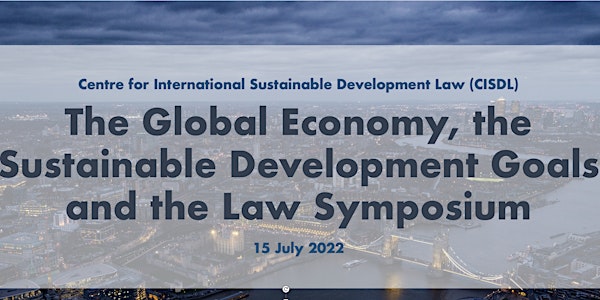 The Global Economy, the Sustainable Development Goals & the Law Symposium
This symposium provides an informed dialogue between experts, academics and practitioners on the global economy and sustainable development
About this event
SPECIAL INVITATION TO REGISTER
The Global Economy, the Sustainable Development Goals & the Law: Online International Legal Symposium
Across 17 SDGs with 169 targets, trade has the potential to play a critical role in both the way in can assist in achieving the SDGs but also in the way in which trade and economic globalization can be challenging in addressing the social and environmental objectives among the SDGs. The new Director-General Ngozi Okonio-Iweala highlighted that 'trade and trade policy can help achieve global sustainability goals more effectively and efficiently by underlining ways in which trade is contributing — and could contribute more — to climate action, biodiversity conservation, and socioeconomic inclusion, she called on governments to make better use of trade and the WTO as instruments for environmental sustainability.
Investment law and financial law also have great potential to assist all countries to achieve the SDGs at the same time both can also provide obstacles. The role of sustainable economic law is to identify those provisions and rules assisting countries to achieve the SDGs. As countries implement new strategies for the SDGs, ongoing challenges on all levels highlight the complexities of harnessing economic law approaches to the SDGs in law, policy and practice. New connections, skills and knowledge can help fill this SDG implementation gap, through interdisciplinary review of recent law and policy reforms, tribunals and treaties as countries increasing employ green economy measures, such as emission trading, to address all challenges of sustainability. In current times, as countries design new post-pandemic recovery strategies and policies for the SDGs, informed dialogue between experts, academics and practitioners, while building skills in sustainable economic law and engaging SDG-focused institutions, offers opportunities for outstanding learning and impact.
The international symposium on the Global Economy, the Sustainable Development Goals and the Law will be held on July 15, 2022, co-hosted online by the World Trade Institute, McGill University Faculty of Law and the Centre for International Sustainable Development Law (CISDL), in cooperation with the University of Montreal Faculty of Law, the University of Cambridge Bennett Institute for Public Policy, the University of Waterloo Balsillie School of International Affairs (BSIA), the International Law Association of Canada, the McGill Journal of Sustainable Development Law (MJSDL), Canada's Sustainable Development Solutions Network, the IUCN's World Commission on Environmental Law, and other generous partners.
The mid-conference plenary features the biennial Hon Justice CD Gonthier Memorial Lectures, which after brief opening remarks by a Rt Hon Chief Justice of the Supreme Court of Canada, are given two eminent international leaders in the field of international economic law and sustainable development.