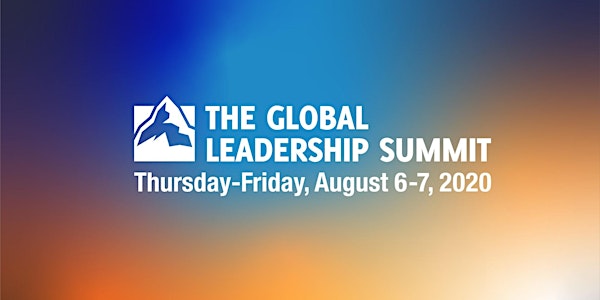 The Global Leadership Summit - Canada 2020
Be inspired with fresh, actionable leadership content from a world-class faculty at The Global Leadership Summit!
Refund Policy
Refunds up to 7 days before event
About this event
FAQ
Why is Canada not offering a public in-person GLS experience in 2020?
With the uncertainty of government physical distancing measures and limitations on group sizes, the GLN team in Canada has chosen to exclusively provide the GLS as a LIVE Online Experience on August 6-7, 2020.
Can one web streaming code be shared with my colleagues at work?
One ticket purchase is required for each member of a team participating in the GLS. If you choose to have multiple colleagues gather to view it together, please purchase a ticket for each person.
Thanks for playing fair.
Our goal is to provide world-class leadership development for you and your team at a reasonable price. We believe that if everyone follows the same rules and pays their share, we can make this resource available to all Canadians at a low rate for years to come.
Refund policy:
Cancellations and substitutions for individual registrations can be made up to seven (7) days before the conference start date. A $45 processing fee applies to cancellations.
More questions? Click here
YOU HAVE INFLUENCE
How are you using it?
The Global Leadership Summit is your opportunity to gain access to a wealth of leadership insight from a world-class faculty, ready to equip and inspire you—no matter where you have influence.
Now more than ever, when you grow in your leadership, you can withstand difficult seasons, re-imagine the future, strengthen your relationships, improve your business, and provide hope to your community through effective charity or church engagement.
Join us this year in a global movement of more than 420,000 people learning together across 124 countries.
NEW FOR 2020
This year, the Summit will be Available Online!
With the uncertainty of gathering in-person, the GLS will be transformed into an ONLINE experience. Hosted from the stage in Chicago, with at least 15 influential leaders, over 2 days, it's shaping up to be a dynamic, value-infused leadership event. The Summit is known for excellence – and this year will be no exception! You can expect a couple of powerful days, with interactive opportunities and the same inspiring creative elements.
If you are in western Canada, we also have a 2 hour delayed feed available with your own LIVE chat!
GET YOUR TICKETS FOR TWO DAYS OF ACTIONABLE LEADERSHIP INSIGHTS & INSPIRATION
Advanced Ticket Pricing
$179 Last Minute Ticket (August 4th - 5th)
Tickets are subject to additional Eventbrite Registration fees.
As a special bonus, with every ticket, we are also offering 7-day access to most of the talks* through Video-On-Demand (VOD) free of charge. Looking for more? For only $20 extra, add on to your ticket for a full 30 days of access to the approved select talks*. This ON-DEMAND access will end on September 6th at 11:59 PM CDT.
*Subject to Speaker Terms
WORLD-CLASS FACULTY
Our diverse Summit faculty will deliver a unique blend of vision, inspiration, and practical skills you can immediately apply. They'll tackle some of the biggest leadership challenges in 2020:
Becoming more agile and inventive
Embracing courageous leadership
Unlocking team strengths
and many more!