The Good Hundred Experiment

Saturday, October 20, 2012 from 9:00 AM to 11:00 PM (MDT)
Event Details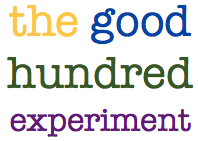 an unsectored gathering of
edmonton's savviest do gooders
connect with future partners & collaborators
get meaningful & actionable feedback on your project
(from people who know what they're talking about)
be inspired by some of YEG's most bad ass do gooders



Daytime Gathering: Sat, Oct 20th, 9-5pm @ Strathcona Center - 10139 - 87ave
Evening Party: Sat, Oct 20th, 7-11pm @ The Kasbar - 10444 - 82ave

Price for Daytime Gathering: $40
Price for the Party: $10



Number of Spaces Remaining:



Dear Edmonton Do Gooder,

If you're reading this, you're an Edmontonian doing their darndest to live the good you want to see in the world.
You feel the drive to create something great, to right wrongs, to make things work better somehow. And you've found some unconventional (and effective) ways to make that positive change happen.

We (Tad Hargrave of www.thelocalgood.ca and Nadine Riopel of www.thesavvydogooder.com) have decided to do an experiment: bring together a bunch of Edmonton do gooders across sectors and disciplines for a day (and a sweet party that night).
The Story:

In the spring of 2012, there was an election on in Alberta.
A group of young people in Edmonton decided they wanted their generation to be more informed and involved. They planned a viewing party for the leadership debate; something that many 20 and 30 somethings would be unlikely to check out on their own, and even less likely to discuss with friends.

By making it a social event at a bar, they got over 70 young people to show up, pay attention, and talk it over. They made it cool and easy to engage in the political process. They achieved their goal of creating more politically active young adults.

Seeing this, I (Nadine Riopel) was inspired. It reminded me there are many ways to do good, and many amazing people finding their own paths to the change they want to see in the world every day. I decided that I wanted to take a closer look at some of these folks, and at how they're generating such fantastic results.

So I started the Edmonton Do Gooder Project to profile several amazing local do-gooders and their work. One of the first people on my list was Tad Hargrave.

Hearing about the project, I (Tad), was struck by how many do gooders I've seen making positive things happen, in different sectors and using different approaches. But many of them don't know each other. Living in the same city; sometimes even working on the same issues.

So many moments of, "how do you not know this person?!"

And I've seen how so many are struggling to get over the same hurdles; not enough money, volunteers or resources to get the work done; overwhelm; burnout; and such steep learning curves.

It's so easy to get stuck in our various silos (e.g. anarchists hang out with anarchists, academics don't tend to mix with entrepreneurs, etc.).

And I decided to approach Nadine with the idea of bringing these people together for a day of connecting, and of working together to make each do-gooder's path a little smoother.

The Good Hundred Experiment is that day, and we would be honoured to have you join us.

NOTE: There's no pressure to collaborate with anyone, start any new initiatives, or add anything to your plates. We trust that if we bring good people together in a good way, good things will happen.
The Premises This Experiment is Based On:
We are stronger together than apart
Getting outside perspectives is super useful. Getting outside perspectives from other super smart and savvy do gooders is even better. We usually can't see the forest for the trees - we're too close to our own situations.
There is more than one path to doing good - a bio diversity of tactics and perspectives is a good thing
Traditional paradigms about doing good should be constantly questioned to keep them from limiting us all
We think there are so many collaborations waiting to happen. Like low hanging, ripe fruit just waiting to be picked. We figure there are lots of mutual learnings, partnerships and friendships ready to be harvested for the good of the community.
Important registration guidelines:
if you're coming to the workshop, you must be there the whole day
this is an invite-only event - we're not promoting it to everyone, just to people we're inspired by, and the people they're inspired by.
please share this only with people you're excited to spend the day with - we'd rather not get bombarded with requests from people where it's not a fit.
you must be living in the edmonton area and doing your good work here
Potential Daytime Content:


Here's our rough sense of how the day will flow.

9:00am - Welcome & Ice Breakers etc.

9:30am - Small Circle Introductions: you'll be invited to get into groups of six with people you don't know and you'll have two minutes each to introduce yourself, your work, what's coming up next for you and what you're needing. You'll get to do two or three of these throughout the day.

10:15am - break

10:35am - Islands Interview: you'll have a chance to be supported by two other savvy changemakers in clarifying the work you're doing, and what might help take it to the next level.

1:00pm - lunch - a nice, relaxing ninety minute lunch.

2:30pm - Prep for Open Space on the theme of "how to be more effective at doing good".

3:00pm - Open Space/World Cafe: You'll have a chance to break into small groups based on themes that matter to you most based on a core question (still to be formulated) and learn from the other tables.

4:00pm - Hot Seat - a few of the participants with exciting and upcoming projects will be selected to receive the attention of a small group of other savvy do gooders on how to take their project to the next level.

4:45pm - Wrap Up


7:00pm - Evening Party
So that's it, you can get your ticket at the top.
warmest,
tad and nadine
P.S. To learn more about us and the other participants you'll be spending the day with just click here.

Organizer
www.thesavvydogooder.com

Let's make 'doing good' work better - for everyone.