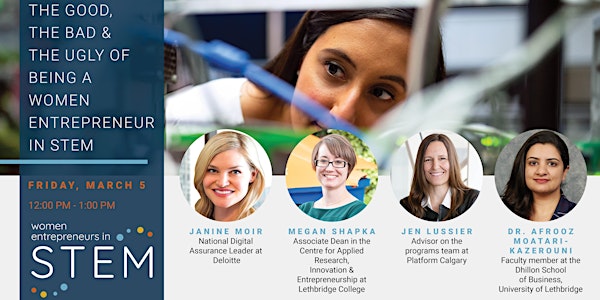 The Good, the Bad & the Ugly of Being a Women Entrepreneur in STEM
Learn about the reality of being a women in STEM! Our panelists will discuss their achievements, setbacks & experiences in STEM fields.
About this event
There is a great deal of discussion about the gender gap found in STEM fields and businesses and the efforts to close this gap. In reality, is this happening?
Meet our panel of women currently working or owning businesses in STEM fields, as they discuss their experiences in the workforce, the gender gaps that still exist and changes they are seeing? What advice can they offer other women entering STEM fields?
Join our panelists for some real conversations around the good, bad and ugly of being a women/women entrepreneur in STEM fields today.
Meet Your Presenters
Janine Moir
Janine is on the cutting-edge of the profession, serving as the National Digital Assurance Leader at Deloitte. Digital Assurance services are designed to help Deloitte's clients transform their traditional financial reporting cycles, by empowering finance teams with leading-edge innovation and digital technologies.
Janine also has a role to grow and standarize Deloitte's Blockchain Assurance offering across the globe.
Dr. Afrooz Moatari-Kazerouni
Dr. Afrooz Moatari-Kazerouni is an academic, working as a Faculty member at the Dhillon School of Business, University of Lethbridge.
She has over 8 years of industrial research experience on improving processes by looking into their supply chain and advancing their technology adoption. She has participated in several empirical projects in collaboration with the manufacturing and service sector, involving simulation modelling and quantitative analyses.
Megan Shapka
Megan is the Associate Dean in the Centre for Applied Research, Innovation and Entrepreneurship at Lethbridge College. In her role, she helps drive innovation, primarily in agriculture, to support small- and medium-sized businesses in our region. She has deep passion for post-secondary education and actively infuses the entrepreneurial mindset into her work as she leads the Integrated Agriculture Technology Centre (IATC) and multiple research facilities focused on sustainable food production.
Jen Lussier
Jen is an advisor on the programs team at Platform Calgary, where she provides early stage entrepreneurs with coaching and mentoring, leveraging her startup and business background to help them advance their opportunities.
Her fun side project is Eff Academy, a forum about failure where entrepreneurs can find commonalities and connect on the challenges they've shared in starting, running, scaling, and sometimes shuttering, their businesses.
WESTEM programming is mandated to support rural/remote Southern Alberta women; does not include Calgary.