Description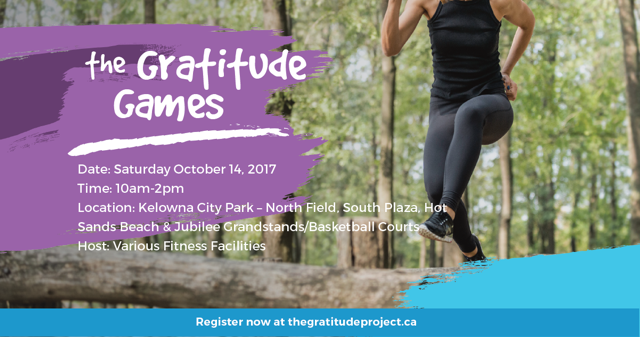 A charity event organized for Kelowna residents to show their gratitude for our RCMP and everything they do to keep us safe. In order to be an RCMP you must be very healthy and be able to pass a very rigorous physical challenge called the PARE (Physical Abilities Requirement Evaluation). The PARE includes an obstacle course, push pull and weight carry.
The Gratitude Games 2017 will be an obstacle course designed for all levels of fitness and all ages.

By Donation (Individual or Team of 5)
Prizes and Fun
---
EVENT ORGANIZERS
Third Space Life Charity
UBC - The University of British Columbia

FITNESS CENTRES:
All Out Fitness
CrossFit Okanagan
Global Fitness & Racquet Centre
Goodlife Fitness
Results 4 Life
Steve Nash Fitness World
TWP -The Womens Place
World Gym Fitness Centre

---
HOW TO BE A PART OF GRATITUDE GAMES 2017
As Individual or TEAM of 5
Everyone wanting to participate (individual or Team of 5) please register on this page.
TEAMS - Once you are registered as an individual then the team leader will need to email us your TEAM NAME and all 5 individuals names to info@GlobalFitnessKelowna.com
---
TO DONATE: 2017 Gratitude Project Honor House
https://www.canadahelps.org/en/charities/kalamalka-charitable-foundation/Honorhouse/

Cash & Cheque Donations will be accepted at the event - Oct 14th