The Great Whisky Heist of the Distillery District - A Scavenger Hunt Myster...
Description
In the Roaring Twenties, a huge shipment of whisky was stolen from the Gooderham & Worts Distillery and disappeared forever. Recent renovations turned up new evidence and you may finally be able to solve
The Great Whisky Heist Mystery.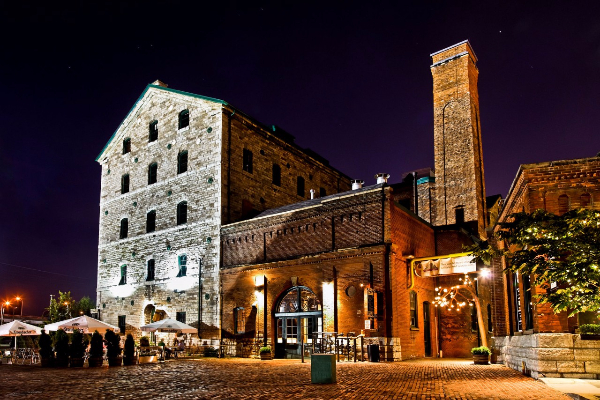 In 1923, society was rebounding to life after the end of the Great War. Jazz was playing in the speakeasies and flappers danced all night while tippling gin fizzes and whisky sours. Fast cars and moving pictures were the very definition of the new modern age. But in one corner of Toronto, men still worked long hard days at dusty backbreaking work, and the perils of prohibition remained: rampant corruption, mobsters, guns and the illegal booze trade over the border, and the motive behind it all: moolah. Everyone had their eye on getting out of the grind and making it big.


On the scene was a 24-year-old reporter for the Toronto Daily Star named Ernest Hemingway. With a flask in his pocket and notebook in hand, he divides his evenings between the illegal boxing matches and the taverns of Corktown, so named for the tough Irish immigrants who lived and worked there.


Working in teams of 2-6 people, you the sleuths will unravel a tale of dreams, thievery and deceit. Who stole the whisky? Who got the money? And how did it all go down?


This is a scavenger hunt mystery: teams are provided a clue book, map and pencils and then must search the Distillery District for answers in the art and architecture, and curated corners of this living museum.
_________________________________________________________
Practical Details


Hunts take two hours, with some additional time beforehand for waiver-signing and instructions and afterwards for tallying the scores, for a total of 2 1/2 hours. Bonus points are given for most creative and clever team name, so start thinking!


This hunt takes place outdoors, rain or shine. Please come prepared with a water bottle and comfortable shoes. You'll be covering a lot of territory.


FAQs


Are there ID requirements or an age limit to enter the event?


The Great Whisky Heist Mystery is designed for adults. Some of the clues and references will be over kids' heads and they can get frustrated. Participants as young as 10 have taken part with their parents and had a great time so at the end of the day, it is up to the parent.


There is an opportunity to sample alcoholic beverages, though it is not mandatory. Anyone choosing to sample must be 19+ and have valid ID.


Where can I contact the organizer with any questions?


If you would like to get in touch, please contact our customer service team at info@urbancapers.com or 647 852-6444.


I want to make sure I am on a team with my friends – how do I do this?


The order form has a field to enter your friends' names so we know who you are playing with. Groups of friends can change the team breakdown right up until the game starts.


Another friend wants to join our team but the event is sold out. What can we do?


We'll do our best to accommodate extra players on existing teams once the event has sold out. Ask your friend to add themselves to the waitlist and inform our customer service team at info@urbancapers.com or 647-852-6444 of which player(s) they'd like to join.


It is my birthday and I think I'll have about 8, 10, 12 people coming. Can you reserve tickets for my group?


First off, happy birthday! Sorry we can't reserve tickets. Plan your event well in advance and you'll have no problem, and if one or two people want to jump in at the last minute, we'll do everything in our power to accommodate them.


Do I have to bring my printed ticket to the event?


No, there will be a sign-in sheet for those registered.


Is my ticket transferrable?


Yes, absolutely. If someone comes in your place, they do need to print and bring the ticket.


What is the refund policy?


Once you have purchased a ticket for an event, our people go into action, printing off materials, lining up staff for the event day and purchasing admission tickets if a museum or other institution is involved. Because of this, we do not offer refunds. However, your ticket is transferrable. So if you can't make it, you can give your ticket to someone else to bring to the event.
Organizer of The Great Whisky Heist of the Distillery District - A Scavenger Hunt Mystery (160618)