The Greater Journey: Through Systemic Racism. Guest speakers: Alain Babineau, Danardo Jones and Tim Tierney.
About this event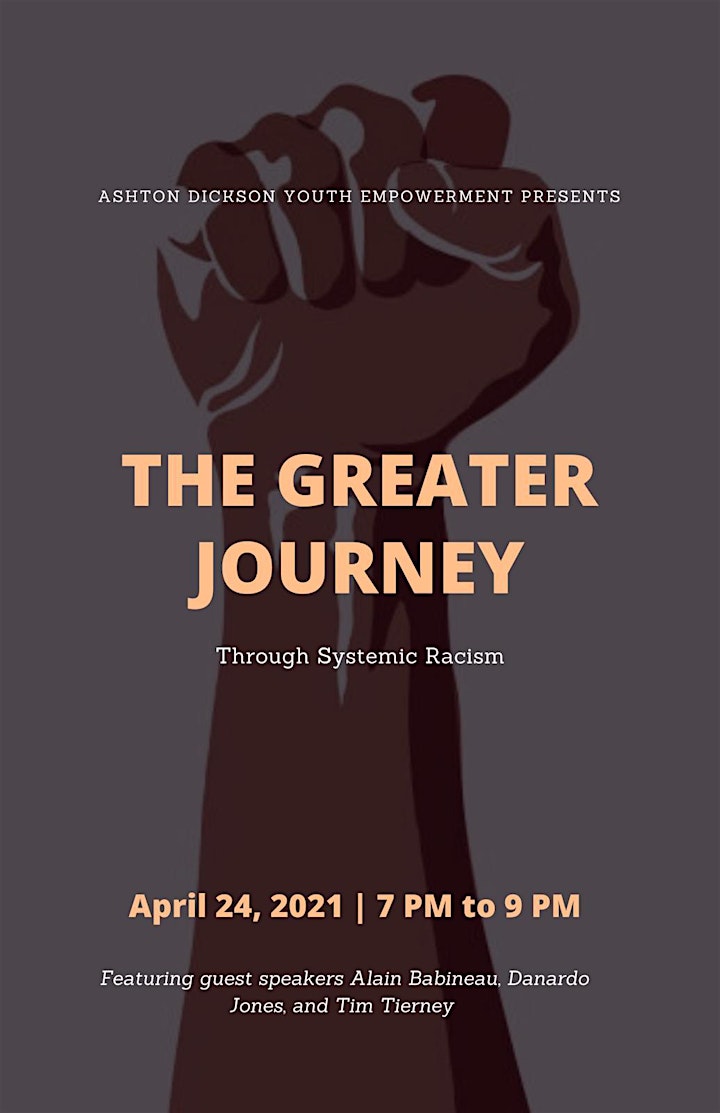 Professor Danardo Jones is a trained criminal defence lawyer and criminal justice scholar, who will be formally joining the Windsor Law community in January 2021, teaching in the areas of criminal law, race and the law and access to justice. He earned a BA in Law from Carleton University, a JD from the University of Ottawa, and an LLM from Osgoode Hall Law School, where he is also currently completing his Ph.D. Professor Jones also has years of experience working as a staff lawyer at various Legal Aid organizations across Eastern Canada and Ontario. His scholarly research investigates how race, particularly Blackness, is or ought to be understood and articulated within the criminal justice system.
After 30 years in law enforcement, including stints with the Ontario Provincial Police and the Canadian Military Police,Alain Babineau retired as a Staff Sergeant from the Royal Canadian Mounted Police (RCMP) in 2016. He holds a JurisDoctor and Bachelor of Civil Law from McGill law Faculty, a Bachelor of Social Sciences in Criminology from University of Ottawa, a B.A in Legal Studies and a Graduate Diploma in Conflict Resolution from Carleton University.Over the last four years, Alain has been an advisor with the Center for Research Action on Race Relations (CRARR) in Montreal, on issues of racial profiling in private and public security. He is also often consulted on these issues by politicians and lawyers at the municipal, provincial and national levels.He is regularly called upon to comment as a law enforcement analyst on racial profiling issues as well as on general law enforcement, by TV and radio as well as the written press at the national, provincial and local levels. Alain has also lectured in Colleges and Universities, as well as provided training to private and public institutions, on issues of de-escalation techniques, anti-Black racism, racial profiling/police legitimacy and the law. Some of his main interests revolve around policing reforms, social justice, police management accountability, and the use of alternative dispute resolution in law enforcement to mitigate internal and external conflicts.
Tim Tierney has been active in ensuring his community continues to grow and thrive as an integral part of Ottawa. His dedicated commitment to Beacon Hill-Cyrville includes many years of volunteering for a variety of local development projects, sports and recreational groups, schools, social services, and community organizations. First elected to Ottawa City Council in 2010, Tim continues to be involved, and enjoys supporting community issues and events, including Celebrate Summer, neighbourhood BBQs, and arts and recreational activities. He is especially proud of the new Richcraft Sensplex that was opened in 2014. With an education in Business Administration/Information Systems, Tim has a strong background in both business and technology, which he continues to apply throughout his career. Since Tim joined City Council, he has served on the following Boards and Committees: Chair, Information Technology Sub-Committee; Community and Protective Services Committee; Ottawa Community Housing Board; Ottawa Public Library Board; Planning Committee; Transit Commission; and Transportation Committee. As well, Tim was the City of Ottawa's representative and board member of the Federation of Canadian Municipalities (FCM). Tim was re-elected on October 27, 2014 and October 22, 2018. This is Tim's third term on the OPL Board. He served as Chair from January 2015 to March 2020. Tim is a long-time resident of Beacon Hill with his wife Jenny and children Crystal, Keely, Liam, and dog Abbott.
Organizer of The Greater Journey: Through Systemic Racism