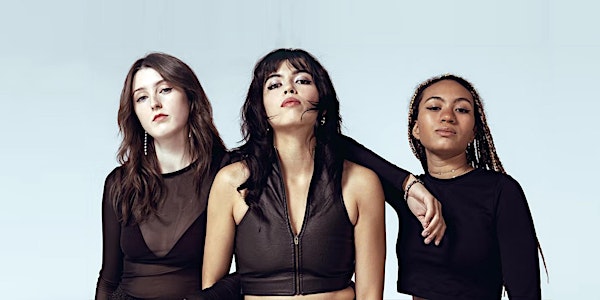 The Haileys
Ages 19+
Mills Hardware Presents
The Haileys with special guests NERiMA and Dirty Rick — Live at Mills Hardware!
Date and time
Wed, Jun 28, 2023 8:00 PM - 11:00 PM EDT.
Location
Mills Hardware 95 King Street East Hamilton, ON L8N1A9 Canada
Performers
Headliners
More Performers
About this event
3 hours

Ages 19+

Mobile eTicket
The Haileys are an all-female, all-Hailey, alt-rock band from Winnipeg, MB, made up of Hailey Legary (guitar/vocals), Hailey Matiation (drums/percussion), and Hailey Hunter (bass/vocals). Their music is inspired by their experiences in the 21st century and influenced by punk rock, classic rock, and today's alternative rock scene. Their sound is brash, vibrant, and high-energy, with a stage show to match. Since their assembly in 2021, they have had great success playing shows and festivals across Winnipeg, Southern Manitoba, and Saskatchewan. Highlights include headlining Clearwater's Harvest Moon Festival and opening for Monowhales as part of their Tunnel Vision Tour. In June 2023, they will head out east on a tour of their own to share their self-titled debut album, which includes popular tunes such as "Late Night Rush" and "Like You Want Me".
Instagram | Facebook | Twitter | TikTok | Spotify | Apple Music
•
Staying true to both punk-rock roots and a love for the modern alternative scene, young Toronto-based NERiMA explores a boundless mix of genres in their sentimental music. With influences ranging from rock bands like Green Day and Paramore to alt-indie breakthrough artists such as Twenty One Pilots and Wolf Alice, this new and growing band showcases a variety of sounds: upbeat instrumentation with fun vocals, mellow songs with softly-sung, hard-hitting lyrics, and much more in between. NERiMA is Alexi, Alex, Connor, and AJ — four musicians mixing their diverse tastes into one distinctive sound. With the vast musical backgrounds of each member, NERiMA's passion is driven by lifelong musical interests, inspiration from their favourite artists, and admiration of music's place in society. While most members have long histories with their love of music, all four continue to explore its growing place in their life through their dedication to this band and its sound. The band has released their debut EP Have More Fun last summer, produced by Nothing Special's Dan Bell. They've played across Ontario to promote it, sharing the stage with bands such as Laundry Day, A Short Walk To Pluto, and MICO. NERiMA hopes to reach as many other people -- especially young ones like themselves — with passion-driven music that will show the world what they've got.
Instagram | Facebook | Twitter | TikTok | Spotify | Apple Music
•
Dirty Rick is a four-piece rock 'n' roll machine from Hamilton, ON dedicated to putting on the wildest, sweatiest, dirtiest rock shows in the country. Their unique combination of fat basslines, banging drum beats, and crushing guitar riffs combine blues, hard rock, and garage elements into a finished product that music industry elites have described as "pretty cool" and containing "a lot of good stuff in there". If you're lucky enough to stumble into one of their concerts, quarterbacked by their ultra high-energy frontman David Koffman, you'll be left staggering out afterwards with your dancing feet sore and your face thoroughly melted. Formed in 2017, Dirty Rick has been keeping rock alive with a non-stop lineup of shows throughout Ontario and Quebec. Whether you saw them in a giant concert hall or a tiny dive bar, you remember how they made you dance the way no other rock band ever has. Take one listen to "Oh No (Yeah)" off their debut EP Post-Candid and you'll be ready to shout along to the chorus before busting out your best twist to their 2019 releases, "Toxic Love" and "Doomsday".
Instagram | Facebook | Spotify | Apple Music
About the organizer
Sonic Unyon is a Canadian indie record label, festival promoter, venue operator, and community partner in Hamilton, Ontario.