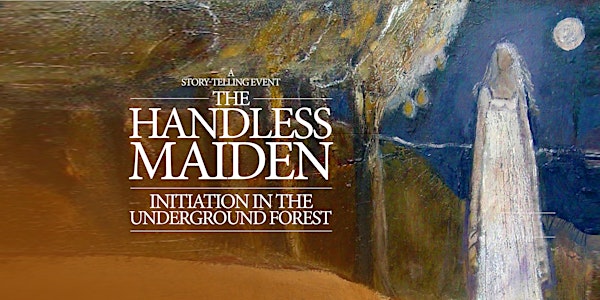 The Handless Maiden: Initiation in the Underground Forest
A 3-hour online storytelling workshop exploring power, identity, courage, and the reclamation of that which has been wrongfully taken.
Refund Policy
Contact the organizer to request a refund.
Eventbrite's fee is nonrefundable.
About this event
"In our own story, there is very little setting - but as it is typical in many northern European fairy tales, the dark enchanted forest is the most significant place, and it is, as always, the place in which the greatest transformation can be attained, by walking into the heart of the Mystery."— Dr. Sharon Blackie, This Mythic Life
Please joins us as we explore the symbolic journey of the Handless Maiden.
This is a profound story about power, identity, and the courage to take one's life into one's own hands to reclaim that which has been wrongfully taken.
The tale is a gruesome one. It involves not only the severing of the Maiden's hands, but also the loss of the only world she has ever known. And yet, in travelling with the Handless Maiden and watching her suffer this dismemberment, we discover the depth of her insight, the range of her resources, the strength of her spirit, and the path that ultimately leads to re-growth.
In this workshop, we explore themes of wandering, endurance, and transformation. The quest within The Handless Maiden provides both strategies and a map for how we, too, might encounter and triumph over our own psychic severing. Undertaking this journey encourages us to access our creative center, and realize our most authentic Self.
This three-hour New Moon workshop will be held on Sunday November 15th, from 7:00PM-10:00PM on Zoom. Participants can expect small and large group discussion, visualization, and personal reflection through writing and representing.
This workshop is open to anyone who wishes to engage in this conversation.
This event presented by LIVING STORY PROJECT:
Living Story Project is an initiative focused on storytelling to foster connection, creativity, and community.
Stories allow us to better understand what is often incomplete, untold, or hidden in prevailing mainstream narratives. Using an array of oral and written storytelling traditions from across the globe, Living Story Project creates an inclusive space for interactive and dynamic conversations about issues that matter.
While Living Story Project's theme-based events centre around specific topics regarding the human experience, it is the vitality of the conversations among participants that generate community-learning and bring these topics to life. The objective of Living Story Project is to connect people to themselves, to one another, to place, and to time.
LSP 🌱