Description

The Happiness Matrix: Creativity & Personal Mastery
2 Evening Event - Tuesday September 17 and Thursday September 19 2019. This is the First in the Healing Series of "REEL to REAL" "View and Do" Movie Screening events sponsored by awaken u..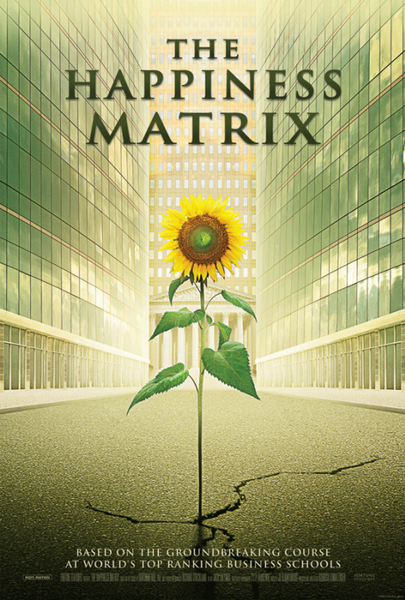 Based on the popular program, "Creativity and Personal Mastery", taught at Columbia Business School, Kellogg School of Management, Berkeley's Haas and London Business Schools, by acclaimed author and Professor Srikumar Rao, The Happiness Matrix is a 2-hour personal growth documentary, manifesting, in a practical, authentic and engaging manner, a powerful thought process that anyone can use to transform their lives.
https://www.youtube.com/watch?v=MtT4cHjLpuI


MEDIA
"Shock to the system." "The results can be dramatic." - CNN
"a course to Lasting Fulfillment" - FINANCIAL TIMES


"how to clear the way for career growth." - FORTUNE


"It's so meaningful it even has its own alumni association." - BUSINESSWEEK


"the most popular and highest rated" - FORBES

THE PROFESSOR

Prof. Srikumar Rao has developed a life-changing program which is praised by major media and beloved by an active and ever growing community. He has written "Are you Ready to Succeed?" and "Happiness at Work". Prof. Rao's program has helped many people change their lives.

THE PARTICIPANTS

A number of Anderson alumni members - entrepreneurs and executives - were selected from a large volume of applicants who were eager to take advantage of the famous program, which traditionally costs thousands of dollars, but paid for by the production company.

The participants portray a rich and sincere reflection of their personal and business life, openly asking for solutions to cope with their most personal "issues". Breakout exercises (see AGENDA below) show us how the tools are being applied and how instant transformation is made possible.

https://www.youtube.com/watch?v=HqSgy5mj9nQ

AGENDA

Day 1 - Part I (2.5 hours) Tuesday

1. Introduction
2. The Program
3. Mind Chatter
4. Exercise: Rigid Notions
5. Dreamworld
6. Exercise: Alternate Reality
7. Exercise: Live your Alternate Reality
8. Q&A I
BREAK (15 min)


9. The If-Then Model
10. Actions vs. Outcome
11. Q&A II
12. Exercise: Appreciation & Gratitude
13. Exercise: Talk About your Passion
14. Exercise: I Me My
15. Exercise: How to Create Miracles


AGENDA
Day 2 - Part II (2.5 hours) Thursday

1. Your Life's Purpose
2. Q&A III
3. Protect Your Mind
4. Financial Well-Being
5. Exercise: Your Notions About Money
6. Exercise: The Feeling of Abundance
7. Q&A IV
8. Exercise: The Other-Centered Universe
9. Exercise: Good Thing Bad Thing
BREAK (15 min)

10. Exercise: The Ideal Job
11. Exercise: How to Rejuvenate your Job
12. Q&A V
13. Networking
14. The Benevolent Universe
15. The Journey



PARTICIPANT TESTIMONIALS (Anderson MBA Alumni)

"A must for anyone who is serious about reaching meaningful goals in every area of their life, and at every stage of their life." - Raquel Catherine-Duenas

"I am excited and afraid for the possibility of change as we have seen is possible in this program."
- Betsy Tong


"This program experience is a "must have" for those seeking answers to life's deeper questions. Why am I here? What's life's purpose? How can I be happy? Professor Rao provides the tools to make profound and positive transformations in all aspects of life." - Rosie O'Neil

"The concept and tools contained in Professor Rao's work provide a vehicle for a journey and personal understanding that you can find nowhere else. Regardless of where you may be in your particular life's journey, understanding and applying these principles can change your life and enable you to make the world a better place." - Robert Hess

PARTICIPANT TESTIMONIALS (awaken u. View and Do)

"We really enjoyed this! We love conversing with our group. We shared our thoughts, fears, desires and even shed some tears. Thanks you so much Donald for forming this group. It is truly a blessing!" - Saleemah and Willy
"A wonderful way to spend Sunday afternoon. Really good practical information. I enjoyed sharing and listening to a group of like minded individuals. Thanks Donald for organizing such an event, I look forward to coming again". Manzie

"Yes I agree Manzie, what a wonderful way to spend a beautiful Sunday, learning, giving and being present for others during those exercises.. And to Donald whose time and compassion for what he does spills over to all who attend". Georgette

WHY THIS PRODUCTION

Professor Rao's course has been implemented by some of the world's top-ranking business schools to show participants how to discover their unique purpose, find deep meaning and adapt to a new take on happiness.

Sourced from wisdom traditions, Dr. Rao's teachings convey, in his own words, unconventional strategies for achieving personal mastery in business and life, which inspired the creation of this film, The Happiness Matrix.

"Recently, we have seen several inspiring DVDs presenting various philosophies, ideas and "laws" on "spirituality" and abundance, but frustrated by the lack of logic and a practical hands-on approach to personal growth, our search led to the discovery of Dr. Rao's work." Fortune Features

"The teachings have helped us avoid jumping to negative conclusions, find and pursue our life's purpose with resilience and learn how to turn "problems" into opportunities." Fortune Features

I am so excited by how this film will show us how to improve the quality of life and how to restructure our mindsets to fulfill our dreams. I share Prof. Rao's genuine approach to these universal desires.

I am confident that The Happiness Matrix will have a life-time impact on you and hope that you will embrace THM with as much enthusiasm as I have.
- Donald Carty



HOST/FACILITATOR

Donald Carty is a published author, workshop moderator/facilitator, speaker, and professional consultant. Focusing his time primarily with volunteer and community advocacy organizations; he is also an active member of many professional associations for societal benefit and education, including a Fellowship with the Royal Society for the Encouragement of Arts, Manufactures and Commerce. At awaken u., Donald offers personal coaching, seminars, and workshops to awaken human potential and encourage transformation.

So, come and take a short walk with me and others of like mind, as we tread the path further into the mysteries of the lived experience of our sensations, thoughts, and feelings.

Presentation; approx. 1.5 hours each day over 2 evenings. We will start on time, but late is OK.

Discussion, exploration, exercises, worksheets, quizzes; approx. 1 hour. session.

Total time; 5 hours.

Cost: In order to cover the costs in making this event possible a $50.00 donation, though not required, would be greatly appreciated.

Date: Tuesday and Thursday evening September 17 and 19, 2019.

Time: 6:30 PM to 9:00 PM

Place: Grove Park Home 234 Cook Street, Barrie, ON (Cook St. at Grove St.)

Registration is limited! So please register early.