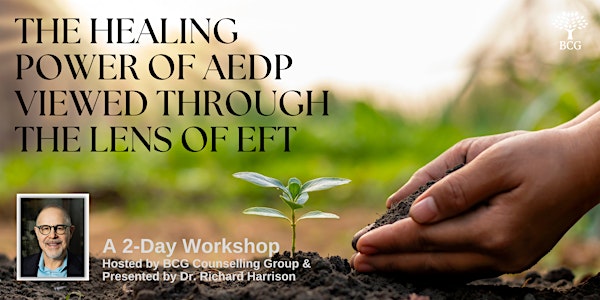 The Healing Power of AEDP Viewed Through the Lens of EFT
A 2-Day Workshop hosted by BCG Counselling Group and presented by Dr. Richard Harrison
Date and time
Fri, Apr 28, 2023 9:00 AM - Sat, Apr 29, 2023 4:00 PM PDT
Location
Richmond Olympic Oval 6111 River Road Richmond, BC V7C 0A2 Canada
Refund Policy
Contact the organizer to request a refund.
Eventbrite's fee is nonrefundable.
About this event
1 day 7 hours

Mobile eTicket
The Healing Power of AEDP Viewed Through the Lens of EFT
A 2-Day Workshop hosted by BCG Counselling Group and Presented by Dr. Richard Harrison, Registered Psychologist, Certified EFT Supervisor, Certified AEDP Supervisor & Adjunct Faculty AEDP Institute
Friday | April 28 | 9:00am to 5:00pm
Saturday | April 29 | 9:00am to 4:00pm
Registration Details
Early Bird Rate: $395 (available until March 6 at 6:00pm)
Regular Rate: $425
Student Rate: $350 (A limited number of student rates will be available for full-time graduate students of counselling. You may be asked to provide proof of student status. If space remains, part-time students, as well as undergraduate students of counselling may be eligible for the student rate. Contact workshop@counsellinggroup.org for details)
Workshop Description
AEDP (Accelerated Experiential Dynamic Psychotherapy) is a healing-oriented experiential therapy that harnesses the power of emotion and attachment to repair trauma and foster flourishing. This integrative treatment model translates knowledge from attachment science, developmental studies, contemporary neurobiology, and emotion theory into practical and effective clinical interventions. AEDP change mechanisms unlock deep transformational processes that rewire attachment and empower our clients to live more fully and freely!
This workshop features extensive video examples from actual therapy sessions and is specifically designed for therapists who are familiar with Emotionally Focused Therapy (EFT). Preferably, participants will have taken some EFT training. Participants will witness AEDP in action and appreciate how richly it complements EFT. While these two models share much in common, each offers distinct components, that are additive, and can be integrated into the other framework. Richard will explain and demonstrate key AEDP concepts and their relevance to the EFT model and roadmap. Unique aspects of AEDP's guiding schemas, interventions, and change mechanisms will be highlighted. Participants will learn how these can be applied to enhance EFT practice with both individuals and couples.
AEDP's theoretical framework and clinical skill set are particularly beneficial in helping EFT therapists to:
co-create and foster a felt sense of security and healing connection in the therapeutic relationship;
slow down, deepen, and fully process emotional experience;
expand, amplify, and integrate moments of therapeutic change-for-the-better, thereby promoting positive neuroplasticity.
The training is open to therapists who are new to AEDP, as well as people more familiar with the model who want to refresh and deepen their skills and understanding.* While the focus is primarily on AEDP, Richard will explain how the steps and stages of EFT align with AEDP's four-state map of the transformational process, including instances when the respective vocabulary and interventions of each model describe similar phenomena or techniques, in different language. Similarities and differences between the two models will be identified, and we will explore their natural potential for synergy. Participants will discover new ways to accelerate change, heal attachment wounds, and nurture a felt sense of security that clients take with them into their lives!
The workshop incorporates:
Engaging lecture and Interactive discussion
Video examples of AEDP therapy sessions with clients with different attachment presentations
Experiential practice
* Because this AEDP training is tailored to therapists familiar with EFT, those who do not have a strong background or training in EFT, while welcome, are encouraged to read and/or watch short videos about EFT in advance. Links to suggested resources will be provided upon registration. Optional readings on AEDP will also be provided in advance of the workshop.
What Previous Workshop Participants Had to Say…
"This was a truly excellent training. EFT & AEDP enhance each other so much. It immediately was helpful to my practice. The 2-day training had a profound effect on me with my clients immediately. It also pointed out some growth that is needed on my part. Thank you." Elisa Horton, LMFT, LMHC, NCC
"The best organized training I have ever taken! Thank you for bringing so much knowledge and important information with an excellent instructor. Loved learning with viewing videos of the techniques in action and all the informative instruction." Kathleen
"Extremely well organized event. Great integration of different modalities. Clear presentation." Judith Kellner
"Richard is a talented therapist who is able to clearly articulate and display examples that demonstrate process experiential practice. I can definitely say I've learned a lot from him!" Dr. Marni Feuerman, LCSW, LMFT
Learning Goals and Objectives
Participants will be able to:
Summarize key aspects of AEDP theory and the FOUR STATE MAP that guides AEDP's transformational process
Identify important components of the AEDP THERAPIST STANCE
Recognize the healing power of explicit relational interventions
Apply AEDP's TRIANGLE OF EXPERIENCE in clinical practice to guide choice points in therapy (including in the EFT Tango)
Apply a clinical intervention set (SPACE) to access, stay with, and deepen emotional experience
Identify opportunities to expand and strengthen moments of therapeutic change through AEDP's hallmark intervention of METATHERAPEUTIC PROCESSING
Differentiate similarities and differences between AEDP and Emotionally Focused Therapy (EFT)
Apply the AEDP intervention of METATHERAPEUTIC PROCESSING to the practice of EFT
About the Presenter
Richard Harrison, PhD, is a Registered Psychologist and AEDP Institute Adjunct Faculty member with over 25 years' experience as a clinician and teacher. He is a Certified Supervisor in both AEDP and EFT, and maintains a full clinical caseload with individuals and couples in private practice. Richard also teaches and supervises graduate students in the Counselling Psychology and Psychiatry departments at the University of British Columbia. He has authored numerous publications in professional journals, including a recent article in Psychotherapy on Termination in 16-session AEDP: Together in how we say goodbye. As a supervisor and presenter, Richard is valued for his warmth, clarity, and engaging style. He genuinely delights in helping people grow and thrive in their personal and professional lives.
About the organizer
BCG Counselling Group is a not-for-profit society that strengthens relationships and fosters emotional, mental and spiritual maturity both within the church and a diverse extended community.
At BCG, we are passionate about building and rebuilding lives!
Our team of diverse and professionally trained therapists offers a wide range of confidential counseling services for individuals, couples, children, and families. For 40 years we've been strengthening relationships and facilitating the emotional, mental and spiritual development of our clients. Together, our team of therapists has over 80 years of counselling experience and is committed to providing the highest quality of professional care to our clients. In partnership with donors, we also provide subsidized services to those in need.