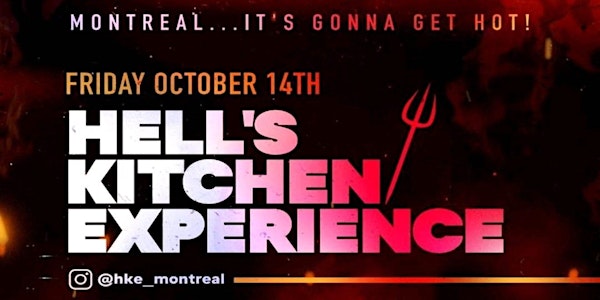 THE HELL'S KITCHEN EXPERIENCE IN MONTRÉAL WITH ELISE WIMS!
Get ready as "The Hell's Kitchen Experience!" is coming to Montreal for one night only!
When and where
Location
Plaza Centre-Ville 777 Boulevard Robert-Bourassa Montréal, QC H3C 3Z7 Canada
Refund Policy
Contact the organizer to request a refund.
Eventbrite's fee is nonrefundable.
About this event
**Voir la traduction française ci-dessous
No need to go to L.A. or Las Vegas as we are transforming our Montreal venue into the famous TV's Hell's Kitchen. We are inviting one of the most controversial Chefs from Season 9 and All Stars edition...Elise Wims!
A fierce chef that Gordon Ramsey just loved to hate! She was tough but he always admired her determination and skills in the kitchen. He then invited her back to the All Stars edition in 2020 after an amazing journey in Hell's Kitchen!
What can you expect that night?
A five course meal chosen and prepared exclusively by Elise Wims (accommodations can be made for non-gluten and vegetarian meals)
Vin à volonté throughout the night
Live cooking by chef Elise and her staff
Live challenges as seen on Hell's Kitchen
Huge decor inspired by the TV show and restaurant
Entertainment and shows throughout the night and after dinner
More surprises and special guests!
Are you excited to enter the Hell's Kitchen Experience?
LOCATION: PLAZA CENTRE VILLE (inside Evo Hotel) indoor parking
DRESS CODE: Look Hot! 🔥 Casual or Formal
TICKETS:
VIP TABLES (close to stage and chefs)
General seating
Info on groups, ticket pickups, sponsorships or more: hkemontreal@gmail.com
**IMPORTANT:
There are no refunds unless you purchased your ticket(s) in the last 24 hours, an act of god that cancels the event or if there is a province wide emergency.
After the 24 hours-you are confirmed for your seat(s). If you cannot attend, a transfer of ticket(s) to someone is accepted, just email us the change.
Due to the purchase of food, talent, decor and more-we hope you understand our return policy. Make sure you can attend before purchasing.
Please note: This event is not an official Hell's Kitchen production. HKE Montreal is the ultimate culinary experience of actually dining and being at HK including the decor, food, ambience and chef who participated in the TV show. SSMTL events is a private and local company who produces exciting "Theme nights". Enjoy!
L'expérience "Hell's Kitchen" arrive à Montréal avec la célèbre chef Elise Wims. Ce vendredi 14 octobre 2022, vivez l'expérience comme jamais vue à Montréal. Inspiré de la célèbre émission du chef Gordon Ramsay, l'événement gastronomique de l'année vous mettra plein la vue et les papilles!
Vous n'avez pas besoin d'aller jusqu'à Las Vegas. Le temps d'une soirée, le Plaza Centre-Ville deviendra la cuisine de l'enfer elle-même, avec des présentations de cuisine en direct, des défis culinaires tels que vus dans l'émission, et des animations tout au long de la soirée.
Qui est chargé de pimenter la soirée ? Nul autre que la célèbre et controversée Chef Elise Wims, participante de la saison 9 de Hell's Kitchen et d'édition 2020 de All Stars, également connue sous le nom de Diva Chef.
Le tout se déroule dans un cadre grandiose inspiré de Hell's Kitchen. Le chef que Gordon Ramsay aime détester . Vous n'avez jamais regardé Hell's Kitchen ? Ne vous inquiétez pas. Elise Wims vous charmera par son charisme et son attitude.
Formée à la cuisine française classique et spécialisée dans la nutrition et l'entrainement physique, lors de la saison 9 de Hell's Kitchen que la jeune Pennsylvanienne s'est fait connaître des admirateurs de cuisine et de show-biz du monde entier. Connue pour être la candidate qui a le plus fait enrager Gordon Ramsay, elle a remporté le titre de "chef le plus détesté de l'histoire de Hell's Kitchen". Pourtant, la qualité de ses plats lui a valu le respect du chef Ramsay.
L'expérience Hell's Kitchen en quelques mots :
Un repas de cinq plats choisis et préparés exclusivement par la chef Elise Wims.
Du vin à volonté tout au long de la soirée.
Les défis culinaires de Hell's Kitchen devant vous.
Un décor grandiose inspiré de l'émission et du restaurant.
Un divertissement en direct, pendant et après le repas.
Des invités spéciaux, des influenceurs et les meilleurs chefs de Montréal, le tout sous un même toit !
Cette année, Hell's Kitchen débarque à Montréal pour un événement gastronomique d'une nuit seulement. Pas besoin de passeport ou de billet d'avion... cette fois, vous pouvez visiter le restaurant sans quitter l'île de Montréal !
Assurez-vous simplement d'acheter vos billets à l'avance, car cet événement se vend rapidement.
LIEU: PLAZA CENTRE VILLE (à l'intérieur de l'hôtel Evo) stationnement à l'intérieur
LE CODE VESTIMENTAIRE: Soyez Sexy ! 🔥 Formel ou décontracté
BILLETS:
Tables VIP (près de la scène et les chefs)
Places générales
Informations sur les groupes, le retrait des billets, les parrainages ou autres envoyez-nous un courriel hkemontreal@gmail.com
**IMPORTANT:
Il n'y a pas de remboursement, sauf si vous avez acheté vos billets dans les dernières 24 heures, si un cas de force majeure annule l'événement ou s'il y a une urgence dans toute la province.
Après les 24 heures, votre place est confirmée. Si vous ne pouvez pas participer, un transfert de billet(s) à quelqu'un est accepté, il suffit de nous envoyer le changement par courriel.
En raison de l'achat de nourriture, de talents, de décors et autres, nous espérons que vous comprenez notre politique de retour. Assurez-vous que vous pouvez participer avant d'acheter.
Veuillez noter : Cet événement n'est pas une production officielle de Hell's Kitchen. HKE Montréal est l'expérience culinaire ultime de manger et d'être à HK, y compris le décor, la nourriture, l'ambiance et le chef qui a participé à l'émission de télévision. SSMTL events est une entreprise privée et locale qui produit des "soirées à thème" passionnantes. Profitez-en !