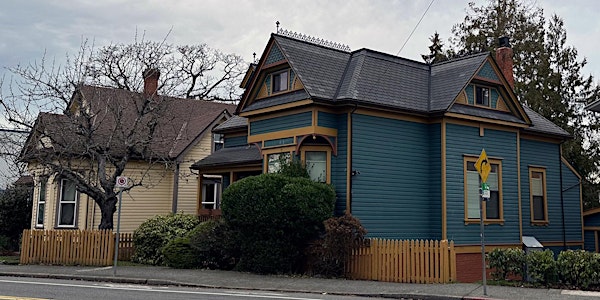 THE HERITAGE DETECTIVE - HEAR THE STORIES OF HISTORIC HOUSES
Ever wondered who built that old house? Who lived there? Historic house are more than bricks and mortar - they are stories.
When and where
Location
1156 Fort St 1156 Fort Street Victoria, BC V8V 3K8 Canada
About this event
We will welcome you at the historic Wentworth Villa, 1156 Fort Street, at 7:30 pm, Wednesday, February 22, 2023 for the debut of an exciting new book.
Join 45-year heritage activist and author Helen Edwards as she discusses her latest book, The Heritage Detective, Volume One. Who lived and worked in the vintage houses in the Victoria area—and why you should care.
Loosely based on articles written over several decades with additional research to bring the stories up to date and rich with photographs, the book tells the tales of ordinary people who lived extraordinary lives.
Because, of course, it wasn't just the mansions that everybody writes about that had exciting histories. Learn about the electrocution on Fort Street, a pioneer who owned Wallace Island and the story of his nephew who lived in James Bay, the survival of tiny houses from around the turn of the twentieth century on upper Fort Street, and early real estate speculation in Fairfield.
Volume Two will be released in late May 2023.
Light refreshments will be served.