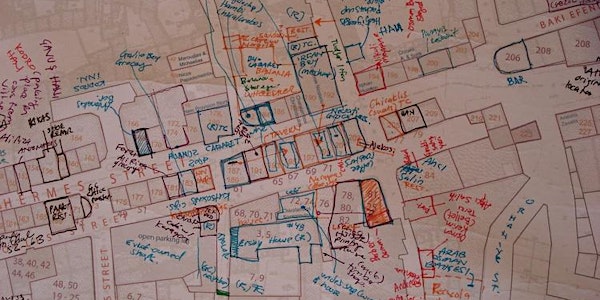 The Hidden City: Daylighting the Past in Urban Space | 6Place Toronto | Tal...
Event Information
Location
The John H. Daniels Faculty of Architecture, Landscape and Design
1 Spadina Crescent
Room 200 /Mediatheque
Toronto, ON M5S 2J5
Canada
Description
The Hidden City: Daylighting the Past in Urban Space
A talk by Anita Bakshi - hosted by Heba Mostafa
It is the political imperative of art to confront difficult aspects of the past, in order to transform the aesthetics of the medium itself, and, more importantly, to transform thought. This assertion gets to the core of why commemorative and cultural heritage sites require the development of richer design practices. The abstract visual and design languages often used at monuments and memorials employ conservative aesthetic approaches which have conservative political implications. As such, they often do not enable confrontation or transformation. Rather, this is an art that is more suited to supporting and affirming existing thoughts and beliefs. In this talk, I argue that a new poetics of commemoration can be sought by working with non-visual aspects of design and with an understanding of cognition and perception. I explore different modes of engagement with memory and the varying forms they might take.
Formal design elements and materials often used at monuments and memorials - reflecting pools, waterfalls, manicured lawns, and formal tree plantings – are contrasted with other design strategies and processes. Smooth, shiny, reflective materials are fixed and unyielding, implying closure, finality, and the so-called "healing" of trauma. Instead, utilizing materials that invite touch and engagement, and that embrace visitors with smells and sounds and atmospheric enclosure, can enhance bodily engagement with memory. I explore how design strategies can enhance empathic engagement, and allow for 'seeing through' the body. Rather than statue removal and additive history, I argue for the development of hybrid design practices and strategies that support dynamic and flexible engagements with the past, using several examples to illuminate these possibilities.
Talk
Fri, Apr 26/19
5pm - 6.30pm
at The John H. Daniels Faculty of Architecture, Landscape, and Design
1 Spadina Crescent, Toronto
Room 200 (Mediatheque)
Walk

Sat, Apr 27/19
11am - 2pm

at the Garrison Creek



Start: NW corner Christie & Bloor West (Christie Pits, Christie TTC subway)



Workshop
Sat, Apr 27/19
3pm - 5pm

at The John H. Daniels Faculty of Architecture, Landscape, and Design
1 Spadina Crescent, Toronto
Room 230
About Heba Mostafa
Heba Mostafa teaches courses on the history of Islamic art, architecture and urbanism. Her teaching focuses upon exploring the development of artistic communities and architectural and urban environments from a multi-faceted cultural perspective that consider political, economical, social, and religious factors. Her research interests include the architecture and urbanism of the Islamic world with a focus on the early Islamic period in the Central Islamic lands, specifically the architecture of the Umayyad period. This is in addition to areas of disciplinary contact with late antiquity and Europe, particularly Muslim Spain.
About Anita Bakshi
Anita Bakshi is the author of Topographies of Memories: A New Poetics of Commemoration (2017). She teaches in the Department of Landscape Architecture at Rutgers University and is affiliated with the Cultural Heritage and Preservation Studies (CHAPS) Program. Following several years in architectural practice in Chicago, California and Istanbul, she received her PhD in the History and Theory of Architecture from Cambridge University with the Conflict in Cities Research Programme.
https://anita-bakshi.squarespace.com/
This talk is the fourth of a series of 6Place Toronto events. It is paired with an exploratory walk at the Garrison Creek (Sat, April 27/19 – 11:00am to 2:00pm) and an open Workshop at the Daniels Faculty (Sat, April 27/19 – 3:00pm to 5:00pm, Room 230, 1 Spadina Crescent)
Both events are open to the public. Please contact farah.michel@mail.utoronto.ca for more information.
6Place Toronto is a McLuhan Centre working group project investigating significant urban spaces in Toronto where media and infrastructure intersect with architecture and public space. The project includes talks, walks, open seminars and produces new documentations of invisible or iconic buildings, landscapes and infrastructure as potential public spaces. 6PT is funded by University of Toronto's Mcluhan Centre for Culture and Technology and supported by the University of Toronto School of Cities and by the John H. Daniels Faculty of Architecture, Landscape and Design.



Location
The John H. Daniels Faculty of Architecture, Landscape and Design
1 Spadina Crescent
Room 200 /Mediatheque
Toronto, ON M5S 2J5
Canada