Description
THE HOLLOW
Written by Agatha Christie
Directed by Joe Hinks
The first show Metro Theatre ever produced – back in September, 1963 – was Agatha Christie's murder mystery, The Hollow. Since then, this dynamic community theatre in South Vancouver has put on over 475 shows, including 18 crowd-pleasing Agatha Christie mysteries. The Hollow has made an appearance twice over the years, and Metro is thrilled to present it again this season, starting September 28.
The Hollow is a classic 'whodunnit,' wi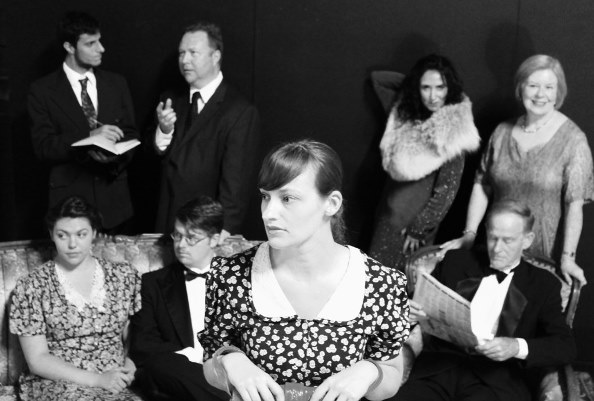 th a twist. The lady of the house, Lucy Angkatell, has invited her family and friends to her home, The Hollow, for a weekend in the countryside. Events soon turn from sunny reminiscing to stormy turmoil as something else unexpectedly arrives at The Hollow - murder! The twelve-person cast will keep you guessing until the very end, and the love triangles, suspicion and intrigue will keep you on the edge of your seat. Like your favorite movie, this production is the perfect thing to curl up with on a blustery fall evening.
NOTE: Friday, October 25 is FREAKY FRIDAY - If you show up to the theatre in costume, you'll get $5 off your admission. If you want to take advantage of this deal, please don't book using this Eventbrite site - call our box office (604-266-7191) and reserve your seats; you'll pay for them when you get there (we accept cash, debit and credit cards). Details here.
Metro Theatre is a non-profit theatre company in Vancouver, BC, Canada.
In their 55th season, they have produced more than 500 shows in their 312-seat theatre. Every year they produce five plays and a pantomime at Christmas. It's community theatre at its best!
The theatre is wheelchair accessible and provides assisted-listening devices upon request.
Metro Theatre can be found at:
1370 SW Marine Drive
Vancouver, BC  V6P 5Z9
Phone: 604-266-7191
Check out what's playing this season, and connect with us on Facebook and Twitter!