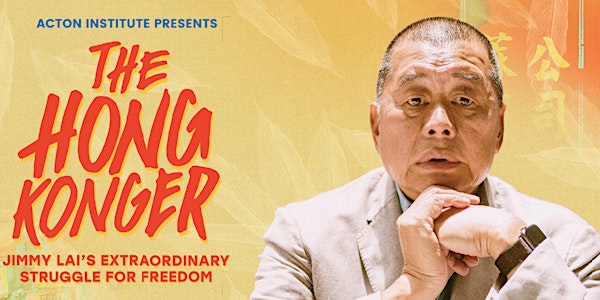 The Hong Konger: Jimmy Lai's Extraordinary Struggle for Freedom香港人黎智英為自由而奮鬥
Jimmy's story is one that must reignite a persistent movement to defend the cause of freedom for Hong Kongers. Q & A after the screening.
When and where
Location
VIFF Centre 1181 Seymour Street Vancouver, BC V6B 3M7 Canada
Refund Policy
Refunds up to 7 days before event
Eventbrite's fee is nonrefundable.
About this event
When Hong Kong's basic freedoms come under attack,media tycoon Jimmy Lai finds himself in the crosshairs of the state and must choose between defending Hong Kong's long-standing liberties, or his own freedom.
當香港的基本自由受到攻擊時,媒體大亨黎智英發現自己成為國家的標靶,他必須在捍衛香港長期存在的自由或自己的自由之間做出選擇。
VSSDM is hosing two screenings of the documentary :The Hong Konger: Jimmy Lai's Extraordinary Struggle for Freedom
Duration: 73 minutes
Release Year: 2022
Country of Production: USA, Hong Kong, UK
Genre: Documentary
Language: English only, No Subtiltle
Screening Date and Time: September 10 (Saturday) and 18 (Sunday), 1pm to 4pm.
Q & A Section after the screening
溫哥華支援民主運動聯合會(溫支聯)將放映兩場紀錄片:《香港人:黎智英為自由而奮鬥》(片名是臨時翻譯).
片長:73 分鐘
發行年份:2022
製作地:美國、香港、英國
類型:紀錄片
語言:只有英文,沒有字幕
放映後會有問答環節
********************************************************************************************************
On September 10th (Saturday) :
Guest speaker: Sebastian Lai (Son of Jimmy Lai)
Q & A with Bill Mcgurn ( Columnist, The Wall Street Journal; Friend of Jimmy Lai), Samuel Chu (Founder & President, The Campaign for Hong Kong, first foreign citizen wanted under the NSL) and Simon Lee (Former Op-Ed Columnist, business executive at Next Digital)
********************************************************************************************************
On September 18th (Sunday):
Guest Speaker: Sebastian Lai (Son of Jimmy Lai)
Q & A with Bill Mcqum (Columnist, The Wall Street Journal; Friend of Jimmy Lai), Mark Clifford (Former Director of Next Digital Ltd., publisher of Hong Kong pro-democracy newspaper "Apple Daily.") and Simon Lee (Former Op-Ed Columnist, business executive at Next Digital)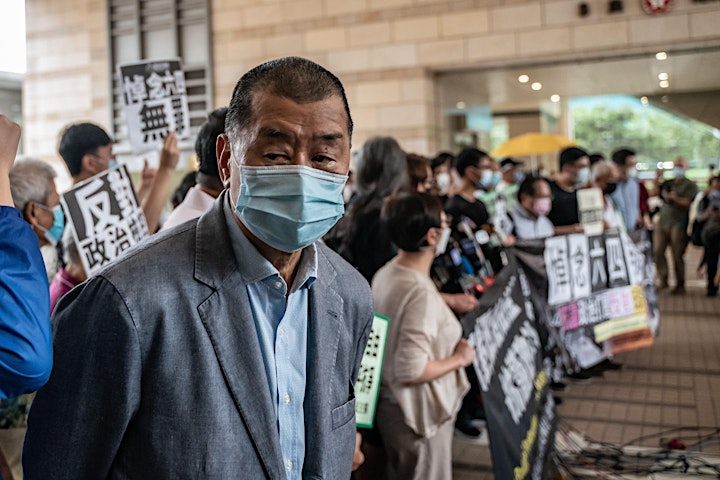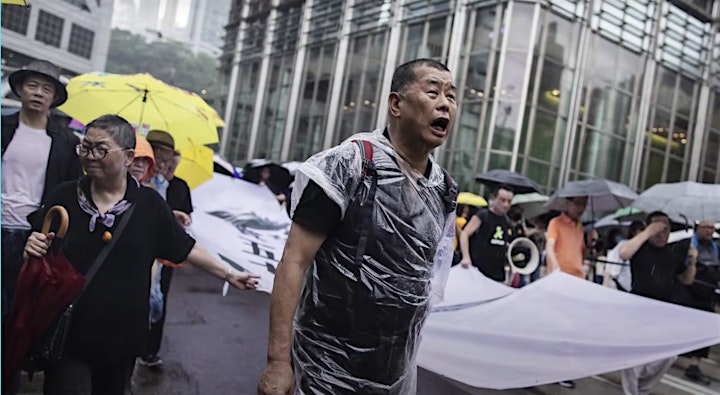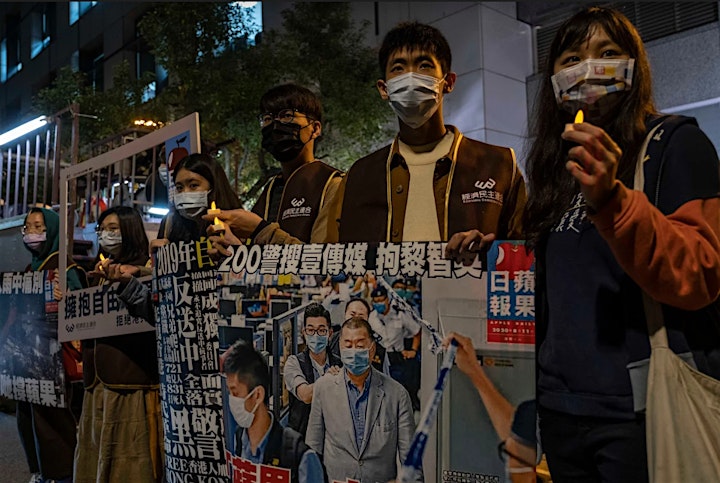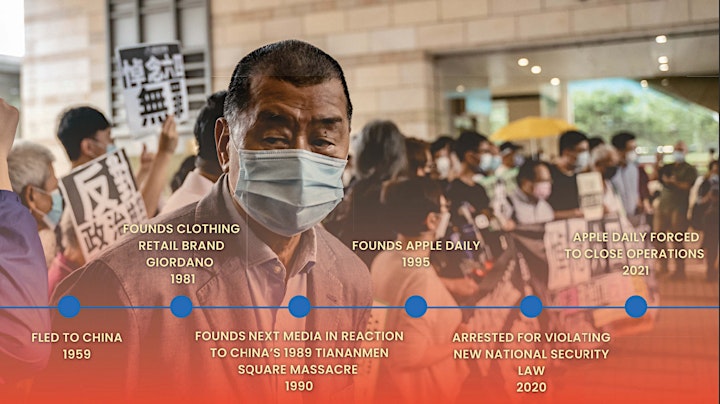 About Jimmy Lai
Jimmy Lai personifies Hong Kong's entrepreneurial spirit. This spirit, coupled with an embrace of freedom, unleashed economic prosperity for Hong Kongers and made Jimmy a billionaire. Jimmy's native China underwent a similar prosperity by undertaking an experiment with personal and economic freedoms, lifting an astounding 800 million Chinese out of poverty. Today, it's a different story—and the stakes couldn't be higher for Jimmy Lai, the citizens of Hong Kong, and the people of China.
Jimmy fled Maoist revolutionaries as a 12 year old and began a new life as a simple textile laborer in Hong Kong. Within 30 years he started a fashion house and built Giordano into an enormously successful clothing retail business with thousands of stores worldwide. In reaction to China's 1989 Tiananmen Square massacre, Jimmy launched Next Media and published Hong Kong's most successful newspaper, Apple Daily. As guardian of freedom of speech and the press, Apple Daily provided an independent voice for Hong Kong following its 1997 transition from British rule to Chinese control.
Reassured by Beijing's "one nation, two systems" approach, much of Hong Kong's prosperity and freedom continued—until a palpable shift occurred under the leadership of Chinese president Xi Jinping. As China retreated from its "one nation, two systems" policy and began installing pro-Beijing leaders in Hong Kong, Jimmy became a leading voice against repressive policies. Jimmy could have fled but he chose to stay, marching alongside millions of his fellow Hong Kongers in defense of freedom and democracy. He was soon arrested and jailed. International banks froze his assets. Apple Daily was raided and key executives arrested. In June 2021, Apple Daily printed its final edition and shut its doors.
Today Jimmy perseveres in a Hong Kong prison cell awaiting trial. Featuring Lord Christopher Patten, Rev. Robert Sirico, Mary Kissel, Victoria Hui, Joey Siu, William McGurn, Lord David Alton and others, The Hong Konger chronicles Jimmy's story of heroic sacrifice and symbol of the freedom movement. From his own testimony as well as through exclusive interviews with diplomats, citizen activists, scholars, and friends from across the globe, one thing becomes clear: Jimmy's fate is in our hands. His cause must not die in a prison cell—for freedom is not merely his cause, but the cause of all Hong Kongers, the Chinese people, and indeed all humanity.
香港媒體大亨黎智英被香港傀儡政府不公正非法關押,他犧牲個人自由和財富,嘗試為香港人爭取一些自由,而香港人的人身自由越來越受到限制,包括言論自由和集會自由。在眾多為更美好的香港而獻出生命的人當中,黎智英只是其中一員,這些人都應該被稱讚為香港社會的英雄,而不是被關進監獄。 我們懇請國際社會向香港和中國政府施壓,要求釋放黎智英、記者和其他政治犯。 請釋放這些良心犯,讓他們回到家人和支持者身邊。 毋忘這些為更美好社會而獻出生命的英勇香港人。
Featuring:
LORD DAVID ALTON
For over 40 years Lord (David) Alton has served in both Houses of the British Parliament. A member of the House of Lords Select Committee on International Relations and Defense he is Vice Chair of the All Party Parliamentary Group on Hong Kong and a Patron of Hong Kong Watch. He is one of seven British parliamentarians sanctioned by the Chinese Communist Party for campaigning against the destruction of Hong Kong's freedoms and for highlighting the persecution of Uyghurs and Tibetans and the intimidation of Taiwan.
======================
SUNNY CHEUNG
Exiled Hong Kong activist
Sunny Cheung is a young politician from Hong Kong. As a former student leader, he testified before the UK Parliament and US Congress. Ahead of the 2020 Legislative Council election, he participated and emerged victorious in the Hong Kong democratic camp's primaries and became an elected representative. He is now the advisor of the Hong Kong Democracy Council, a Washington DC based advocacy group. Having graduated from the University of Hong Kong majoring in China studies, he is now pursuing an M.A. at Johns Hopkins University's SAIS.
=======================
SAMUEL M. CHU
Founder & President, The Campaign for Hong Kong
Samuel Chu is the founder and President of the Campaign for Hong Kong. Samuel was also the founding and managing director of Hong Kong Democracy Council (HKDC), a Washington DC-based, nonpartisan nonprofit for Hong Kong's pro-democracy movement. While leading HKDC, Samuel successfully advocated for the Hong Kong Human Rights and Democracy Act, the Hong Kong Autonomy Act, and numerous other pro-Hong Kong policies. A first-generation immigrant, Samuel is the son of the Rev. Chu Yiu Ming, co-founder of Occupy Central that led to the Umbrella Movement.
=========================
AMB. JAMES B. CUNNINGHAM
Associate Professor, Department of Political Science, University of Notre Dame
Ambassador James B. Cunningham served as Ambassador to Afghanistan, Israel, and the United Nations, and as Consul General for Hong Kong and Macau, with nearly 40 years of service.. He is now a consultant, a senior fellow at the Atlantic Council, a member of the adjunct faculty at Syracuse University's Maxwell School, and Board Chair of the Committee for Freedom in Hong Kong. Earlier in his career, he worked in European security and political affairs, including as Chief of Staff to NATO Secretary General Manfred Woerner.
=========================
VICTORIA TIN-BOR HUI
Associate Professor, Department of Political Science, University of Notre Dame
Victoria Tin-bor Hui is Associate Professor in Political Science at the University of Notre Dame. She has written on Hong Kong's democracy movement and the crackdown in the Journal of Democracy, Foreign Affairs, The Diplomat, and Washington Post's Monkey Cage. She is a Council on Foreign Relations fellow with the Congressional-Executive Commission on China in 2021-22. Hui also studies the centrality of war in Chinese history.
==============================
JO JENSEN
President, Iron Light Labs
Jo Jensen is the president of Iron Light Labs, winner of the 2021 "Non-profit of the year" Shorty Award. As a serial entrepreneur, Jo has created three successful companies, led non-profits, produced award-winning films, and designed high-profile marketing campaigns. Jo mastered social listening tools and visual storytelling to make an impact and shape the digital narrative to achieve policy outcomes. An invited speaker at the White House, Jo's work has been featured in national news outlets including the Wall Street Journal, Good Morning America, IndieWire, and People Magazine.
===============================
MARY KISSEL
Senior Advisor, US Secretary of State (2018-2021)
Mary Kissel is executive vice president and senior policy advisor at Stephens Inc., a Little Rock, Arkansas based, privately held financial services firm, where she advises management and clients on foreign policy and geopolitical risk. Prior to joining Stephens, she served as senior advisor to U.S. Secretary of State Michael R. Pompeo from October 2018 to January 2021. In that role, she provided advice to advance the national interests of the United States, conducted special projects for the Secretary, and traveled to more than 60 countries.
===============================
SIMON LEE
Former Op-Ed Columnist, business executive at Next Digital
Simon was a columnist with the Apple Daily since 2005. The newspaper was forcibly closed down by the Chinese Communist Party in 2021.
===============================
WILLIAM MCGURN
Columnist, The Wall Street Journal; Friend of Jimmy Lai
I first met Jimmy in 1992, when I was based in Hong Kong for the Far Eastern Economic Review. In 1997 I was his godfather when he was received into the Catholic Church. My wife is godmother to his daughter Claire, and his wife Teresa is godmother to my daughter Maisie. We are family.
==============================
RT HON LORD CHRIS PATTEN
Governor of Hong Kong (1992-1997)
Christopher Francis Patten, Baron Patten of Barnes is a British politician who served as the Governor of Hong Kong from 1992-1997 and Chairman of the Conservative Party from 1990-1992. Patten was Britain's last Governor of Hong Kong, tasked with overseeing the transition of power to China in 1997. Following his governorship, Patten led the Independent Commission on Policing for Northern Ireland from 1998-1999 and served as Chairman for the BBC Trust from 2011-2014 He has been the Chancellor of the University of Oxford since 2003.
=============================
BENEDICT ROGERS
Co-Founder and Chief Executive, Hong Kong Watch
Benedict Rogers is co-founder and Chief Executive of Hong Kong Watch, Senior Analyst for East Asia at the human rights organization CSW, an advisor to the Inter-Parliamentary Alliance on China (IPAC), and author of six books. He is a regular contributor to international media and has testified at hearings in the US Congress, European Parliament and UK Parliament. In 2020 he was awarded the "International Religious Freedom (IRF) Champion Award" by the International Religious Freedom Summit in Washington, DC.
=============================
MARK SIMON
Former Executive, Next Digital
Mark Simon worked for Jimmy Lai inside Apple Daily and Next Digital for 20 years, remaining today as the Senior Executive for Mr. Lai's on- media businesses outside Hong Kong. Mr. Simon held multiple positions inside the Next Digital Group, from General Manager of Apple Daily to Group Director and Chairman's Deputy. Mr. Simon also wrote the "Second Opinion" Column of Next Magazine, the most read English Language column in Hong Kong.
=============================
FR. ROBERT SIRICO
Friend of Jimmy Lai
Fr. Sirico is the President Emeritus and co-founder of the Acton Institute, and pastor emeritus of Sacred Heart of Jesus parish in Grand Rapids, Mich. His writings on religious, political, economic, and social matters are published in a variety of journals, including: the New York Times, the Wall Street Journal, Forbes, the London Financial Times, the Washington Times, The Detroit News, and National Review. He is the author of numerous books, including Defending the Free Market: The Moral Case for a Free Economy, A Moral Basis for Liberty, and the forthcoming The Economics of the Parables, due for release in May 2022.
==============================
JOEY SIU
Activist; Policy Advisor of Hong Kong Watch
Joey Siu is a Hongkongese-American student activist, policy advisor of Hong Kong Watch and advisor to the Inter?Parliamentary Alliance on China (IPAC). She participated actively in Hong Kong's pro-democracy movement in local grassroots campaigns and international advocacy for Hong Kong. Her focus is on human rights in Hong Kong, East Turkestan, Tibet and other regions in China. She has testified before the U.S.. Congress, spoke in the U.K. Parliament and United Nations, and gave briefings at the European Union Delegation office at the U.N.
================================
GEORGE WEIGEL
Distinguished Senior Fellow, Ethics and Public Policy Center
George Weigel, Distinguished Senior Fellow of the Ethics and Public Policy Center, is a Catholic theologian and one of America's leading public intellectuals. He holds EPPC's William E. Simon Chair in Catholic Studies. Mr. Weigel is perhaps best known for his widely translated and internationally acclaimed two-volume biography of Pope St. John Paul II: the New York Times bestseller, Witness to Hope (1999), and its sequel, The End and the Beginning (2010).
ABOUT ACTON INSTITUTE
The Acton Institute for the Study of Religion and Liberty is an ecumenical, nonprofit research organization that promotes the benefits of free enterprise to religious communities, business people, students and educators. With an international scope, Acton manages a robust publishing and events outreach that argues for a moral foundation to the market economy. Wholly independent, the nonpartisan Institute works across many faith traditions including Christianity, Judaism and Islam.
About Vancouver Society In Support of Democratic Movement (VSSDM)
VSSDM is a NGO based in Vancouver Canada advocating for democracy and human rights in China. Undying Conviction: We Will Remember June 4th
The Tiananmen Massacre and the subsequent crackdown on the 1989 democracy movement in China shocked the entire world. International communities rose up to denounce the atrocities of the Communist Party of China (CPC) and stood in solidarity with the peaceful protesters, students, academics, workers and citizens who strived against the totalitarian regime in China.
In June 1989 after the Tiananmen Massacre, members of the Chinese community in Metro Vancouver organized and established the "Vancouver Society In Support of Democratic Movement" (VSSDM).
For 30 years, "We Will Remember June 4" has become the undying conviction and motto of VSSDM. Every year, rain or shine, VSSDM holds events to commemorate and honour those who died fighting for democracy in China. These events include Wreath Laying at the statue of the Goddess of Democracy in UBC and in Forest Lawn Memorial Park. Also, every year on June 4th, Democracy Walk and Candlelight Vigil are held.
Email: info@vssdm.org