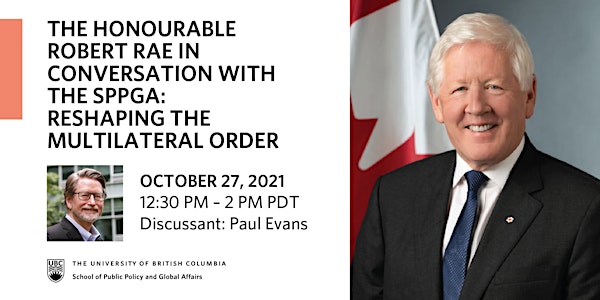 The Honourable Robert Rae in Conversation with the SPPGA
Join The Honourable Robert Rae in Conversation with the SPPGA on reshaping the multilateral order in a post-COVID world.
About this event
Join the Honourable Robert Rae, Ambassador and Permanent Representative of Canada to the United Nations in New York in discussion with SPPGA Professor Paul Evans on Canada's role in renewing multilateralism and the future of multilateral institutions in a post-COVID world. Please come prepared with your questions for an engaging discussion with the Ambassador.
Please register in advance. The Zoom link will be sent to all registrants.
Welcome Remarks: Dr. Allison M. Macfarlane, Professor and Director, School of Public Policy and Global Affairs, UBC
Keynote Speaker: The Honourable Robert Rae, Ambassador and Permanent Representative of Canada to the United Nations in New York
Discussant: Professor Paul Evans, School of Public Policy and Global Affairs, UBC
Bios:
The Honourable Robert Rae is Ambassador and Permanent Representative of Canada to the United Nations in New York.
Mr. Rae served as Premier of Ontario from 1990-1995, and interim Leader of the Liberal Party of Canada from 2011-2013. He was elected to federal and provincial parliaments 11 times between 1978 and 2013.
Mr. Rae received his Honours B.A. in Modern History from the University of Toronto, an M.Phil in Politics as a Rhodes Scholar at Oxford University, and graduated from the University of Toronto Faculty of Law in 1977. He was named a Queen's Counsel in 1984. As a lawyer in private practice, Mr. Rae led the restructuring of the Canadian Red Cross, the Toronto Symphony Orchestra, and chaired the board of the Royal Conservatory of Music. He also wrote "Lessons to be Learned" on the Air India bombing, and "Ontario a Leader in Learning" - a study of the Ontario higher education system. He was also named to the Security and Intelligence Review Committee by then Prime Minister Chrétien.
Mr. Rae's return to Parliament for the constituency of Toronto Centre in 2008 led to his appointment as Foreign Affairs spokesman for his party, and to his election as interim Leader in 2011. Between 2013 and 2020 he taught law and public policy at the University of Toronto, and was a partner and senior counsel to the law firm OKT LLP, specializing in indigenous law and constitutional issues.
Mr. Rae is a Fellow of the Forum of Federations (an organization he co-founded in the 1990's), Massey College, and the Raoul Wallenberg Centre for Human Rights. He served as the Chief Negotiator for the 9 First Nations that are members of the Matawa Tribal Council in Northern Ontario between 2013 and 2018.
In October 2017, Mr. Rae was appointed as Canada's Special Envoy to Myanmar. In this role, he engaged in diplomatic efforts to address the crisis in the country's Rakhine State and wrote the report "Tell Them We're Human" in 2018. In March 2020, he was named by Prime Minister Trudeau to be Canada's Special Envoy on Humanitarian and Refugee Issues. This led to his report "A Global Pandemic Requires a Global Response", which was made public shortly before his appointment as Ambassador to the UN.
Bob Rae is a Privy Councillor, a Companion of the Order of Canada, a member of the Order of Ontario, and has numerous awards and honorary degrees from institutions in Canada and around the world. In addition to several government reports, he is the author of five books. Along with music, reading, and writing, he loves tennis, golf, and fishing. He is married to Arlene Perly Rae, writer and public advocate on issues affecting women and children. They have three daughters and five grandchildren.
Dr. Paul Evans (PhD with distinction Dalhousie University 1982) has been a Professor at the University of British Columbia since 1999, teaching Asian and trans-Pacific international relations. His work was based at the Institute of Asian Research and the Liu Institute for Global Issues which are both located in the School of Public Policy and Global Affairs (SPPGA). On January 1, 2021, Dr. Evans was appointed the HSBC Chair in Asian Research.
An advocate of cooperative and human security, he has been studying and promoting policy-related activity on track-two security processes and the construction of multilateral institutions since 1988.  He was a co-founder of the Council for Security Cooperation in Asia Pacific, the Canadian Consortium on Human Security, and the Canada-Korea Forum. He is currently a Canadian representative on the ASEAN Regional Forum's Experts and Eminent Persons Group.
The author or editor of seven books, his first was a biography of John Fairbank, his most popular the two editions of a lexicon of Asia Pacific security terminology (with David Capie), and his most recent "Engaging China: Myth, Aspiration and Strategy in Canadian Policy from Trudeau to Harper," published in 2014.His recent writings and media commentaries have focused on Canada-China relations, Asian security dynamics, and the emergence of techno-nationalism as a defining force in regional affairs. 
Dr. Allison M. Macfarlane is Professor and Director of the School of Public Policy and Global Affairs within the Faculty of Arts at UBC. Dr. Macfarlane has held both academic and government positions in the field of energy and environmental policy, especially nuclear policy. Most recently, she directed the Institute for International Science and Technology Policy at the George Washington University. She recently held a fellowship at the Wilson International Center for Scholars in Washington, DC and was Fulbright Distinguished Chair in Applied Public Policy at Flinders University and Carnegie Mellon Adelaide in Australia.
The first geologist (and the third woman) to chair the U.S. Nuclear Regulatory Commission from 2012-2014, Dr. Macfarlane holds a doctorate in earth science from MIT and a bachelor's of science from the University of Rochester. She has held fellowships at Radcliffe College, MIT, Stanford, and Harvard Universities, and she has been on the faculty at Georgia Tech in Earth Science and International Affairs, at George Mason University in Environmental Science and Policy, and in the Elliott School of International Affairs at George Washington University.
From 2010 to 2012, Dr. Macfarlane served on the White House Blue Ribbon Commission on America's Nuclear Future, created by the Obama Administration to recommend a new national policy on high-level nuclear waste. She has also served on National Academy of Sciences panels on nuclear energy and nuclear weapons issues, and she chaired the Science and Security Board of the Bulletin of Atomic Scientists, the group that sets the Bulletin's famous "doomsday clock." In 2006, MIT Press published a book she co-edited, Uncertainty Underground: Yucca Mountain and the Nation's High-Level Nuclear Waste. Dr. Macfarlane has published extensively in Science, Nature, Environmental Science and Technology, the Bulletin of the Atomic Scientists, and other journals.
Disclaimer: Please note that by using this service, your information will be stored on the Eventbrite server, which is located outside Canada. If you do not wish to use this service, please email tina.alexander@ubc.ca directly to register. Thank you.
Hosted by:

Organizer of The Honourable Robert Rae in Conversation with the SPPGA
As an interdisciplinary hub for innovation and learning, the UBC School of Public Policy and Global Affairs (SPPGA) draws on the expertise of UBC institutes, research centres and faculties, and invites collaboration with local and global communities.
Researchers, policy makers and aspiring change makers come here to explore local and global issues, find policy solutions and change the world for the better.
The School of Public Policy and Global Affairs was founded in 2017 at The University of British Columbia Vancouver campus and is located on the traditional, ancestral, and unceded territory of the xʷməθkʷəy̓əm (Musqueam) people.