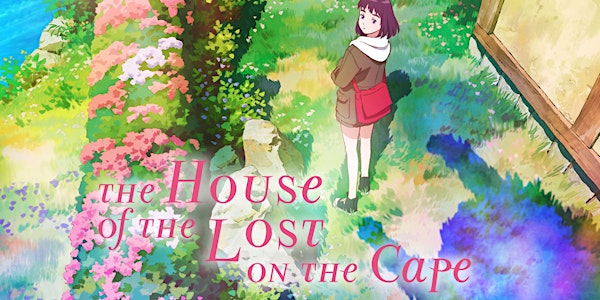 The House of the Lost on the Cape (special film screening)
Join us for a very special screening event of the new anime film, The House of the Lost on the Cape!
When and where
Location
Innis Town Hall Theatre 2 Sussex Avenue Toronto, ON M5S 1J5 Canada
About this event
Doors Open, 7:00 PM
Book signing with author KASHIWABA Sachiko, 7:00 PM
Film Screening, 7:30 PM (ET)
Join the Japan Foundation, Toronto on September 24 for a very special screening event of the new anime film, The House of the Lost on the Cape 岬のマヨイガ, with special guest author KASHIWABA Sachiko.
Synopsis: 17-year-old run-away Yui and 8-year-old Hiyori, who lost her family and her voice, have no place to go when they run into Kiwa, a strange old lady. She offers them a place to stay, in a slightly banged-up old house overlooking the sea, a Mayoiga. Despite joining Kiwa on a whim, the two girls find comfort in Mayoiga, a legendary house, said to look after lost travelers, and the warm hospitality of Kiwa. Both girls' damaged hearts begin to heal little by little. Until one day, a variety of strange beings which Kiwa calls "Fushigitto" begin popping up around the house.
Based on the award-winning novel written by prolific Japanese author, KASHIWABA Sachiko.
KASHIWABA Sachiko will be in-attendance for a Q&A after the screening.
Co-presented with the Cheng Yu Tung East Asian Library
Full Event Details: https://jftor.org/event/house-of-the-lost
Stay in touch with the Japan Foundation, Toronto: Instagram • Facebook • Twitter • Newsletter
---
About the Author:
KASHIWABA Sachiko is a prolific writer of children's and young adult fantasy whose career spans more than four decades. Her works have garnered the prestigious Sankei, Shogakukan, and Noma children's literature awards, and her novel The Marvelous Village Veiled in Mist influenced Hayao Miyazaki's film Spirited Away. Her books for children include the Monster Hotel series, Great-Aunt's Amazing Recipes, Miracle Family, The What's-Next Library, Temple Alley Summer, The Witch Who Loved the King, and Strange Journey from the Basement, lately animated as The Wonderland. She has co-translated two fairy novels by Gail Carson Levine into Japanese, and she edited a children's version of the Tōno monogatari, beloved folk legends collected by Kizen Sasaki and Kunio Yanagita. She lives in Iwate Prefecture.
Ms. Kashiwaba is a guest author at the 2022 Toronto International Festival of Authors.