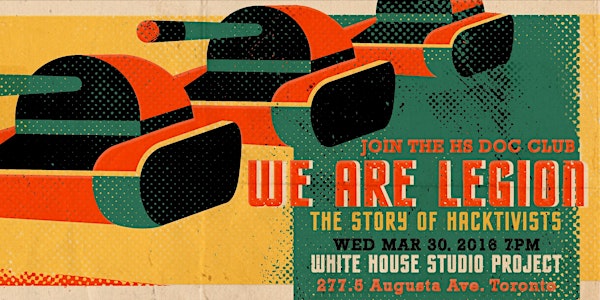 The HS Documentary Film Club Presents: WE ARE LEGION - The Story of the Hacktivists
By The Harvard Seal Documentary Film Club
Date and time
Wed, Mar 30, 2016 7:00 PM - 11:00 PM EDT
Location
The White House Studio Project - 277.5 Augusta Avenue (Kensington Market) Toronto, ON M5T 2M1
Description
WE ARE LEGION: The Story of the Hacktivists, takes us inside the complex culture and history of Anonymous. The film explores early hacktivist groups like Cult of the Dead Cow and Electronic Disturbance Theater, and then moves to Anonymous' own raucous and unruly beginnings on the website 4Chan.
Through interviews with current members – some recently returned from prison, others still awaiting trial – as well as writers, academics and major players in various "raids," WE ARE LEGION traces the collective's breathtaking evolution from merry pranksters to a full-blown, global movement, one armed with new weapons of civil disobedience for an online world.
Join the Harvard Seal Documentary Film Club for a private screening and post-film discussion with Ryan Singel, co-founder of Contextly and former Wired.com editor for the award-winning blog, Threat Level. An online journalist from the start, Ryan has been on the digital side of barricades in the media revolution. His beats for Wired.com have included privacy, security, search, social networking, tech policy and startups.
Ryan, who is featured in the documentary, will be skyping in with us from San Fransisco to answer our questions and provide further insite on Annonymous.
The White House Studio Project has generously donated the space for the event, however we are encouraging a minimum $5 cash donation at the door so the HS Doc Club can continue to bring our members cool films, special guests and events like this one!
Doors open at 7:00pm.
Film begins at 7:30pm.
Excellent conversation begins at 9:00pm
Looking forward to seeing you!
About the organizer
The Harvard Seal Documentary Film Club is a social club that meets once a month to watch and discuss documentaries around the city. We aim to celebrate great films and meet awesome people while we do it. Interested in hanging out? Come out this month - all are welcome!